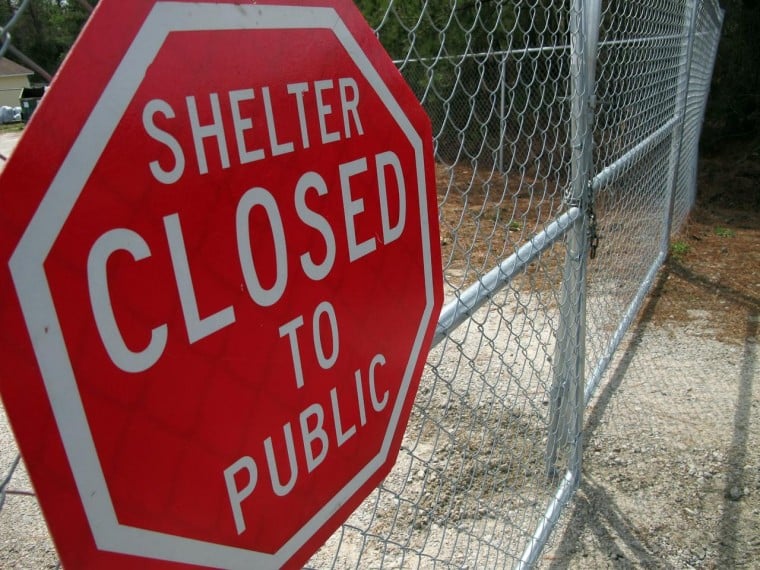 CHESTERFIELD SC — The Chesterfield County animal shelter remains closed and five shelter employees on paid administrative leave after an incident Friday in which several dogs were apparently shot to death by county employees.
The incident developed when a volunteer from Paws and Claws of Chesterfield County, a local animal rescue organization that works with shelter employees to care for animals at the shelter, arrived at the shelter to pick up some dogs and noticed that quite a few dogs were missing.
"I just started counting, and I said, one, two … and just counted as far as empty pens," said Deborah Farhi, who made the discovery.
Farhi asked an inmate who was working at the shelter where the dogs had gone and was directed to a shooting range used by the Chesterfield County Sheriff's Office that was across the street from the shelter. She said the inmate told her the dogs were shot, taken across the street and buried.
"I got in the car and I started driving down the road before it really hit me and then I kind of lost control and got very upset," she said.
Farhi said she immediately started making phone calls to fellow volunteers about the situation and asked them to contact media outlets.
Farhi said another volunteer said they would need proof and joined Farhi for a visit to the shooting range across from the shelter.
At the range, Farhi found two dogs, both of which appeared to her to have been shot and killed. She photographed the animals and immediately contacted law enforcement.
The discovery led to a Saturday press conference by local animal organizations. Some activists demanded answers as to who was responsible for the shootings.
According to shelter records, six animals were killed and 12 others were released elsewhere. 
Neither representatives of the Chesterfield County Sheriff's Office, which handles animal control calls for the county, nor of animal control were present at the press conference Saturday, but Chesterfield County Sheriff Sam Parker commented on the matter Monday afternoon.
"Right now the allegations are that we have some officers who were shooting animals with a weapon. That is not proper and that is not by policy," he said.
Parkers said in light of the discovery, all five employees, including the shelter's director, were put on paid administrative leave pending the outcome of the investigation.
Parker said proper procedure is to euthanize animals if necessary by lethal injection; there should not be any firearms in the animal shelter.
Parker said the sheriff's office recently took the operations of the shelter under its umbrella and he isn't aware of any improper practices prior to this discovery. He also said he will ensure those responsible face proper penalties.
The State Law Enforcement Division declined to investigate the matter, citing state law that allows shooting to be used as a form of euthanasia for animals.
Parker said while that code is open to interpretation, he has asked the 4th Circuit Solicitor's Office to investigate and determine whether criminal activity has taken place.
Since Friday, the sheriff's office has received hundreds of calls, many from animal activists, from across the country.
Parker said his office isn't trying to cover up any evidence of wrongdoing and will pursue the matter to the fullest extent of the law for those responsible.
"We've been crucified and basically terrified on the Internet and Facebook. We're barbaric killers, I think, was some of the terminology," he said. "I do not read it, but I've been told about it. We do care about animals."
Parker said the negative reaction will do nothing to further the investigation, getting to the bottom of what took place and prevent it from happening again. He said the shelter operates with virtually no funding and the lack of donations and adoptions is often the reason for euthanizations.
"Maybe with this incident, we'll turn a crisis into a wonderful experience, but maybe not ... and if we don't, we stand a chance one day to actually close it down. It's an option that we're going to have to look at ... that this shelter may go away," Parker said.
The dogs' bodies were sent to Columbia for necropsies to determine the manner of death and whether they had pre-existing medical conditions.
During the meeting Saturday, Paws and Claws held an animal adoption and 40 animals found permanent homes. 
The remaining animals at the shelter are being cared for by deputies who spend time with them and feed them twice daily. In addition, deputies also are answering animal control calls until the investigation into the matter is complete.
Parker said it is likely the shelter will reopen by Saturday.