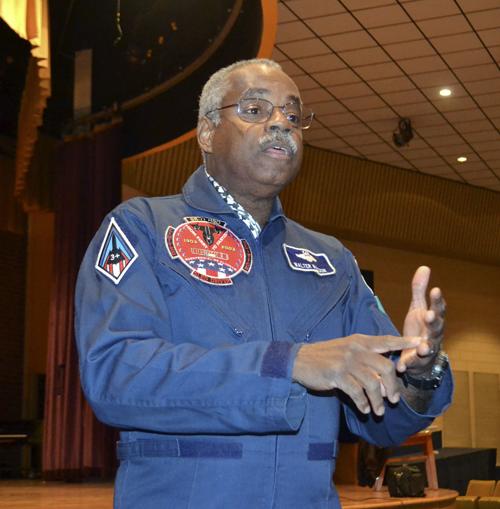 Few people can say they have flown at speeds greater than 2,100 mph hour in altitudes exceeding 80,000 feet.
One of them is retired U.S. Air Force Col. Walter L. Watson Jr.
Watson, who in 1984 became the first and only African-American to qualify as an air crew member of the SR-71, shared his experiences and the history of black airmen from South Carolina with students at Wilson High School on Wednesday. His presentation was part of the school's observance of Black History Month.
Watson, who resides in Columbia, began his presentation at Wilson with the story of Tuskegee Airman Spann Watson of Johnston who was a pilot during the 1940s and flew during World War II.
"There are people that thought black people couldn't fly airplanes and the Tuskegee Airmen proved them wrong," Watson told the students.
Until the 1940s, African-Americans held limited roles in the military. They were denied training in areas like flying aircraft. In 1941, an all-African-American flying squadron was established in Tuskegee, Alabama.
Next, Watson shared the story of Lloyd "Fig" Newton. In the 1970s Newton, who grew up in Ridgeland, became the first African-American to fly for the USAF Thunderbirds. Watson pointed out that at speeds of 400 to 500 mph Thunderbird pilots flew just 36 inches apart from one another.
"You had to be a good aviator to hold that formation," Watson said. Newton was one of five African-Americans to become four-star generals.
"We stand on shoulders," Watson said, as he highlighted the accomplishments of astronaut Ron McNair, who grew up in Lake City. "A library that he could not use is now named for him," Watson said . McNair was an N.C. A&T graduate who was gifted in the sciences and died in the 1986 Challenger explosion.
Next on Watson's list was NASA director Charles F. Bolden, who grew up in Columbia, attended the U.S. Naval Academy and was a fighter and test pilot in the U.S. Marines.
"Those are four people from South Carolina who had an impact on aviation. We stand on the shoulders of giants," Watson said. "I would not be here if it were not for those guys. Giants opened up the door for me."
Watson is a graduate of Howard University. He entered the Air Force in 1971 via the ROTC program at the university.
Born in Columbia, South Carolina, the oldest of four children of the late Walter L. Watson Sr. and Mildred Platt Watson, he attended public schools in Richland School District One and graduated from C. A. Johnson High School. While at Howard University in Washington, D.C., he earned a mechanical engineering degree and commission as an Air Force officer through the ROTC program.
Watson holds a master's degree from Chapman College of Orange, California, in organizational behavior and human resource management and has been a senior aerospace science instructor of the C. A. Johnson Preparatory Academy's Air Force Junior ROTC unit (SC-065).
While he entered the Air Force as an avionics maintenance officer, in 1973, he was selected for aviation training, beginning his flying career in the Air Force. His first assignment was flying the C-130E cargo plane in Southeast Asia during the Vietnam War.
"I did not like being shot at but not able to shoot back," Watson said. "Anybody who tells you that they went to war but they were not afraid –they're lying."
Watson later became a flight instructor, flight examiner, and flight commander in tactical fighter and strategic reconnaissance squadrons that flew F-4C/D/E, F-111D, and SR-71 aircraft.
The F4 was the airplane he "dreamed of flying" until he found something faster. He eventually progressed to the 69,000-horse power SR-71 that could cover 100,000 square miles in just one hour. The plane was so fast that airmen wore spacesuits, costing roughly $250,000, to protect them from temperatures exceeding 1,000 degrees.
Watson has received numerous awards, including the Meritorious Service Medal with two oak leaf clusters, Air Force Commendation Medal, Armed Forces Expeditionary Medal with two oak leaf clusters, Humanitarian Service Medal with one oak leaf cluster, and the Legion of Merit Medal. In 2004 Colonel Watson was awarded the Brig Gen Noel F. Parrish Award, which is Tuskegee Airmen Inc.'s highest national award for service.
"Aviation is one of the most prejudice d career fields you can go into," Watson told the students, but he wasn't speaking of skin color. "Aviation will kill you. It is prejudice d against people who are lazy. An airplane doesn't care what color you are. When you land or take off the airplane doesn't care what color you are."
Watson, who has authored several books, closed the session with a question-and-answer period filled with light humor about everything from how a pilot for the SR-71 used the bathroom in flight (the flight suit was specially designed to accommodate that) to how airmen got their nicknames.
"It's best to give yourself a nickname before someone gives you one you don't like," Watson suggested.
He also encouraged students not to give up on their dreams. Watson had two eye surgeries in his youth and is colorblind but it never stopped him from fulfilling his dream to fly.
Watson shared an important life lesson with students about friendships. In the 10th grade, he met a charming young lady who paid him no attention.
She didn't like his friends, whom she saw as a negative influence, and she wanted a boyfriend who was smart and going places.
More than a year later, Watson was consistently making the principal's list and striving to achieve his goals. Joice Middleton would later become Watson's wife.
"Listen, if your girlfriend doesn't care who your friends are or if you are getting in trouble all of the time, you better move on," Watson said.
"I think his presentation was very inspirational," Wilson high School Principal Eric Robinson said. "I hope they heed what he said."
Retired Lt. Col. Johnny Guest of the Wilson High School AFROTC program invited Watson to speak at the school. "In the Air Force we have a saying: Outstanding," Guest said, adding that the school was fortunate to have such an accomplished aviator visit the school.
Be the first to know
Get local news delivered to your inbox!