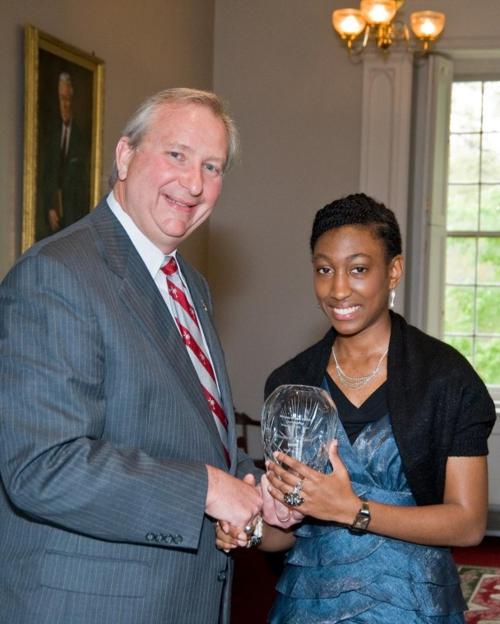 COLUMBIA -- Elizabeth Wilson, a Carolina Scholar and quintuple business major from Georgetown, has been named the University of South Carolina's Outstanding Woman of the Year for 2011.
University officials honored Wilson and four finalists at an afternoon ceremony Wednesday (March 30). The award is given annually to an undergraduate who demonstrates exemplary academic achievement, service and leadership.
"It's an honor to represent university women. This award means so much to undergraduate women at USC," Wilson said. "To be recognized for my work is a humbling experience."
A junior in the South Carolina Honors College and Darla Moore School of Business, Wilson is majoring in international business, finance, marketing, management science and real estate and is studying three languages.  She is the daughter of Laurin and Cynthia Wilson of Georgetown and a graduate of Georgetown High School.
An outstanding scholar, Wilson has a 3.982 GPA and is a Lieber Scholar, National Achievement Scholar Designee, Robert C. Byrd Honors Scholar and a Palmetto Fellow.  She is a member of the school's Business Case Competition Team and serves on the USC Congressional Advisory Board and as an EPI Conversation Partner. She studied abroad in 2010 at the Universidad de Salamanca.
Wilson also was recently named a Darla Moore School of Business Emerging Leader.
"Being recognized as an Emerging Leader in the Darla Moore School of Business is pretty amazing," she said. "A second-year student being named an Emerging Leader is a tremendous honor."
Passionate about service, Wilson volunteers with Hispanic Connections, a company that specializes in connecting businesses with the Hispanic community, and with Waverly Family Practice where she conducts presentations on diabetes awareness.
She said her service with Eau Claire health center and an encounter with a young man who had struggled with diabetes since childhood and had no health insurance has inspired her and changed her life.
"He made sacrifices, including an undergraduate education, yet he smiled," Wilson said. "Through serving others, life is made meaningful. I am dedicated to service and committed to making a difference.  His story and Waverly Family Practice have challenged me to be thankful for the little things and nourished my passion for humanitarianism."
Balancing her service and leadership activities with 22 hours of course study each semester, Wilson is set to graduate in three years next May. She hopes to attend either Harvard University or the University of Pennsylvania for her MBA, with the ultimate goal of working as a financial analyst for a multi-national corporation.
Recruited by many Ivy League colleges, Wilson chose Carolina for the South Carolina Honors College and the Darla Moore School of Business.  She said USC's academic offerings are where the opportunities begin for students.
"Every young person who attends Carolina has an omniferous array of opportunities available to realize his or her unbounded potential for excellence," Wilson said. "There are no limits to what you can achieve here."
This year's finalists were Christina Galardi of Lexington, a Carolina Scholar and junior public relations major; Katharine Sara Parham, a senior political science and French major from Columbia; Amartha Ogburu-Ogbonnaya of Columbia, a senior pre-med and African-American studies major; and Caroline Marie Clark, a senior psychology major from Myrtle Beach.
The Outstanding Woman of the Year Award is sponsored by Women Student Services and the Department of Student Life.