WILMINGTON, N.C. — Tropical Storm Isaias may, or may not, produce impacts for the Carolinas Sunday night into Monday — but it remains too soon to tell.
At issue are two things, said warning coordination meteorologist Steven Pfaff with the National Weather Service Office in Wilmington, N.C.
First is time, "a lot can change between now and early next week," Pfaff wrote in a Thursday morning briefing on the storm.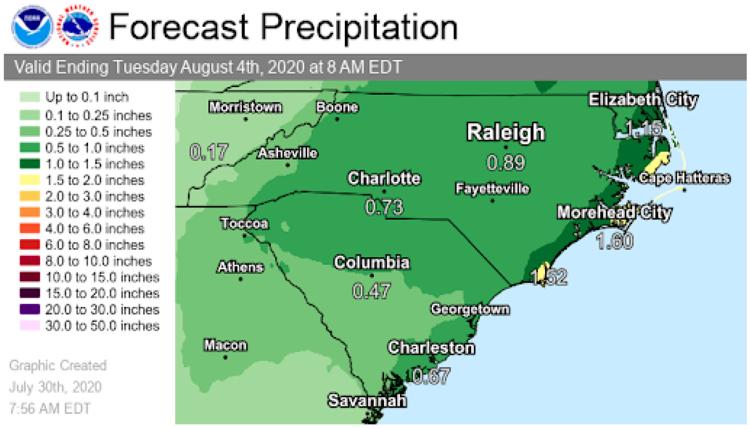 The second is Hispaniola — the Caribbean island that is home to Haiti and the Dominican Republic.
"The intensity and forecast track will become clearer after the storm moves away from the mountainous portions of Hispaniola," Pfaff said of the storm's current forecast track.
Wednesday's forecast track had it off the Florida Gulf Coast over the weekend but Thursday's forecast track has it brushing Florida's Atlantic Coast and then running up the coast toward Cape Hatteras and the Delmarva region.
The current impact of which the office has confidence is to marine conditions, which would mean rough seas and gusty winds Sunday into Monday and rip currents through the weekend.
Other possible impacts would be storm surge for coastal areas and wind and rain impacts inland -- all of which would be Sunday night into Monday based on Thursday morning's projected track.
How big of a storm — size and intensity — depends on what the Caribbean islands do to the storm.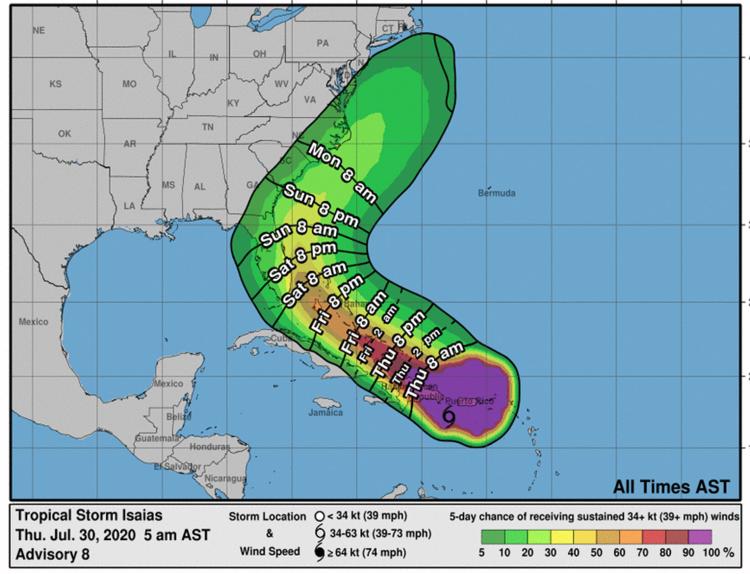 "Due to land interactions as the storm moves across the islands, the intensity forecast uncertainty is greater than normal. "Hurricane force wind speed probabilities are currently low, but the situation will need to be closely monitored given the complex situation that exists," Pfaff wrote in the briefing. "As a result, a lot could change between now and early next week."
The storm is forecast to bring 1-2 inches of rain to the Carolinas with the highest amounts along the southeastern North Carolina shore.
The speed of the storm is expected to keep it from dumping significant amounts of rain on the area, Pfaff wrote in the briefing.
"People in the Carolinas should closely monitor the progress of this system and refer to credible sources for the latest updates," Pfaff said.