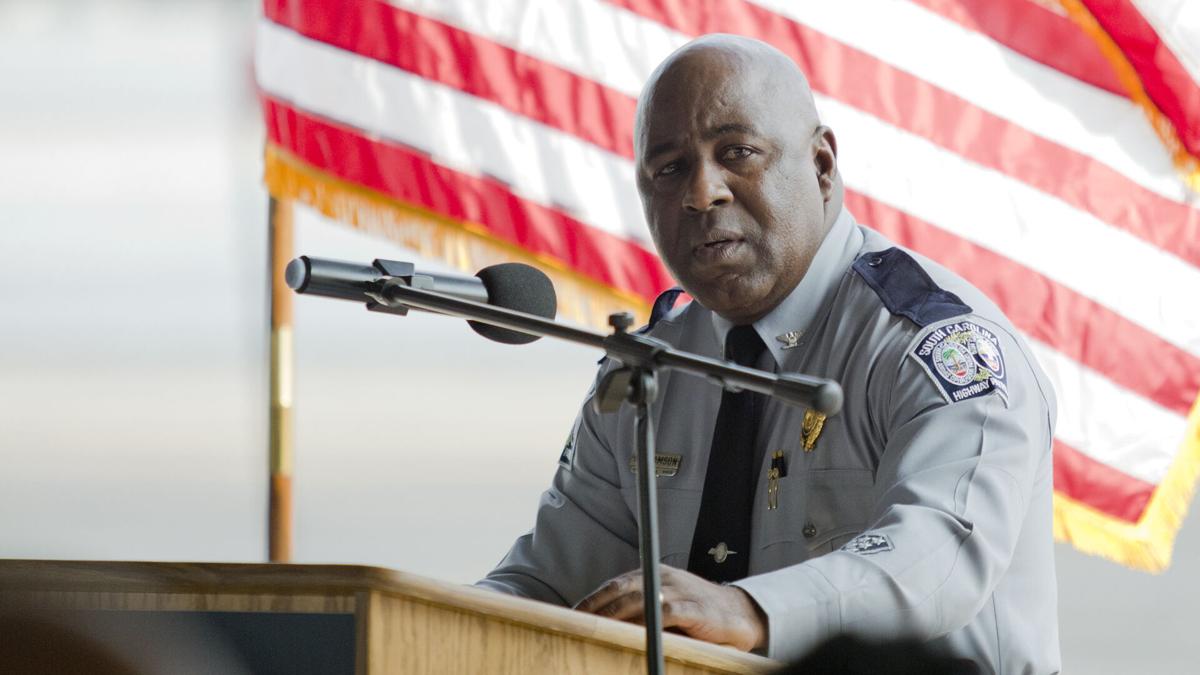 DARLINGTON, S.C. – South Carolina Highway Patrol Commander Chris Williamson's name will be a part of Darlington County from now on.
A ceremony was held Saturday afternoon to celebrate the dedication of a portion of Society Hill Road in Darlington County as Col. Christopher N. Williamson Road.
The stretch of Society Hill Road being dedicated and named for Williamson stretches just over four miles from Society Hill Road's Y-interchange with Cashua Street and Cashua Ferry Road to its Y-interchange with Greenfield Road.
Williamson said at the ceremony that he was thankful for the honor. He thanked several people including his wife, Deloris, his daughters, his son in law and his two granddaughters.
"I can' thank them enough for putting up with me for 30 something years not being there for birthdays, Christmas and holidays," Williamson said. "Those are the sacrifices that you make when you sign up for that type of work. Those are commitments you make to protect citizens."
Williamson quoted his father several times during his 12- minute speech in the garage area of Darlington Raceway. He added that he was raised by great parents and the lessons that he would use to lead the Highway Patrol were instilled in him as a little boy.
One of those lessons was the importance of protecting others. He said his father told him that as the eldest of 12 children it was his responsibility to protect his younger siblings.
Williamson said his father told him that anytime his siblings came home with a scratch that he didn't know the reason for, it was his responsibility and that he was going to receive punishment. He added that his father also said he expected the person scratching Williamson's siblings to have knots on their heads.
"I didn't do it alone," Williamson continued. He thanked his fellow Highway Patrol officers, past and present.
Williamson closed his speech by reminding those attending the ceremony to practice safe driving habits like wearing a seat belt and being a defensive driver behind the wheel, lest they get to interact with the Highway Patrol in its official capacity.
Williamson is a native of Darlington and graduate of Rosenwald High School in Society Hill. After graduating from Fayetteville State University and working one year for the South Carolina Department of Corrections, Williamson returned to Darlington County and began working in the Darlington County Sheriff's Office.
He became a Highway Patrol officer in 1988. Williamson was promoted to corporal in 1998, lieutenant in 2001, captain in 2003, lieutenant colonel and deputy commander of the Highway Patrol in 2011. He was promoted to colonel and made the commander of the Highway Patrol in 2017, becoming the first African American to command the agency.
Also speaking at the ceremony were Gov. Henry McMaster, House Speaker Jay Lucas, state Sen. Gerald Malloy, Williams, Department of Public Safety Director Robert Woods and Williamson's daughter, Krissy Williamson Alderman.
The resolution to rename the portion of Society Hill Road originated with Williams in the House and was supported by Lucas. Malloy ushered the resolution through the Senate.