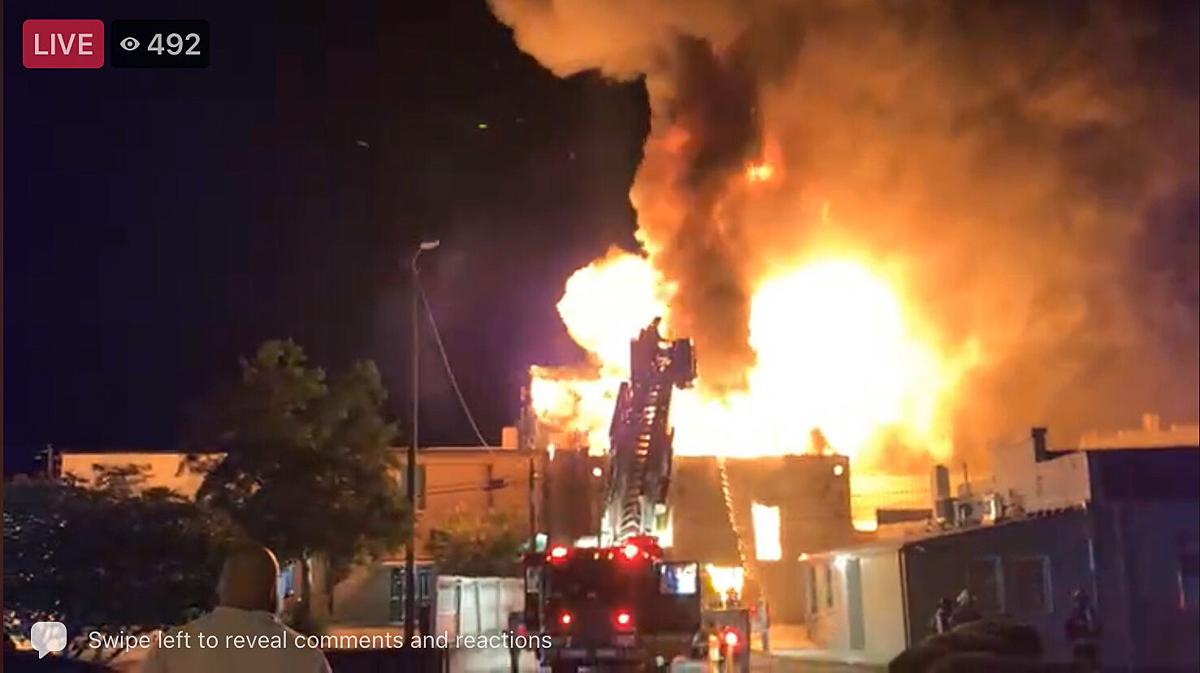 DARLINGTON — Two Darlington Courthouse Square businesses were destroyed and several others damaged in a Friday night fire that firefighters from two counties battled for the rest of the night and most of the morning to bring under control.
The Jeweler's Bench Building and antiques shop are total losses while the buildings that house the county economic development offices, Darlington Office Supply and some lawyer's offices and an Edward Jones business suffered at least smoke damage from the blaze, according to Darlington planner Lisa Rock.
Revelers at Chianti's Wings and Things' karaoke night were first to report the blaze about 10 p.m. and first units were there shortly afterward, said Darlington Fire Chief Pat Cavanaugh.
"My crew went inside and slowed it down enough to save what we did. First crew went in really quick, went up the back stairwell and got a good knock on it. When it started to progress we pulled them out and hit it with the tower," Cavanaugh said.
That initial attack, combined with well-constructed firewalls, is what kept the city from losing most of a block, the chief said.
"The biggest challenge was keeping this thing from spreading to two neighboring businesses. The biggest help for us was the new piece of equipment they got for us, the new tower. Once we got it up it did everything it was supposed to," Cavanaugh said.
Cavanaugh said his department received mutual aid from the city of Hartsville, Palmetto Rural Fire Department and Darlington County Fire Department while firefighters with Windy Hill Fire Rescue staffed the city station and handled calls throughout the night and early morning.
Rock said Chianti's made sure firefighters had ice and water and Cavanaugh said city residents and the mayor worked to make sure firefighters' needs were taken care of during the fire.
Darlington County EMS stood by at the fire for the firefighters.
Cavanaugh said just about everyone in the department — volunteers and shift firefighters — responded to the fire along with some residents who helped the agency pull hose for the fire.
Firefighters declared the fire contained about 1:30 a.m. and remained on scene past 5:30 a.m., he said.
Cavanaugh said, as of Saturday morning, the cause of the fire was undetermined but not suspicious.
Because of the dollar value of loss and the size of the fire SLED had been called in to investigate which is standard procedure in large fires or fires that result in the loss of life.
No injuries were reported in Friday night's fire.
Cavanaugh said the building was masonry and timber construction. Rock said county tax records date the building to 1891.
Portions of the roof collapsed from the fire and the building's basement was flooded, Rock said.
Fire restoration crews were already on the scene Saturday morning assessing the damage and working to restore businesses.
One businessman at Darlington Office Supply said he wanted to reopen as soon as possible.