FLORENCE, S.C. — Drew Chaplin Jr. was nervous about speaking Thursday after being named the Greater Florence Chamber of Commerce Small Business Person of the Year until he reached the third step of the stage in the ballroom of the Florence Center.
Chaplin is the managing partner and broker in charge of Palmetto Commercial Real Estate. 
As is the tradition of the award, Chaplin had no idea that he was going to be named the small business person of the year until Dedicated Community Bank President and chief executive officer Jim Ivey read some biographical information during the chamber's outlook luncheon. 
Chaplin leaned his head back and laughed when he figured out that Ivey was introducing him. Later, he wiped tears from his eyes before he took the stage to speak. 
"Once I realized it was me, I had 75 feet to figure out what I was going to say to every one of you," Chaplin said. "Certainly, it should be something profound, because I am the small business person of the year. I cannot tell you what was going through my mind from that walk to that second step right there." 
He said he felt he had three choices: run out the exit door, take a victory lap to get more time or go ahead and speak.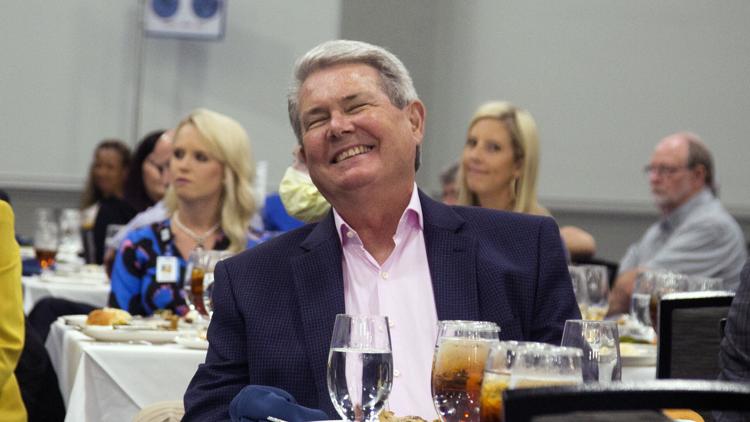 Chaplin chose the third option. 
"I am totally blessed and thankful for it," Chaplin said. "I'm going to let you in on a little secret. After I realized and experienced the joy and excitement of winning this, fear came across my body because I knew I was going to have to get up here and speak. ... I want you to know when I hit that third step there, this calm came across me." 
Chaplin said that feeling of calmness came from his faith. 
"It is one of the reasons I won this award today is that calmness," Chaplin said. "It was [from] my Lord and Savior, Jesus Christ." 
Chaplin added that when he started the company 20 years ago, he left it to Christ. 
'My faith in him got me this far," Chaplin said. "He said, 'Drew, have I ever let you down in these 19 years? I want you to know that I am as calm and comfortable right now as I could ever be. So I give credit first to our Lord and Savior." 
Chaplin joked at the beginning of his speech that he was going to have words with his office staff for keeping him completely in the dark about the award.
Later, he thanked the other employees of Palmetto Commercial Real Estate and said it wasn't the Drew Chaplin show but the Palmetto Commercial Real Estate family.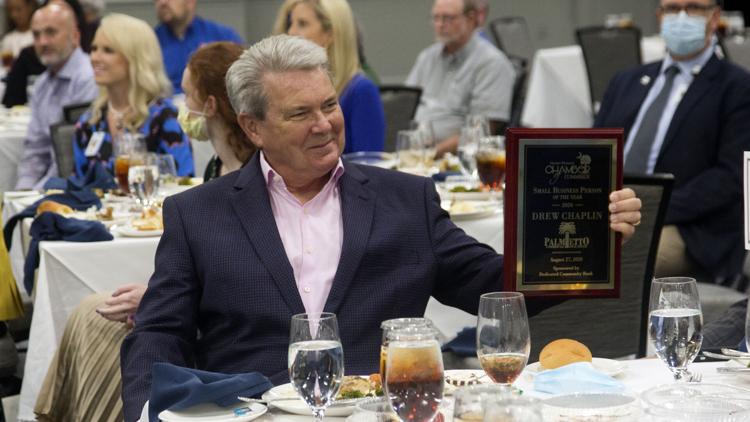 "I refuse to take this wonderful award without recognizing them," Chaplin said before introducing vice presidents David Tedder and Kent Caudle, plus Sandra Moses and his son, Andrew. "You are looking at the people that should have won this award." 
Concerned about COVID-19?
Sign up now to get the most recent coronavirus headlines and other important local and national news sent to your email inbox daily.