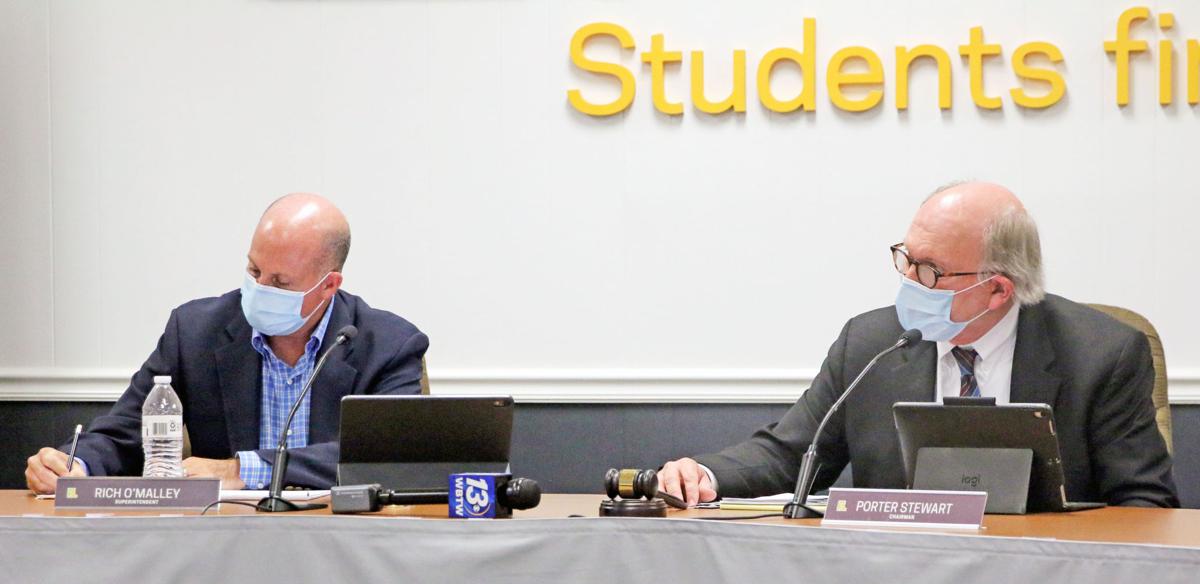 FLORENCE, S.C. -- Florence One Schools superintendent Richard O'Malley said in Thursday night's called board meeting the 2020-21 school year will not start until Sept. 8, the day after Labor Day.
Staff will report Aug. 24, and the school year's conclusion is pushed back to June 11. Under the previous plan, which featured a year-round format announced in February, staff members would have returned to school July 27, with students starting class Aug. 3.
Now, for the 2020-21 school year, Thanksgiving break will be two days this upcoming school year, instead of three. And, relating to Christmas break, Dec. 23 is now a half day.
O'Malley said this plan will be brought before the full board at its next meeting, July 16.
"This calendar, although not perfect, or anywhere near what was approved in February, accomplishes a few goals for us. It gives us time to have more data regarding the COVID-19 spread. Nothing in that data tells me that I should put thousands of kids in school in 37 days," O'Malley said. "It gives us time to develop a reopening plan and work out any obstacles....It gives us time to see what other districts do and what obstacles we can avoid and strengths to replicate. It gives us time to work with our staff, extend it both in the summer and a full two weeks prior to opening to ensure academics, safety and all precautions will be implemented successfully."
O'Malley then talked more about what this does for F1S' future.
"It allows us to be cautious and deliberate in our planning, and it gives us time to develop our academic programs for all students to be successful and healthy," he said. "It is in this time of discomfort and uncertainty that we have learned much about our system, we have and will continue to develop new skills and be resilient. And we are now more creative, more resourceful, more cautious, and more focused than ever before on our future here at the Florence One Schools."
The board, by a 5-3 vote (Artie Buxton, Alexis Pipkins and John Galloway voted against), gave O'Malley an overall evaluation of "extremely effective" (highest rating) for the 2019-20 school year. A $15,000 bonus for O'Malley came with it.
Pipkins made known during the meeting what he thought of O'Malley's performance.
"Let the record reflect that I oppose this recommendation. There are areas in the community, particularly as it relates to the African American community, that have been not addressed," Pipkins said. "Second, they are areas that have been requested as it relates to employee evaluations that have not been addressed. And there are other areas that have been requested and information as it relates to the fairness and equitable treatment of all board members. That does not exist at this board. … I would like to acknowledge that I have a deep concern for the direction that this district is moving in terms of building all of Florence."
Fellow board member Trisha Caulder then responded, in support, of O"Malley.
"I'm very proud of where our district is and the direction it's headed in. Yeah, we've got things that are wrong, and we've got things that need to be corrected in this district, but so does everyone else," Caulder said. "We moved along in this pandemic in a manner in which I don't think any of the surrounding districts were able to do. We had our students ready to go the very next Monday after that determination was made the school district was closing. I think our superintendent, he has led us, He led the staff in the direction we needed to go. And our district has really shown during this pandemic we had a lot of problems, we had a lot of issues that we had to get over, but we were ready. No, we're not perfect. We've got work to do. The only way we could do that is working together and pulling together."
Officer elections were held, and Porter Stewart retained his position as board chairman. Fellow board member Artie Buxton nominated Caulder to run against him, and John Galloway seconded it. But Caulder withdrew, leaving Stewart the lone candidate and therefore the winner.
"I certainly appreciate the confidence of my fellow board members, and I look forward to pressing ahead to the new challenges of the school year and be focused on the tasks before us, as outlined by the superintendent," Stewart said.
Caulder then was voted to become board vice chairman. She was nominated by Barry Townsend, the previous vice chairman, and Buxton nominated Galloway. Caulder won by a 5-3 vote. The vote for secretary, however, was tabled until the next meeting because a majority vote was not reached after two tries. There were four votes for Bryan Chapman, two for Davy Gregg and two for Buxton, the current secretary. After Buxton withdrew, Chapman and Gregg tied with four votes apiece.