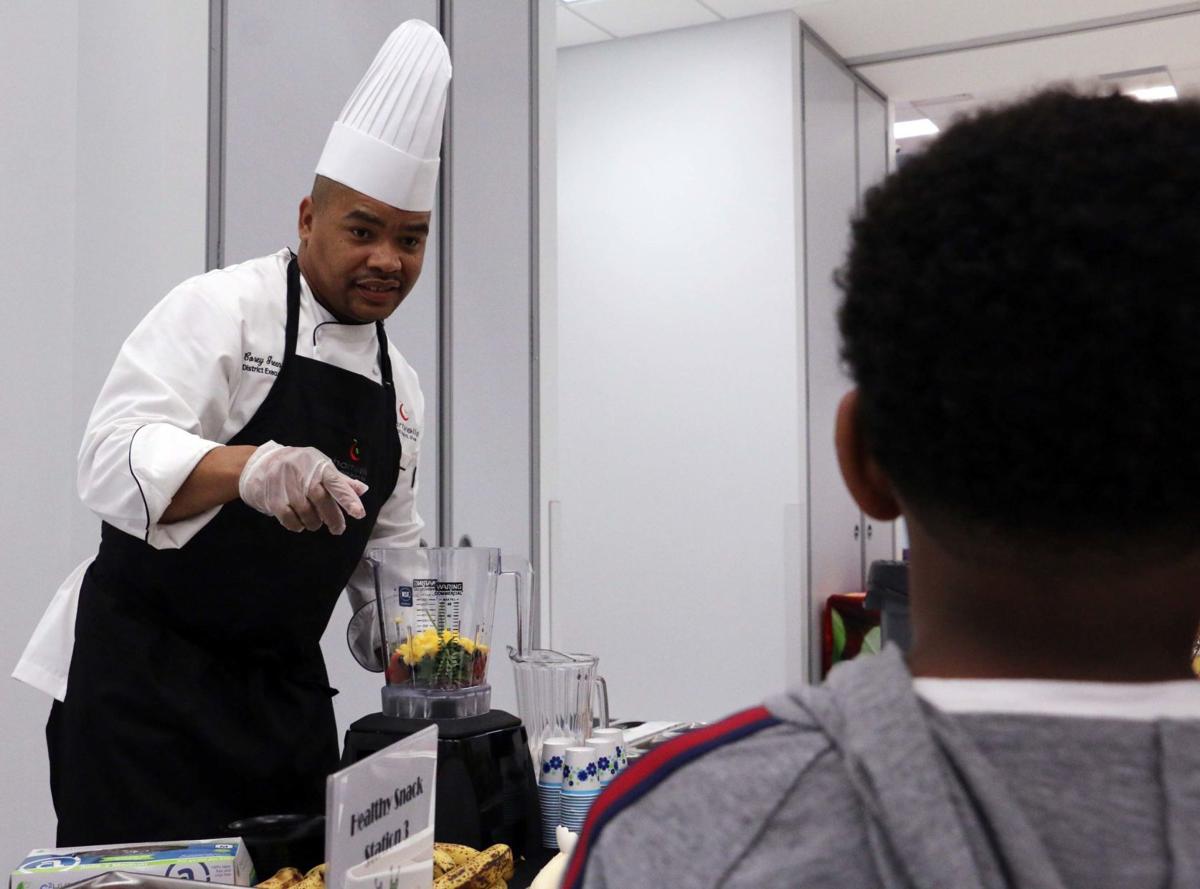 FLORENCE, S.C. — The Florence One Schools' food program netted a profit of $500,000 in the 2019-20 school year. 
The 2019-20 school year, the first for the partnership between Florence One Schools and Chartwells K12, produced a significant increase in meal participation.
In addition, more than a half-million dollars were spent on improvements to equipment and the district was awarded $37,000 in grant funding from nonprofit and community organizations — all while serving more than 700,000 meals during the COVID-19 pandemic.
The food service program netted its first profit, $500,000, for the first time since 2015.
"No one could have predicted that our first year would be one like no other," said Genie Caroselli, the regional vice president for Chartwells K12. "It's credit to the teamwork and collaborative spirit of the district and its leadership that we have been able to feed so many students and elevate the dining program during this unique time; we look forward to even more success this coming year."
Heading into the second year of the partnership, the culinary services department continues to identify opportunities for growth, invest in the team and participate in community activities while providing an innovative approach to school dining.
"Food is one of the most important things for kids, and if they are not eating or being fed properly, they are not going to learn," Florence One Superintendent Richard O'Malley said.
Focus on food
Chartwells K12 brought its signature happy and healthy approach to Florence One, increasing participation across mealtimes when compared to the previous school year:
Nearly a 7% increase in the number of students eating breakfast.
More than a 16% increase in students eating lunch.
Introduced a new dinner program, serving more than 62,000 dinners in the first six months of the school year.
Investments in facilities, staff and technology
Florence One and Chartwells invested in both the culinary services team and school facilities:
$450,000 spent on upgrades to kitchen equipment and supplies, including dining area kiosks at the three high schools, as well as new dish machines in various cafes.
$123,000 spent on repairs to kitchen equipment.
Added executive chef and marketing specialist positions to the culinary services team.
Provided 100-plus hours of training for associates, including both hands-on and classroom style instruction of culinary basics, production records, HACCP, safety, food allergy and customer service.
Additional technology investment introduced Nutrislice to the district, which provides a web and app-based digital solution for sharing daily menus, nutrition facts, allergy information and more.
COVID response and summer feeding
In less than 24 hours after schools closed on Sunday, March 15, Florence One leaders coordinated with both Chartwells and the district transportation staff to keep feeding students and helping families in need. This team effort:
Provided grab-and-go meals at 19 schools.
Delivered meals to 21 sites.
Received $29,000 in additional grant funding from No Kid Hungry and GenYouth to facilitate ongoing meal service.
Served more than 75,000 meals per week through the end of May.
Continued to feed children throughout the summer, making seven-day meal kits available at multiple schools and delivering the kits to 42 sites across the community.
"Change is not easy, and having to change the food service program in F1S to become more fiscally responsible and student focused was not easy," O'Malley said. "After the many lies and untruths that were stated about me and Chartwells over a year ago when this was to be implemented, it is nice to finally have redemption that clearly illustrates that you can provide nutritious meals to students and operate the food service department in a fiscally responsible manner."
Community involvement
Florence One worked with Chartwells to bring programs that went beyond the schools and cafeterias, participating in events and partnering with organizations across the community:
Chef Corey Green showcased recipes and offered tastings at the local Farmer's Market.
Florence One Schools, The School Foundation and Chartwells hosted the interactive Cooking with Kids event at the R.N. Beck Child Development Center, offering students and their families a fun evening preparing and tasting a variety of healthy snacks.
Chartwells and the district hosted Soup Day for students to bring fresh produce from home and make their own homemade vegetable soup.
Partnered with The Boys & Girls Club to provide seven-day meal kits for the Summer Meals Program in the Lake City School District.
2020-21 school year kickoff
With a combination of both in-person and virtual learning for the 2020-2021 school year, Florence One continues to partner with Chartwells to facilitate meal service:
Breakfast and lunch are served through both traditional cafeteria line service and classroom delivery for in-person students.
Received additional $8,000 in grants to facilitate classroom delivery.
Offering take-home meals and multi-day meal kits for those learning virtually.
Get local news delivered to your inbox!
Subscribe to our Daily Headlines newsletter.