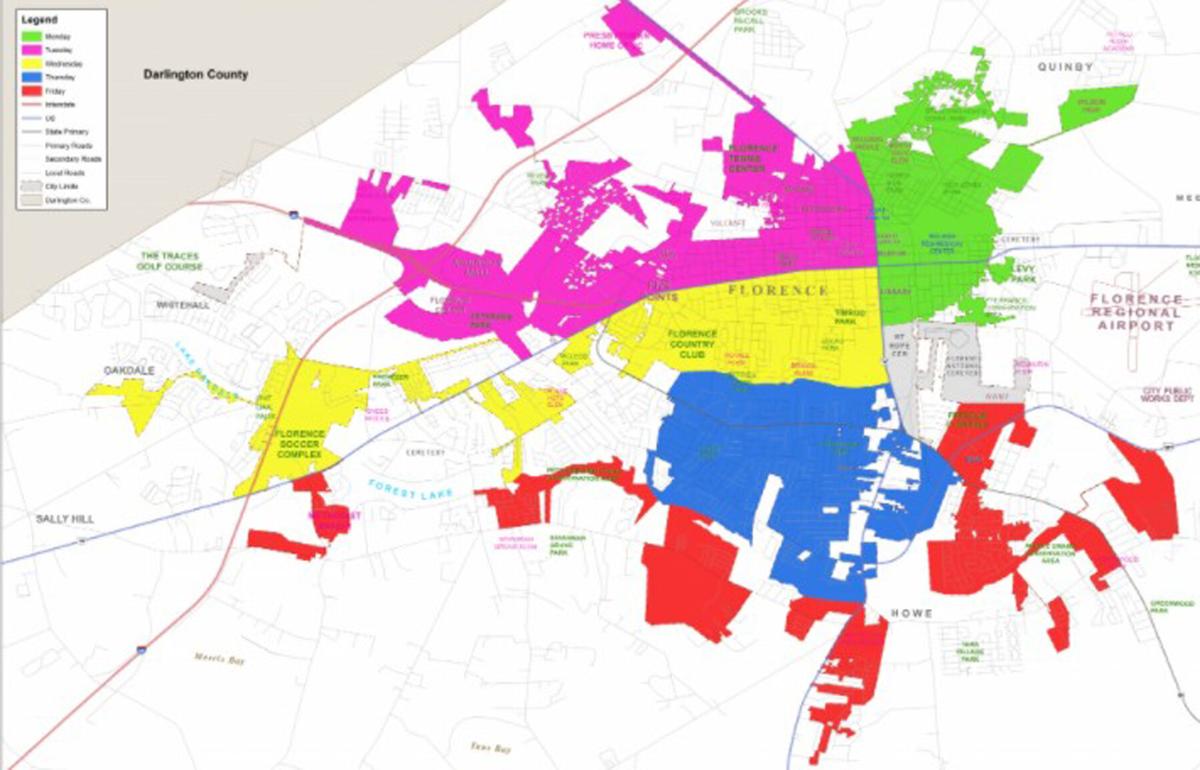 FLORENCE, S.C. — Add garbage and recycling routing to the ever-growing list of effects of the growth in west and south Florence. That list includes a new sewer plant and two new fire stations.
Florence Public Works Director Chuck Pope confirmed Thursday that the city would be changing its garbage routes beginning Monday, April 19. He said that when the city grew, it had just tacked the added homes onto the closest route but over time, those routes became more and more inefficient.
"Some days, particularly Monday, Thursday and Friday, were a high volume of collections," Pope said. "Tuesday and Wednesday were more in the middle of town and those are already kind of defined and didn't grow a whole lot."
He said the current system has the city sending trucks to north and south Florence on the same day. Pope also implied that the city workers on the trucks were working long hours to pick up the city's waste.
The city worked with an engineering firm and a route-optimization company, RouteSmart, to figure out the most efficient way for it to pick up residential garbage.
The new plan calls for the garbage in east Florence to picked up on Monday, north Florence including some recent annexations on Tuesday, mid-Florence on Wednesday including some annexations, south Florence on Thursday, and far south Florence on Fridays.
The city is hanging placards to notify affected residents of the change. There is also a mapping tool on the city's website.
That tool can be accessed by visiting cityofflorence.com, clicking the Sanitation Routes to Change link under Florence highlights, and then clicking View Interactive Sanitation Collection Map.
Residential yard waste is scheduled to be picked up three days after garbage. If a home's garbage is picked up on Monday, the home's yard waste would be pick up on Thursday. Tuesday garbage pickups would have their yard waste collected Friday, Wednesday the following Monday, Thursday on Tuesday and Friday on Wednesday.
"We have a little over 14,000 residential properties that we pick up residential garbage and out of that, just a little over half of the folks will be affected," Pope said. "There are certainly half that are going to stay same day of collection they have now."
He added that most of the residences whose garbage is now picked up on Thursday will go to Friday and most of Friday's will go to Thursday or Monday.
Pope also said the new plan allows for easier additions to the plan when annexations happen in the future.
Pope said city employees were nervous about the changes to their routines but excited at the prospects of greater efficiency.