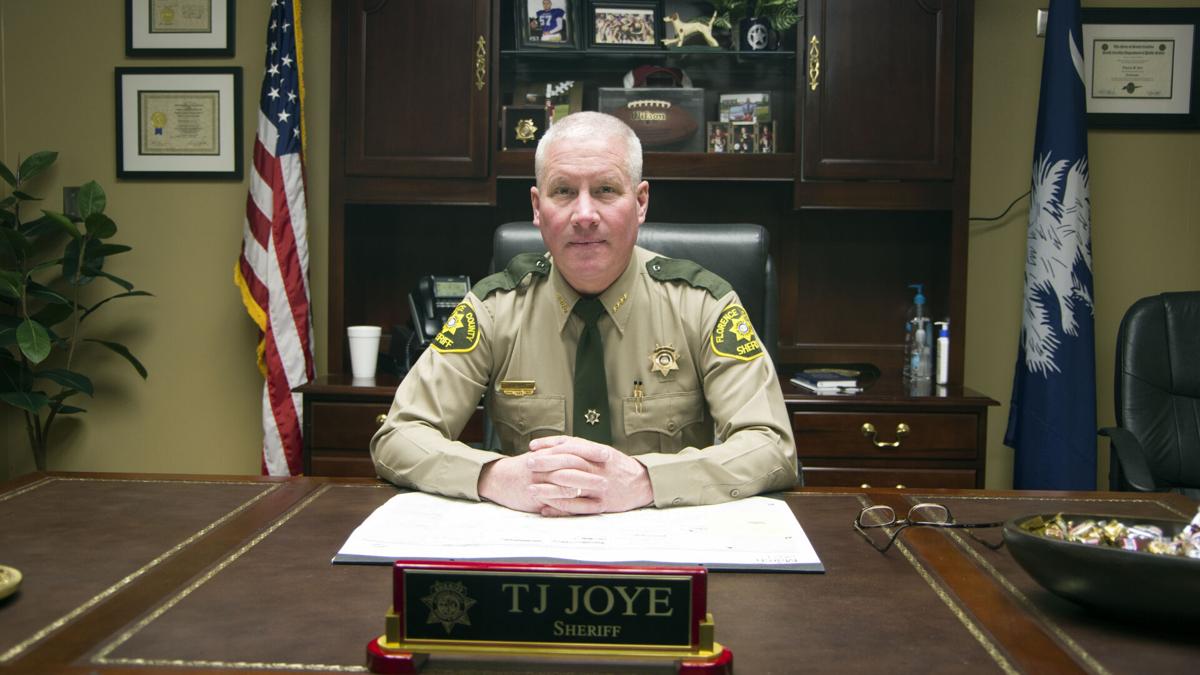 EFFINGHAM, S.C. — Florence County Sheriff T.J. Joye has a list of accomplishments to his credit, a long-term community-improvement project to work on, a wish list and some long-term goals.
Not too bad for somebody who has been in office only about 100 days.
"I feel great. We've accomplished quite a bit. We've accomplished the things I've promised," Joye said in a Thursday interview.
"More boots on the ground. The video cameras that are getting ready to be put into place. They're in. It's probably going to take us a month to get all those done and the system set up but the body cameras are in," Joye said.
The agency has reduced it's time to respond on calls 44% through a combination of reassigning deputies to the patrol division and rearranging patrol zones to put deputies where, statistically, they need to be, Joye said.
That retasking boosted the number of patrol deputies from 5-6 per shift to 10-12 per shift, and Joye said he's working to get it to at least a dozen deputies per shift.
That drop in response time has resulted in 20 people being caught in the process of breaking and entering, Joye said.
"We have a large county, we have a large volume of calls. We went from 5-6 deputies to 10-12. We're in the process now of trying to hire more people," Joye said.
"I'm very pleased with where we are. Do I want to see more boots on the ground, I'm going to request more through (Florence County) council. Whether they do that or not it doesn't hurt to ask."
The agency's narcotics investigators, he said, were working in Florence earlier in the week before they were to return to the southern end of the county to serve warrants.
"We've had a lot of drug cases. We've confiscated more than $400,000 in seizures. We have a narcotics bureau that's doing a great job."
Joye said a lot of what his agency has accomplished so far has been done in partnership with the community, which has stepped up, spoken up and phoned in.
"A lot of the people complaining about drugs, we're working it and it turns out to be true. It's never too late to call me and let me know 'I witnessed this' or call the office and let us know what you see. If you have that gut feeling something is wrong something is wrong," Joye said. "Help us. Give us a tip. Let us know what's going on."
The sheriff's cell number is 843-687-4857. Joye said it's been out there since the election and he answers and listens.
"My cell number is available 24-7 and I'm available."
"I want the public to know to contact us, give us the information. Whether we jump on it right then, they can lead to bigger things," Joye said.
"We have a 10-man narcotics bureau. We're steady-Eddie making surveillance. We're steady-Eddie making buys. It's an epidemic and it's sad," he said. "All of it is a dead-end road."
Interchange a problem
The Intestate 95/U.S. 52 interchange is just about the halfway mark between New York City and Miami, which makes it very convenient for tourists, travelers and criminals. It also makes it one of the larger interchanges in the state.
The interchange is surrounded by interstate travel plazas, new and modern motels, historic motels and old motels and all the ancillary businesses that come with them and the interstate traffic.
"It is so sad to see the stuff at Lucas Street. It's sad to see the prostitution and the drugs," Joye said.
Joye said his department has complaints from merchants about theft from their businesses and drug dealers plying their trade in front of businesses.
"The problems we have at 95 and 52 have been around for decades," Joye said. "Can we stop it all together, I doubt it. "We're going to do our job and deter crime. The only way you can do that is by numbers."
"The last go 'round we worked it we made 12 cases," Joye said.
"A lot of the motel owners know what's going on. They're taking cash and they're allowing it to go," Joye said.
An added challenge at the interchange is that some of the problem is in the county and some is in the city of Florence — and those problems can be next door to each other.
Joye said there is no simple solution to the problems at the interchange.
Getting patrol shifts staffed to the point where a few deputies can be released to go and be "proactive" at the interchange will help, he said.
Forming a task force with the city will be a step in the right direction, he said. Working with code enforcement will be another step in the right direction.
"Some don't even need to have occupants in them," Joye said of the safety of some of the buildings in the county at the interchange.
And just being there and being visible will help.
"We're going to be there. We're going to be a thorn in their side," Joye said.
Reorganizing, getting back to basics
One of Joye's first actions was a quick reorganization of the department, getting rid of several smaller teams and taking those deputies and returning them to the patrol division. Those moves boosted each shift to where there were a dozen deputies on most shifts and at least 10 deputies on one.
Only one of the smaller teams remains in place.
"We still have our criminal enforcement unit — a four-man team with three dogs. We've had great success with that unit and they help out with call volume when we get backed up," Joye said.
"Our investigation bureau is in good shape now. Our narcotics bureau is up to par. Our patrol division is not where I want it. I still want more numbers," Joye said.
With the economic effect of the COVID-19 pandemic a request for more money and more staff may not be popular with county council members, but Joye said that he has had salary savings this fiscal year and that ultimately the changes will improve service and benefit county residents.
"Times are tough now but one of the things we're trying to do is attract and retain these deputies," he said. "I'm trying to get the salaries up on the deputies."
Joye said the additions are to serve residents of the county.
"We're in the process of looking at the (salary) brackets we have, the starting salary and the time in service," Joye said. "From corporal to sergeant is only $2,500, and a lot of people don't want the headache to supervise for $2,500."
"We're going to have to do a better job retaining and attracting, but in order to do that we're going to have to do something with the salaries."
Retention is difficult when a deputy can hire on, get trained and a couple years of experience and then leave to make thousands of dollars a year elsewhere — and take their training and experience with them.
"When you look with training a deputy, with a car and equipment, the vest video in car and body cameras, you're looking at $150,000 easily," Joye said.
"I want more deputies, that's the main thing. Later when I get up in numbers, I may have a team or two we put in place."
For now, and the future
Joye said he plans to continue restore some things from the past, continue some things from the present and looks to one major accomplishment for the future.
The department will continue a move to more closely work with the smaller towns in the county, some of which may not have more than a part-time police officer on patrol.
The agency is going to get away from doing interstate saturation patrols.
"That's too much money. We're going to stick to truly enforcing, boots on the ground and answering calls," Joye said.
The agency is going to back to working more closely with neighboring counties and with the agencies within them.
That effort has already resulted in arrests connected with the theft of Florence-area ATMs — Clarendon County had information that led to arrests in Orangeburg County, Joye said.
Information sharing and cooperative actions make it easier for law enforcement to solve problems across county lines, he said.
Camp Pee Dee Pride won't be back this summer, but that doesn't mean it won't be back, Joye said.
With COVID restrictions bringing it back this summer wasn't going to be easy and Joye said there are currently more pressing law enforcement needs.
Then there is accreditation.
"We're working on accreditation," said Joye, who said he was surprised the agency wasn't already accredited.
"We've not been state or federally accredited. We're working on that now," he said. Joye formerly worked with the state Department of Public Safety, which prided itself on being accredited. "It forms a structure to make sure we do things by policy," he said.
Policy manuals are in the process of being written — a big step toward accreditation.
"That will leave an avenue for us to get more federal money and more state money," he said, once the agency is accredited.
Accreditation and the skills and professionalism that come with it, he said, will ultimately save the county money.
Digital Editor Matt Robertson is a veteran journalist who has fulfilled just about every role that a newspaper has and now serves as a key member of the Morning News' newsroom by maintaining SCNow.com and covering the occasional story and photo assignment.