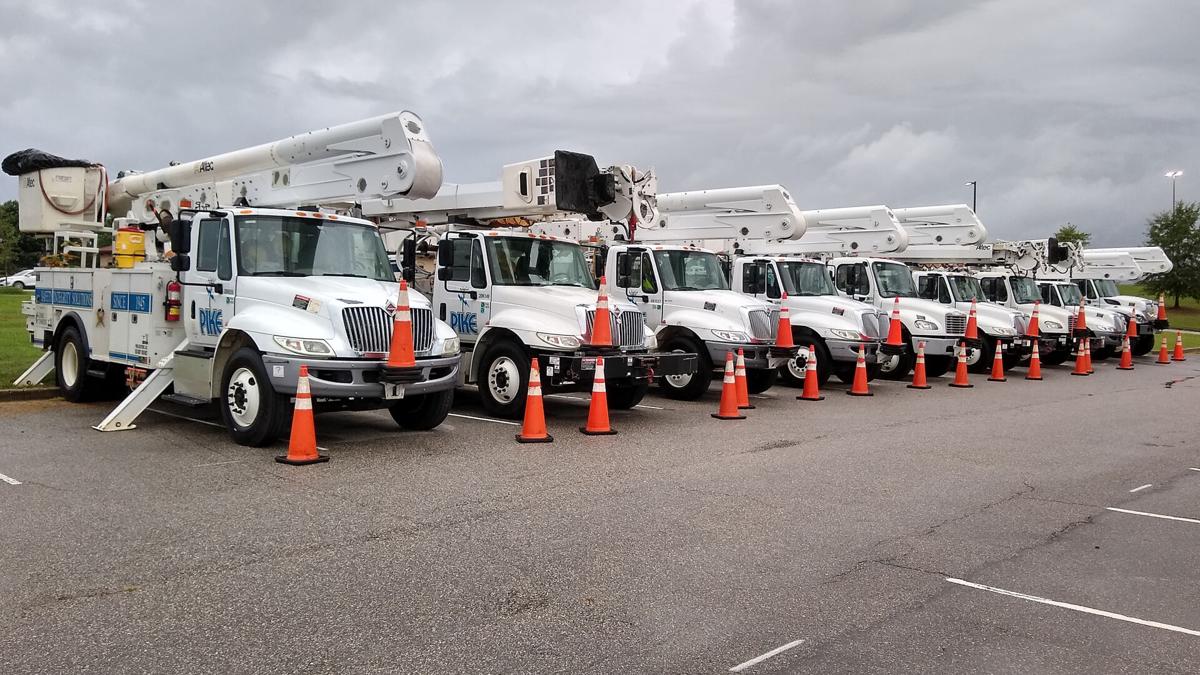 FLORENCE, S.C. — Widespread power outages around Wilmington, North Carolina, reports of street flooding in Myrtle Beach and house fires in North Myrtle Beach and some building damage around Ocean Isle, N.C., seem to be the highlights of Hurricane Isaias — at least for the Pee Dee.
The storm set off flooding and sparked five home fires in Ocean Isle Beach, Debbie Smith, the town's mayor, told WECT-TV. Firefighters from the town's fire department were battling the blaze with assistance from Horry County firefighters in South Carolina, Tony Casey, a spokesman for Horry County Fire Rescue, told The Associated Press.
Authorities in Myrtle Beach ordered swimmers out of the water to avoid rough surf and strong rip currents. By nightfall, power began to flicker at beachfront hotels as Isaias crossed the last bit of warm water on its path toward the U.S. mainland.
Still, on this part of the South Carolina and North Carolina coasts that has been affected to varying degrees by seven tropical storms or hurricanes since 2014, residents weren't panicking.
"It's just going to be a lot of wind and high tide," said Mike Fuller, who has lived along the coast for more than a decade.
As the storm neared the shore, a gauge on a pier in Myrtle Beach recorded its third-highest water level since it was set up in 1976. Only Hurricane Hugo in 1989 and Hurricane Matthew in 2016 pushed more salt water inland.
The Duke Energy online outage map showed approximately 115,000 customers around Wilmington without power. One Pee Dee customer near Johnsonville and one customer near Florence were listed without power. Both of the Pee Dee outages were reported after 7:30 a.m.
Duke Energy and its contractors staged response teams in Florence overnight at the Florence Center and surrounding motels. Crews were expected to be back on the road by 7 a.m. en route to areas in need, a company spokesman said.
More than 300 Duke Energy workers traveled from the company's Midwest service territory — Indiana, Ohio and Kentucky — and an additional 300 workers were to travel Tuesday from Florida to supplement Carolina-based crews in power restoration, if needed.
Workers will be deployed to areas hardest hit by the storm to restore power for customers after the storm passes.
"We recognize that during the COVID-19 pandemic, customers are spending more time at home and even brief outages are inconvenient," said Jason Hollifield, Duke Energy's Carolinas storm director. "Our team is ready to respond after the hurricane hits to minimize the effects to our customers, and we encourage customers in the projected path of this storm to make plans now to prepare their homes and families."
During nonpandemic times, restoring power after a storm can be difficult for utility repair crews as travel and work conditions can be affected by high winds, fallen trees and flooding.
Now, in addition to addressing those standard challenges, Duke Energy's detailed storm response plan has incorporated the Centers for Disease Control and Prevention's recommendations for COVID-19 safe-work practices and physical-distancing measures to help keep customers and communities safe.
Repair crews will wear face coverings when physical distancing cannot be maintained. In addition, work practices have been modified to reduce interactions.
The company has also eliminated paper transfers whenever possible, made field-work briefings more efficient and incorporated virtual activities and remote processes when possible.
Duke Energy requests that customers remain outside marked work zones and refrain from approaching repair crews.
Isaias (pronounced ees-ah-EE-ahs) was upgraded again from a tropical storm to a Category 1 hurricane Monday evening. Early Tuesday the storm, downgraded again, was centered approximately 25 miles northwest of Greenville, North Carolina. It was moving quickly north to northeast over eastern North Carolina at 26 mph, and this general motion accompanied by an increase in forward speed was expected through Tuesday.
The center moved into southeastern Virginia around daybreak, near or along the coast of mid-Atlantic states and continued across the northeastern United States later into the evening. Strong winds and heavy rainfall spread northward along the mid-Atlantic coast Tuesday morning.
The storm's maximum sustained winds dropped to 75 mph when it hit land with higher gusts but only a gradual weakening was anticipated.
Hurricane-force winds extended outward up to 25 miles (40 km) from the center, and tropical-storm-force winds extended outward up to 125 miles (201 km). A wind gust to 64 mph (102 km/h) was reported near Bogue, North Carolina.
The Associated Press contributed to this article.