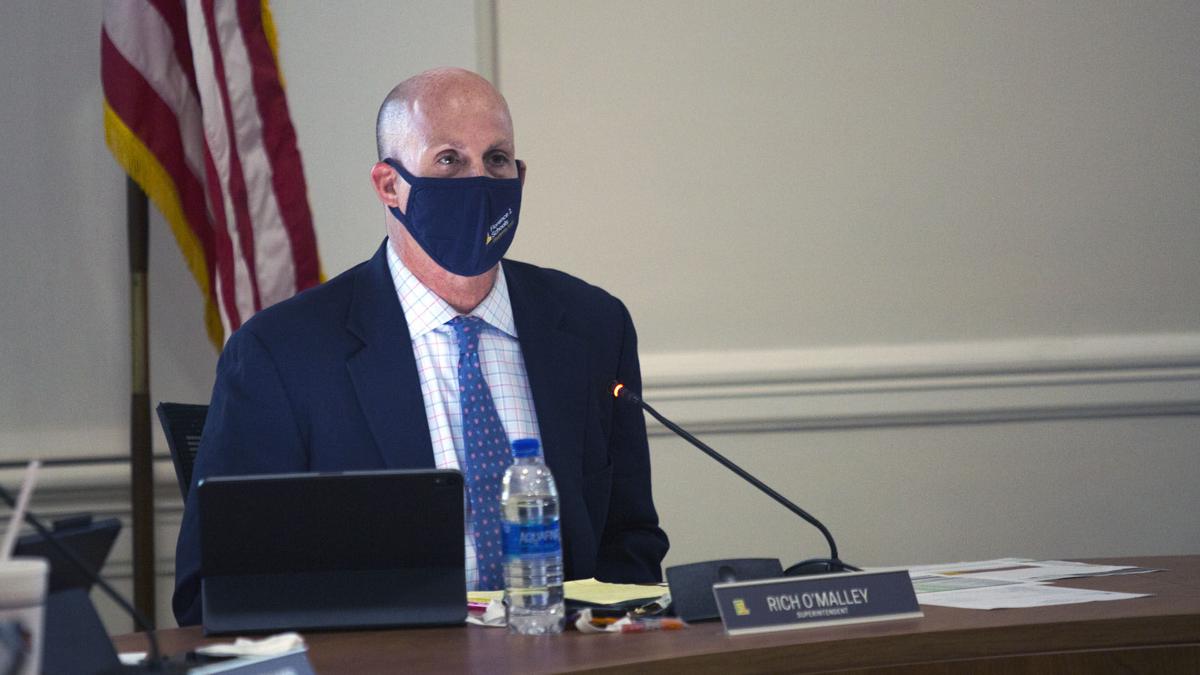 FLORENCE, S.C. — Florence One Schools Superintendent Richard O'Malley couldn't help but smile under his face mask as he spoke with the Florence One Board of Trustees about the district's 2020-21 budget. 
O'Malley said later by email that this was his third budget as district superintendent and that the budget would be the third consecutive budget that would not have a millage increase built in. 
The budget calls for the district to receive revenues of $157.5 million. 
The district receives its revenues from three major sources: local taxes at $78 million, state funds of $75 million, and other sources, primarily transfers from other funds, of $4.5 million. 
The local taxes are derived from real property at 47.7% of the total, tier three property tax relief at 22.2%, vehicle taxes at 11.5%, taxes from fee-in-lieu-of-tax agreements at 6.3%, local property tax relief at 5.4%, homestead exemptions of 2%, delinquent taxes of 1.9%, manufacturing depreciation reimbursements of 1.6%, and several other areas below 1%. 
The projected revenues are $3.6 million higher than the previous year. 
The revenues increased in 2020-21 due to carryovers from four funds at $2.6 million, an increase in state revenues of $2.1 million, and an increase in tax revenues of $786,000, and a decrease of $1.8 million in transfers from other funds. 
State law mandates that governmental entities have balanced budgets, thus the district's expenditures are also $157.5 million. 
Those expenditures are broken down into categories of personnel services of $137 million — 86.9% of the budget — contracted services of $5.5 million, utilities of $3.6 million, technology of $2.4 million, school supplies of $2.5 million, repairs and maintenance of $2.1 million, and other transfers and supplies of $4.4 million. 
The budgeted total is an increase of $12.9 million over O'Malley's first budget in 2018-2019 according to a sheet provided to the board of trustees. 
This increase is due to a $16.1 million increase in personnel costs including a change in how therapists are funded at $6 million, a 5% pay raise for district workers in 2019-20 at $6 million, a 1% pay raise in 2020-21 at $1.3 million, and the addition of 18 new positions mostly due to John W. Moore Intermediate becoming a middle school. 
A portion of the increase is offset by a $3.2 million decrease that includes school supplies at $1 million less, $900 less in transfers to other funds, a $700 decrease in contract services, a repair and maintenance decrease of $400,000, and decrease of other expenses at $200,000.  
The board of trustees approved the budget upon first reading at a meeting on Oct. 8. It will likely consider second and final reading of the budget at its Oct. 22 meeting. 
Get local news delivered to your inbox!
Subscribe to our Daily Headlines newsletter.