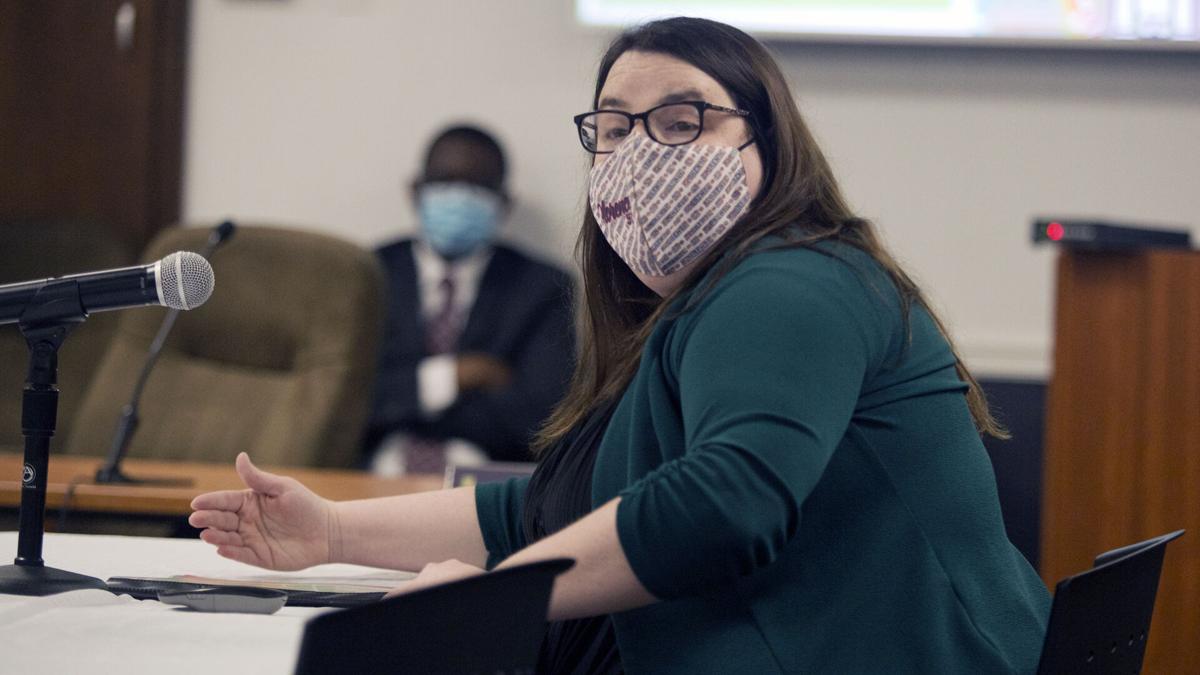 FLORENCE, S.C. – The English and language arts curriculum of Florence One Schools has been revamped.
Alyssa Leibman, curriculum coordinator of the subject for the district, provided an overview of the changes made to the Florence One Schools Board of Trustees Thursday evening.
She began her presentation by providing a reason for those attending Thursday's meeting to see what, if any, action the board planned to take regarding the district's mask mandate to care about the district's curriculum changes.
"I know when people talk about curriculum that's not usually the most thrilling thing on the agenda that people get excited about but it really should be," Leibman said. "It is the most personal thing a school district can do for children in any building. It's the way we connect with how children learn, it's the way we respect teachers' professionalism and for a parent it's the way we can guarantee that when a child leaves our district they are truly college, career and life ready."
She said that she had been in the district for four weeks and that every English and language arts course had been changed.
Why was the change necessary?
Leibman said the changes began with conversations with teachers about their concerns with the curriculum. One of the concerns and issues for the teachers was remediation—going back to make sure a student has the necessary skills to move forward – during and after the pandemic.
"So one of the key questions our [new] curriculum had to address is how do we make up for lost time," Leibman continued. "How do we go back and teach previous courses that our children missed while they were not physically in front of us?"
Another major issue with the previous curriculum was how it was organized.
Leibman said the previous documents were cumbersome and not easy to navigate, particularly for teachers in other disciplines and for administrators seeking to see what a teacher was currently teaching.
She added that some English teachers also struggled to work within the document to know what to prepare their children for in the next school year or to know what the students learned in the previous year.
Another problem was with the honors and other gifted courses.
"One of the questions I asked my teachers my first day in Florence One was what makes honors honors," Leibman continued. "And the answer was silence. And it's not because our teachers are not gifted, it's because we put a very unfair burden on them."
She listed another problem as the books students were being asked to read. Leibman said the district was asking students to read "wonderful" canonical literature that featured a lot of British authors. She said the problem with this was that students don't like to read books about protagonists that don't look like them.
What changed?
Leibman broke the changes into four categories; general changes across all grade levels and then by elementary school, middle school and high school changes.
The first general change is that the curriculum document that was a collection of Google Drive files is now a single document that Leibman said is much easier to understand.
The next general change is common assessments – tests, quizzes – instead of different assessments by building or teacher.
"We don't want children at Wilson having a very different experience than a student at West Florence or South Florence," Leibman said. She added that the common assessments also provide consistent data for the district to evaluate how its students are learning.
She later added that there is flexibility for teachers to make the assessments fair for each child.
Leibman said another change was making sure the assessments match the SC Ready and other statewide assessments. She added that the district also now uses the state-mandated learning standards to create skills that students should master.
She added later that the district now also offers teachers more novel choices so that they can pick the most appropriate for their classes.
In elementary schools, the reading curriculum has been changed from Journeys to Into Reading and the overall curriculum allows for easier use of small group instruction. There is also more writing instruction.
In middle schools, more text-dependentanalysis questions are in the curriculum and new novels have been added.
Leibman added that the novel changes were critical because data shows that students began to lose interest in reading in the fourth grade but permanently lose interest in reading in the sixth grade. She said it was critical to have the first novels inspire passion in students to rekindle that interest.
In middle and high schools, Vocabulary Workshop has been added, which could allow students to do better on standardized tests.
In high schools, there is more emphasis on preparing for the ACT and SAT writing examinations and also more diverse authors and new novels.
Leibman added that the honors and other advanced classes have also shifted from a more work equals rigor approach to one focused on depth of learning.