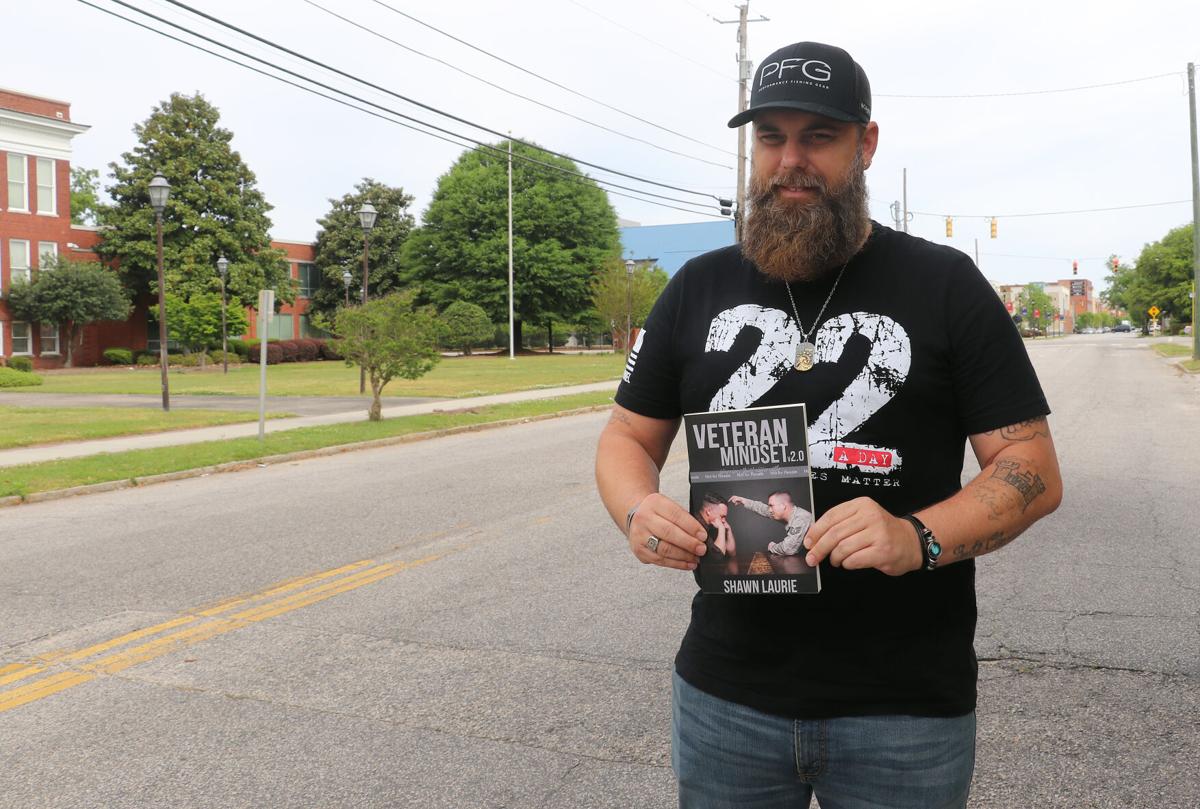 FLORENCE, S.C. − Pee Dee veterans advocate and U.S. Army veteran Shawn Laurie can add published author to his resume with the release of "Veteran Mindset 2.0: Warriors Think Differently."
The Florence resident's book hit No. 1 on the Amazon chart for new releases ahead of its April 20 publication date.
"Now we're working toward best seller," Laurie said. "Preview is over, now everybody can go to Amazon.com and type in Veteran Mindset 2.0 and order their book."
The book has been about a year in the making, he said.
"It's not a very big book. It came down to 116 pages, I believe. It took me about a year to put everything I've learned, techniques and strategies I've learned to cope with into that book," Laurie said.
"People ask me all the time, 'What is this book? What does it mean?' First I'll say it is for veterans, but it's not just for veterans. Anybody who struggles with mental health can benefit from this book," he said. "We all know not just veterans struggle with PTSD. These are just coping skills on how you can upgrade your mindset.
"A lot of therapists and psychiatrists try to teach you how to overcome your PTSD and overcome your mental health problems. I'm not a psychiatrist. I'm a life coach and someone who has experience, and what I try to teach people is not to overcome your PTSD but how to live with your PTSD, live with your mental health," he said.
"It can take people sometimes 20 years to say they've fully recovered, and we don't have that time to wait."
Part of moving on involves finding purpose in life, he said.
"Turned my mess into my message," Laurie said of his life up until 2016 when a good friend with whom he served in the Army killed himself.
"In 2016 I reached out to him, and he never answered me back. His daughter reached out to me and said he had killed himself. She found him. He was hanging," Laurie said.
It was especially disturbing since, Laurie said, he saw himself heading in that direction. That's when he got clean and straight from drugs and alcohol and took up advocating for fellow veterans.
"The biggest thing in a veteran's mindset is that when people get out of the service, depending on how they got out, and they're like, now what? They have to find a new passion," he said. "Some of them are OK, but guys like me who were thrown to the curb in the military, whose careers were cut short because of surgery or mental health problems or whatever, we get out and we're like, 'What do we do now?' One hundred percent finding a purpose for you is very important.
"I believe 100 percent that everything we do, everything that happens to us is the way we think of it. It's not the bad things that happen to us. It's how we react to them. We can go fool and act crazy and make the situation 10 times worse, or we can accept it try to find a solution and move forward. Keep a positive mindset about it."
"A lot of people give up because bad things happen to them. This book is motivation. It says, 'Hey, get off your butt and get this thing done, because if you want it, you have to make it happen.'"
The book has five chapters: Mindset, Acceptance, Focus, Self Worth and Recovery.
"It doesn't mean you're healed, because you're not going to get healed off this book, but recovery means you learn coping skills and strategies to take you to the next level," he said.
Laurie said he'll be published again in a couple of months in an anthology — "From No Worth to Self Worth" — as one of 11 authors.