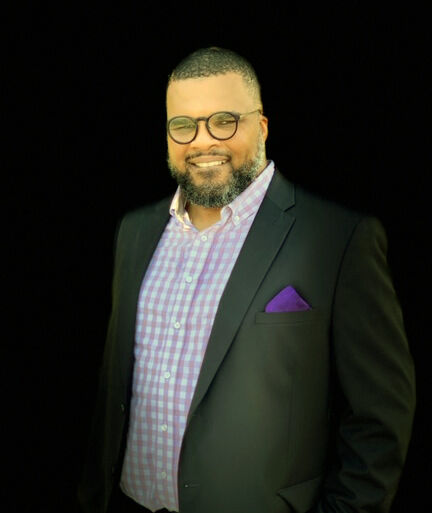 FLORENCE, S.C.  — Four seats on Florence County School District I Board of Trustees are being contested in the Nov. 3 election. Elder Alexis Demetrious Pipkins Sr. is being challenged for Seat 4 by the Rev. Robert V. Gabriel. 
District 4 includes the northeastern-most portions of the city and the county.
A native of Florence, Pipkins is executive director of Lee County First Steps and has been married to his high school sweetheart, LaDonna Brooks-Moore Pipkins, for more than 25 years. They are the parents of four children — Alexis Jr., Brooke A., Thomas, and A'Mari.
He graduated with honors from Wilson High School (1990), received his bachelor of arts at Winthrop University (1994), master of arts degree at Webster University (2002) and education specialist degree from Capella University (2016). He also completed the Non-Profit Leadership Institute from Francis Marion University and the Francis Marion Rural Leadership Institute and education specialist degree specialization in leadership in educational administration from Capella University (January 2016).
Pipkins said he has spent the past 19 years being a voice and advocate for the community, serving in the FSD1 School Board Trustee Seat 4 since 2001, when he was elected as the youngest school board member to serve on the board.
"I am an advocate, teacher, educator, trainer, and proven servant-leader," Pipkins said.
As a graduate, former teacher, and now a parent of four children, one currently attending FSD1, Pipkins said, he is aware of the educational, social and economic needs of the students and families going forward in the 21st century. 
 "I led the way for implementing semi-monthly pay for all staff, the rebuilding of the new North Vista Elementary School, and acquiring and establishing the Alfred Rush Academy," Pipkins said.
Pipkins said he has almost 30 years of program and administrative experience working to improve the quality of life for children and parents. These experiences include:  Pee Dee Community Action Partnership as the JTPA Summer Youth program coordinator, teacher in Florence 1 and Florence 4, coordinator of Student Life and Internships at Florence Darlington Technical College, and owning and operating Shekinah Child Care Center.  He is a member and associate minister of Greater Gethsemane Apostolic Church in Florence.
 "My background as a lifelong resident of the Florence community, and working closely within the region, has given me a clear sense of both the educational and economic issues and needs that we face," Pipkins said. "As a member of the Florence School District 1 Board of Trustees, I have ensured that I have been knowledgeable of the issues, needs and concerns of my constituents."
 "I understand that leadership must be politically astute to represent the views and concerns of those you represent, even though others may not agree, or do not care, and only want to advance their own agenda that is only best for 'their community' and not all communities," Pipkins said. "I have attained the Level 6 on the SCSBA, which is the highest level for a school board member."
Pipkins said he previously served as the president of the S.C. Caucus of Black School Board Members, which provides dialogue on educational issues and concerns to address the full growth and development of minority children. He is also affiliated with the National Local Progress Movement, which focuses on progressive thought and insight for local officials.
Pipkins said if re-elected he will focus on implementing the middle school concept in all Florence District 1 communities, a building program that will ensure that such occurs with Williams Middle School being rebuilt with the community's involvement and work on academics, and getting back to the basics, while maximizing the infusion of technology.  He said the schools need to recognize the individuality and creativity of each student's needs, recognizing that the public schools are becoming more diverse. He said there needs to be equity in funding for all schools.
"The board is responsible for establishing the vision and mission for the local school district, and ensuring that the superintendent has the resources and appropriately manages the resources to implement the vision by having good policies and procedures, and good stewards of the district's General or Operational Funds and Capital or Building Funds," Pipkins said.
Pipkins said the role of the school board trustee must "be student centered, family centered, employee centered, and community centered by recognizing the diverse needs of students within our community. Not all students learn in the same manner, thus the board must be aware of such and hold the administration accountable for creating programs and services which will help students achieve and be successful. It is the job of the board to be knowledgeable, and current on educational issues and trends, and not just be a 'rubber stamping board' but ask questions, communicate with the public and not just those who share your personal beliefs and positions."
The Rev. Robert V. Gabriel, a native of Florence, is the youngest of five children. He is a 1995 graduate of Wilson High School and a 2000 cum laude graduate of Morris College in Sumter.
Gabriel is married to Bridgette Williams Gabriel. They have one daughter, Ja`Niaja Gabriel, and lots of godchildren. For eight years, he has been pastor of Jerusalem Chapel Missionary Baptist Church in Conway and is also a property manager assistant at the Housing Authority in Florence.
Gabriel said this is his first time running for public office.
"I am running because I would like to restore civility to the school board," Gabriel said.
He said he came to the decision to run after several meetings were held at Mt. Zion AME Church where there was an outcry from people asking board members to answer their pleas for help. After those meeting, Gabriel said, he decided to offer himself for the leadership role.
"There is a need for new leadership," he said. "I am a servant-leader."
"I have an ear to hear," Gabriel said.
He said there is a difference between listening and hearing. He said too often people listen and let it "go in one ear and out the other." He said a person who hears acts upon hearing what you say.
"Too many times citizens have been listened to and not heard by school board members," Gabriel said. "I am offering myself as an advocate for the children, staff, faculty and administration."
Gabriel said he is running to offer "a fresh look, fresh eyes and fresh ideas to school board."
Gabriel said there is an undercurrent of concern about the future of Williams Middle School in Florence. He said there is talk of having students bused to Rush Academy in Quinby. He said that is of great concern to him because without the older students at Williams Middle School the younger students at North Vista Elementary will not have older children to walk them to school. Gabriel said many parents in that neighborhood rely on the older children to see that the younger ones get safely to school, because they have to be at work early.
"The younger children will be out there and be vulnerable," he said. "Williams is a neighborhood school. It doesn't need to be displaced; it needs to stay where it is."
Gabriel said he also has concerns about the possibility of the Florence Career Center being done away with and sending those students to Florence-Darlington Technical College.
"I don't agree with that," Gabriel said.
He said students need to be able to learn a trade and become viable in society.
He is also concerned that replacing auto mechanics at Wilson with culinary arts sends the wrong message — "that the only things these students are good at are cooking and running the ball."
"That is a problem for me," he said.
Another reason Gabriel gave for running for the school board was to see more transparency between the board and the community.
"There shouldn't been any surprises with finances or meetings," Gabriel said. "Everything needs to be on the table. Without transparency, there is a lack of trust between the school board and the community."
Gabriel said it is time for fresh leadership so transparency can be restored.
"As a former employee of FSD1, Gabriel said, "I've been on the side where we would be handed down orders without any input."
Gabriel said he would like to invite staff and faculty to come to him and express their ideas and opinions that he could share with the board.
"I want to work together so that everyone is satisfied," he said.
Gabriel said he has proven leadership skills, which make him the better candidate for Seat 4. He said that as a pastor for 15 years he has been the church CEO, the person to solve problems, and to be innovative.
"I am a person who sees issues and bring them to resolution," Gabriel said.
Gabriel said one of his goals will be to have quarterly "hearing sessions" to bring his constituents together to share their concerns and ideas and to find resolutions.
"I will not just be a talker; I will be a doer," Gabriel said.
He said the job of a school board trustee is to be an advocate for the community one serves, to enforce the rules, to make sure the superintendent is doing his job, and the schools are in compliance with the law. They must adopt a responsible budget, he said.
Seat 1 incumbent Barry Townsend is being challenged by Clamentine Elmore. Seat 2 incumbent John Galloway is being challenged by Tyrone Rainey and Landon Reynolds and Seat 5 incumbent Artie Buxton is being challenged by Kimrey Ann Haughn and Gary Leo Lynch. Board Chairman S. Porter Stewart II is uncontested for Seat 7.
Get local news delivered to your inbox!
Subscribe to our Daily Headlines newsletter.