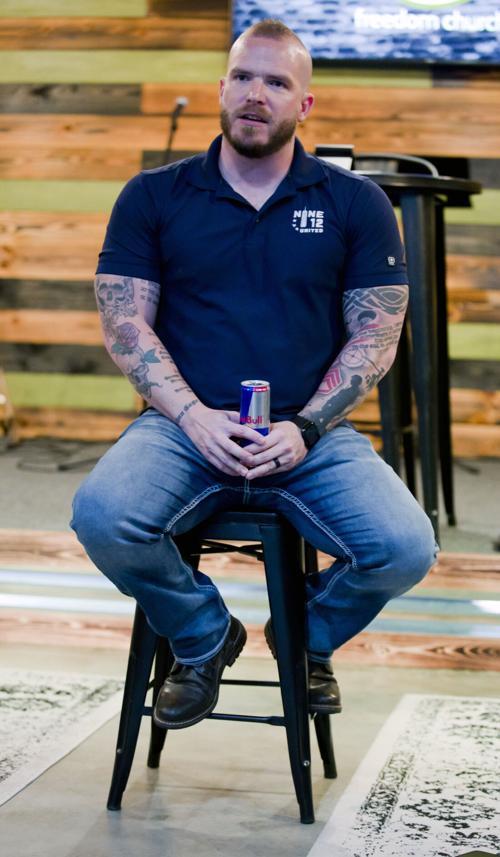 FLORENCE, S.C. – Congressional candidate Graham Allen is not going to back away from a comment he made in a June video.
A Myrtle Beach media outlet reported in June regarding a rant from Allen in which the candidate said some South Carolina Republican officials were saying that because he was born in Mississippi that he wasn't really a South Carolinian. He then added, "Oh I'm sorry that I couldn't control what vagina I came out of and where it was located when I came out of it."
The first question of the question and answer session with Allen held Monday evening by the Pee Dee Republican Women at Freedom Church dealt with this report.
"I believe that there are two genders, and I believe that most people know how babies are born," Allen said. "So yeah, I made the comment. At the end of the day, I can't help what vagina I came out of and where it was located when I came out of it."
Allen said he may say things that are abrasive at times but added that he would not back away from his comment.
"I still stand by the truth," Allen said. "Babies can't help what female genitalia they came out of, if that makes you feel better me saying that way. That's the truth. That's what its called. There's two genders. Babies come out of women and men are men. And yeah, I did say that."
He said his words may not have been the most eloquent but added that he was a country guy from Mississippi and he didn't always get things exactly elegantly.
Allen also implied that the video was taken out of context. He said the video that the clip featured by the Myrtle Beach media outlet was 50 minutes long and that the headline − "Transplant candidate for U.S. Congress refers to mom as a vagina" − was misleading.
"At the end of the day, I can't help where I was born, but I can help where I choose to leave, and I choose to live here," Allen said.
He added that he had moved to the state in 2015 and had remained here ever since except for some time in Texas to get his TV show started.
Allen also previously told the Morning News that he had a residence in Horry County and was planning on locating his business to the Seventh District as well.
He addressed the concerns of some people – Allen said some of the people saying this were from Horry County – that being from Mississippi should preclude him from being able to represent the Seventh.
"My argument to that his you've got a representative who lives here, and look what it's got you," Allen said.
Congressman Tom Rice, the incumbent Republican representing the Seventh District, moved to the Myrtle Beach area and has remained there since some time in law school and time after law school working in Charlotte.
Allen also implied that his approach to campaigning by visiting the whole district has irked some members of the Horry County Republican Party who "think they own the district because they have 51% of the vote."
"We visit the whole district all the way up to Chesterfield," Allen said. "And those people from Chesterfield hate the people in Horry County and the people in Horry hate the people in Chesterfield."
Allen said his response to a candidate who says that he and his family have been in the area for generations and knows exactly what the district needs is, "You need to run."
"They have no idea what District 7 needs." Allen said. "Chesterfield might as well be a different planet than Horry County."
He added that he thought not being originally from the district allowed him the ability to work without preconceived notions about what the district needed and what areas should get attention from their representative.
Allen said that candidates who think they know what the district needs are the exact same as the people who are in Washington, D.C., now and that change is needed. He also said abrasive candidates were needed in Washington.
"If I am humbled to get elected, I don't know if I'm going to fund raise one bit once I get up there," Allen said. "These people get up there and they only do their job for about three months and then they got to worry about campaigning and fundraising. ... Instead of campaigning, I'm going to focus on doing what you guys tell me to do, and the rest will take care of itself."
Congress, Allen said, should not be a job. As such, he continued to say he believed in term limits because members of Congress should have to live under the rules they make for everyone else.