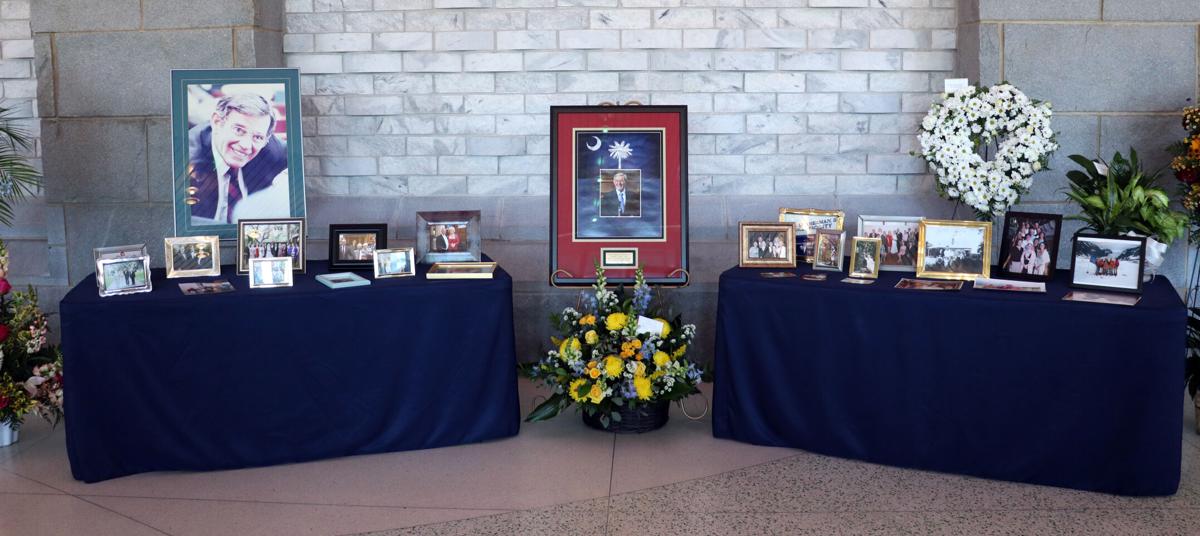 As so many of us know, his story resides at the very core of the American dream. A young man grows up on a poor farm in Lincoln County, North Carolina. Through sacrifice and ingenuity, he makes it to the state's land grant university, the first in his family to do so.
He chooses to major in a discipline about which he knows absolutely nothing — civil engineering — but it sounds interesting and challenging. He accepts a job after graduation, gets tired of earning money for someone else, and develops his own successful business. Eventually, he considers running for elected office; first the Quinby City Council, and then the Senate of the state of South Carolina.
Forty-one years later, he's become one of the most influential and successful elected leaders in the state. A simple Horatio Alger story? Not at all. Nothing about Hugh Leatherman was mythical, and his story was as complex as the man. He possessed an amazing intellect, coupled with an enormous reservoir of compassion. He was usually the humblest person at the table, seldom got angry, and in 33 years, I can't recall him ever raising his voice.
He never wanted to make permanent enemies, and he believed that no disagreement — personal or professional — should ever devolve into bitterness or discord. And that engineering education? Well, that was the best decision that he ever made other than marrying Jean. We'll get to that in a minute.
You see, some people are blessed with the gift of thinking broadly and boldly. Still others are adept at refining details and translating concepts into reality. The chairman had the ability to do both intuitively. He could formulate the most expansive plan and then construct the framework necessary to implement it, and then he would work long hours, weaving his way back and forth until the fit was just right between the dream and the practicality.
I am tempted to ask, but I won't, how many of you ever sat down with him to describe a program or building that you wanted, just to hear him respond, "walk me through this one more time" or "let's think about this a little differently." Yeah, he had two different versions to let you know how much you may have missed the mark. Both were polite and courteous, but fifteen minutes into the conversation, you knew you had something better, more politically viable, and probably less expensive than your original idea. You also knew that you had his support.
That's just one of the many ways that he served our state over the years. I will tell you that there are dozens of agency directors and university presidents who were dependent upon those conversations. He was always respectful, oftentimes deferential, and willing to help us become more confident and competent in what we were trying to accomplish. I would imagine that many of our legislative friends had similar experiences.
The chairman was a remarkable legislator who became the state's consummate problem-solver. Sure, he was a savvy politician, but he used politics as a means of formulating some of the state's more meaningful policy — in infrastructure, economic development, education, higher education, trade and international investment, health care, workforce development, and so on and so on. No one better understood the nexus between politics and policy, and no one was more shrewd strategically at applying it.
And yet the personal man was no less complex than the public one. His private life was built upon three fundamental pillars.
The family. He loved them dearly. Jean was the nucleus, and so much that was magical in his life radiated from her. She was also his compass and rudder, as he often acknowledged. His staff discovered over the years that if you needed him to move off a firmly held position, you'd better recruit Jean to your side very early.
One of my most cherished moments of his last two weeks was of Jean stopping by his chair in the living room. With his eyes welling up, he reached over, took her hand, and said, "I love you more than life." He did, and he still does.
Shelia, Ken, Karen, Lynn, Amy, and Sarah. He was so proud of each of you and your accomplishments. He was the typically doting father. If Jean was the compass, you were the anchors. He proudly discussed the advice that each of you offered him on various matters. He was pleased that you were such uniquely different people and yet so much a part of that core family that provided him love and comfort. All of you, and the beloved grandchildren, were the safe harbor to which he returned time and time again to revitalize his body and heart — after a week, after a month, after a session — at the Statehouse. So much of the success that he achieved in public life developed from, and was nurtured by, your love and caring support.
Of course, he had two other extended families too — his Senate finance staff, and the men and women with whom he worked at Florence Concrete. Quentin, Mike, Robby, Diane, and his brilliant budget analysts – now and over the years. He regarded you as the finest budget team ever assembled, anytime, anywhere. You were so very talented and determined because you knew that in serving him so loyally, you were also serving the people of South Carolina faithfully. The people's business was the chairman's business.
To Sherry and our Florence Concrete friends, he was so very deeply appreciative of your partnership and commitment to that business. It also provided him the one venue where he could still be a practicing engineer, a role that he dearly cherished. It may have driven you a little crazy from time to time, but it meant the world to him.
The people of the Pee Dee were his second pillar. Do you really think it was so coincidental that he lived in a region so much like the one in which he grew up? He loved folks from rural communities, and they loved him right back. He would work a chicken bog table by table, his shirt sleeves rolled up, his famous suspenders on display. He would shake constituents' hands, meet their eyes, and let the conversation go wherever they wanted to take it. He wasn't going to be hurried, and neither were they.
Trying to sit in a public place with Hugh or have a meal in a restaurant was an impossibility. He would be interrupted constantly by friends, neighbors, and acquaintances who just wanted to talk. He was always attentive to their problems and concerns. The Chairman was never a "call me Monday at the office" type of leader. He'd put down his fork and listen attentively. When some of us would chide him afterward for the interruptions, he'd remind us that state government was always open — so he needed to be too.
By the way, Hugh Leatherman had no secret cell number. Everyone in the district and most of the state had it. And he'd always answer because he believed in being available. He believed in living a life of service every single day, including weekends and holidays.
The third pillar may be the most intricate of the three. Although the Chairman had great respect for the House of Representatives and appreciation for a bicameral legislature, he loved the Senate with every fiber in his being. He ran for governor once and considered it the biggest political mistake of his life. No disrespect, Governor McMaster, you know the strong admiration that he had for you. But after the '86 election, he understood clearly that everything he wanted and needed resided within the Senate. He cherished the institution, its traditions, procedures, and rules — especially that seniority rule.
But his warmest affection and deepest respect were reserved for the men and women who served alongside him — his fellow senators. Whether in agreement or disagreement … no that's not quite correct. He would argue that especially in disagreement with one another, you distinguished yourself as one of the great deliberative bodies in this country. The courtesy, the civility, the firm adherence to the rules of parliamentary debate always allowed you to rise above the fray, even on the most contentious issues, and usually arrive at amicable solutions.
You know, the chairman never really cared much about your ideology. If your beliefs were genuinely held, he'd always find a way to work with you.
We could very well have listed all forty-five of you as a part of that extended family, because you were. This community wants to thank the entire Senate for the support that you provided him as he struggled with health issues this past year. We also want to thank Governor McMaster, President Peeler, Senator Alexander, Senator Setzler, Speaker Lucas, and Chairman Murrell Smith for the many ways you assisted him during this difficult period
He'd also want us to thank the Florence legislators with whom he proudly worked for so many years — Representatives Philip Lowe, Jay Jordan, Terry Alexander, Roger Kirby, Robert Williams, and his fellow Senators Ronnie Saab, Kevin Johnson, and Kent Williams. You were all a part of building this community and region, and he valued your advice, your counsel, and especially your friendship.
At the end of a trying day, Hugh would frequently smile and remind everyone that the "sun will come up again tomorrow morning."
It has, although it is not quite as bright as it was. The region has lost an iconic leader, and many of us have lost our dearest friend. He brought a substantial amount of state funding here, but, more important, he educated us on the necessity of doing things for ourselves. If we do what he taught us and work together with respect, tolerance, and patience, we'll do just fine in the years ahead. Florence and the Pee Dee will continue to grow and prosper.