FLORENCE, S.C. — Hurricane Sally hit the Pee Dee on Thursday as a big wet mess, triggered tornado warnings and watches and flash-flood warnings and watches — then left the Pee Dee with a rash of trees in the roadway and cars in the water — but, so far, not much more.
Florence Regional Airport recorded 2.36 inches of rain between 7 a.m. and 3:53 p.m. as the storm rolled through. Areas west of the airport were hit by severe thunderstorms and received more rain.
Several other Florence reporting stations recorded more than four inches of rain with the West Lakes station reporting 5.61 inches. Darlington-7 miles SSW station reported 6.52 inches of rain.
The heavy rains that passed through Thursday afternoon left several Pee Dee fire departments running to take care of trees in the road and motorists in the water.
The Florence Fire Department helped remove four vehicles — and their occupants — from Magnolia Mall's exit onto David McLeod Boulevard.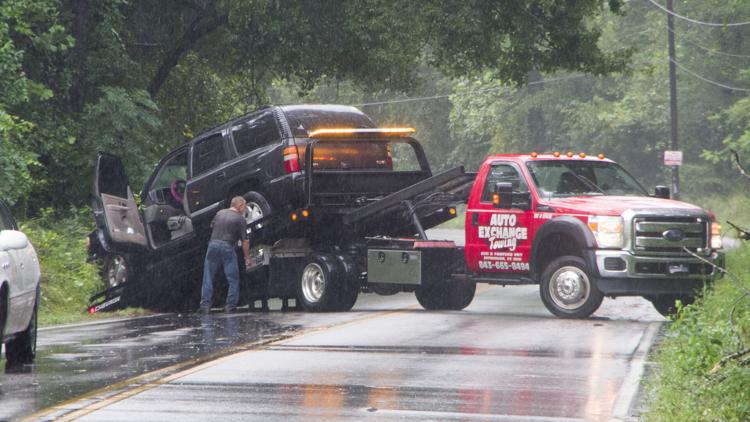 The roads in Florence that usually flood in a heavy rain did so with a vengeance.
Published reports indicate a retaining wall failed in Darlington, spilling bricks out onto a sidewalk, and a building in the city suffered roof damage.
By 5 p.m., though, the rain was over and the sun was out — at least for a while.
The remainder of Thursday's forecast called for a continued high chance of rain decreasing from 80% to 50% as the night passed.
Thursday's rains are expected to push both Black Creek at Quinby and the Great Pee Dee River at Pee Dee into minor flood stage
Friday's forecast calls for a windy day with fog in the morning and a 30% chance of showers in the afternoon.
Saturday's forecast calls for a slight chance of morning showers before before the skies clear. Highs Saturday and Sunday are forecast to be about 70 with overnight lows in the mid 50s.
091820-fmn-news-libraries, 6.1 inch
Get local news delivered to your inbox!
Subscribe to our Daily Headlines newsletter.