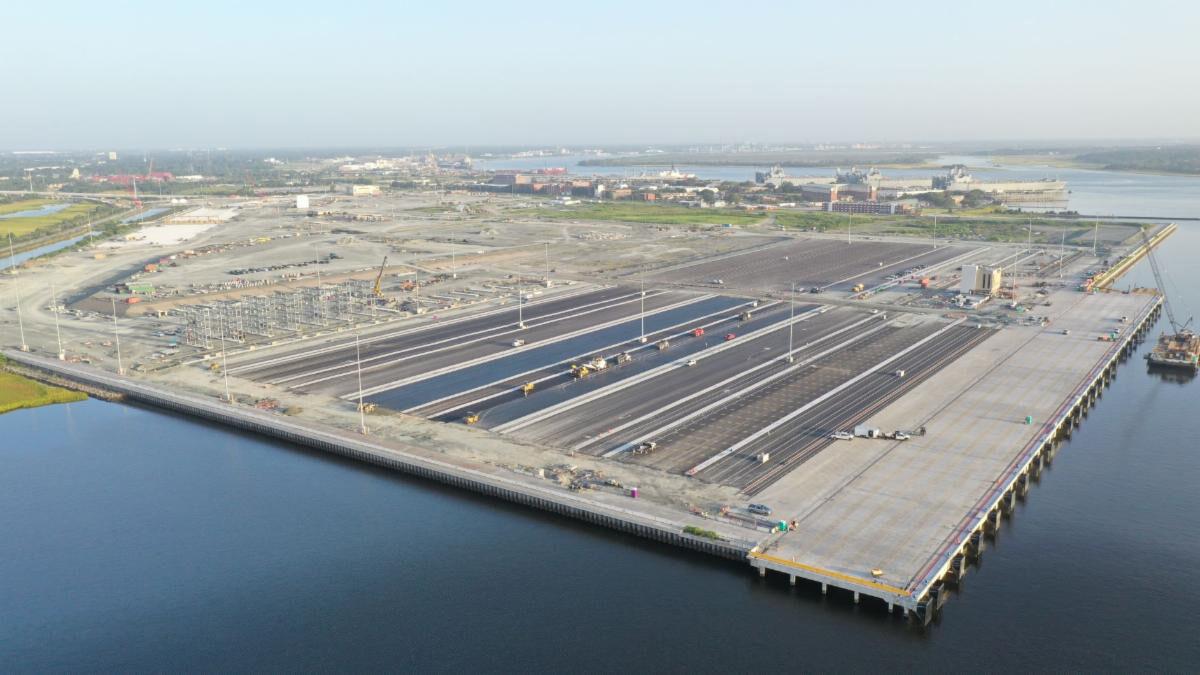 DILLON, S.C. — Growth continues at Inland Port Dillon. 
The South Carolina Ports Hugh K. Leatherman Terminal continues to progress toward a March 2021 opening. 
South Carolina Ports President and CEO Jim Newsome will deliver the 2020 state-of-the-ports address virtually this year. 
The South Carolina Ports Authority said last week that the inland port had 3,108 rail moves in September, up 27% year-over-year.
Overall, the ports handled 195,101 units at Wando Welch and North Charleston container terminals — a record September — and a slight increase year-over-year. The ports have handled 580,912 units in the first quarter of fiscal year 2021.
They have handled 107,816 pier containers, which measures boxes of any size, in September, down 2% year-over-year. This brings the fiscal year total thus far to 323,495 pier containers.
The Columbus Street Terminal handled 21,702 vehicles in September, down less than 2% year-over-year. 
For the fiscal year to date, vehicle volumes are up 25% with 73,044 vehicles handled since July.
Inland Port Greer had 12,994 rail moves in September, up 4% year-over-year. Inland Port Dillon reported that combined, the inland ports had 16,102 rail moves in September, up 8% from a year ago.
"September volumes outperformed expectations as we see an uptick in cargo flowing through our marine terminals and inland ports. We will continue to operate well-run terminals, as we have throughout the pandemic," Newsome said. "We remain highly focused on capturing more retail goods and e-commerce cargo, such as with Walmart's new 3-million-square-foot distribution center in Dorchester County, S.C."
The ports also had the record-setting CMA CGM Brazil call on the Port of Charleston in September. The 15,072-unit vessel showcased S.C. Ports' big-ship capabilities, efficient operations and deep harbor.
 "The ability to seamlessly handle the CMA CGM Brazil highlights S.C. Ports' deep harbor and modern capabilities," Newsome said. "We have pursued an amazing amount of infrastructure in a short period of time. In 2021, we will have the deepest harbor on the East Coast, and we will celebrate the opening of Phase One of the Leatherman Terminal."
The Leatherman Terminal will add more capacity and big-ship capabilities to South Carolina, further enhancing critical supply chain assets for businesses throughout the Southeast and beyond.
Phase One pf the development will add 700,000 units of annual through-put capacity to the Port of Charleston.
A component of Phase One — the 1,400-foot wharf — is complete. It is designed to handle up to 19,000-unit vessels with five of the tallest ship-to-shore cranes on the East Coast.
The cranes — with 169 feet of lift height above the wharf deck and a reach of 228 feet — are making the journey to Charleston now on two vessels. They are scheduled to arrive in late October. Shanghai-based ZPMC fabricated the cranes. ZPMC USA will complete assembly and test the cranes upon arrival. Twenty-five hybrid rubber-tired gantry cranes are also set to arrive later this year on three vessels, including four that will arrive with the ship-to-shore cranes. ZPMC is completing fabrication and testing of the remaining 21 RTG cranes, preparing them to be shipped in mid-October and early November.
The overall site development of the Leatherman Terminal is approximately 75% complete. Construction of the refrigerated container racks, which will enable S.C. Ports to handle more refrigerated and frozen goods for customers, is 85% complete.
Many of the terminal's buildings, such as the Terminal Operations Building and the Vessel Operations Building, have taken shape on the site. Work on buildings and canopies is about 75% complete overall, with completion slated for late December or early January.
Construction of the Port Access Road by the S.C. Department of Transportation is progressing as well; this road will provide truck drivers with a direct connection between Interstate 26 and the Leatherman Terminal.
At full build-out, the three-berth terminal will double S.C. Ports' current capacity by adding 2.4 million units of through-put capacity.
"Everybody understands how much value this will add to South Carolina. This is a true team effort, and you can see it every day on the site," Butch Weber, S.C. Ports' engineering project manager. "It is remarkable to see it all coming together."
The Charleston Harbor Deepening Project is also fully funded and on schedule to achieve a 52-foot depth in 2021. 
Get local news delivered to your inbox!
Subscribe to our Daily Headlines newsletter.