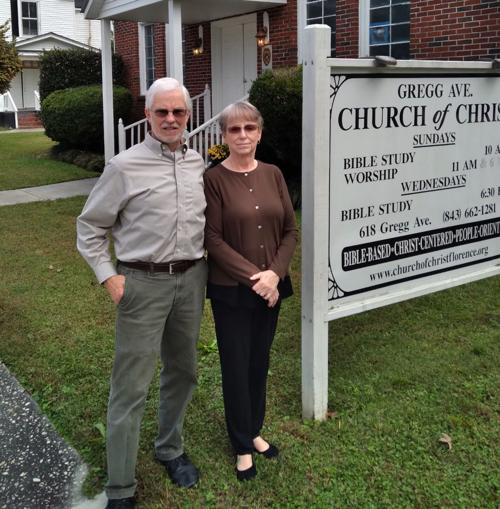 FLORENCE, S.C. — Members of the Gregg Avenue Church of Christ said goodbye to their minister of 22 years Sunday afternoon. 
Minister Jim Yarian and his wife, Darlene, are "semi-retiring" to Charleston to be near two of their four children. 
"The reason for the move is to be closer to our family," Yarian said on Nov. 5. "We have two sons, a daughter in law and a grandson [there]." 
Yarian added that they also have two sons, a daughter-in-law, and a grandson in Portland, Ore. 
"We thought about moving to Kansas City," he joked. 
In leaving the church, Yarian will put a hold on a 43-year career in full-time ministry. During that time, Yarian has served in churches and para-church organizations in Texas, Missouri, Pennsylvania, New York and South Carolina.
Yarian said his father was a church elder in a congregation and added that he enjoyed the experience but did not give one thought to going into ministry. 
"I went to the University of Texas at Arlington," Yarian said. "I majored in business, not out of any particular love for business but I just thought that it would keep me from starving." 
While there, Yarian met and married Darlene. 
They attended a large church — Yarian estimated around 5,000 members — that had a minister involved in outreach and evangelism who invited the Yarians and other couples to go through a course to learn more about personal evangelism. 
"We were a part of that," Yarian said. "Strange as it may sound, what I saw, what I heard, what I experienced just in that setting, I was absolutely fascinated by and intrigued by the dynamics between two people and a Bible open. I just made a decision that I was going into ministry." 
The next time he returned to his parents' home, Yarian told his parents of his plan. 
"To their credit, they didn't go crazy or ballistic or say you're not doing that," Yarian said. 
A day or two later, Yarian's father told him that they were pleased with the choice but added that Yarian needed to finish college first. 
"That's ultimately what happened," Yarian said. 
After graduating, Yarian had the intent to attend a school for ministry for one year.  After that program and a couple of years in ministry, Yarian sought additional training, which he received at a school in Abilene, Texas, called Abilene Christian University. 
Yarian was working as a director for the Sylvan Learning Centers in the greater Columbia area, his father-in-law, Al Hartwigsen, was offered the chance to become a part-time minister of the Gregg Avenue church. 
At the time, Hartwigsen's other child, Brock, also a minister, was working in the Raleigh/Durham area of the Tar Heel State, placing Florence squarely in the middle of the two. 
Al's health began to deteriorate over the next two years, leading him to recommend Yarian to be his replacement. 
"This is the longest that my wife and I have ever lived in one place," Yarian said. "We weren't moving every other year but 22 years is the longest that we've ever lived anyway."
Yarian said he didn't really think about staying in Florence when he took the job. 
Yarian told the congregation in October that he would be leaving. 
"I think they were shocked but then knowing my wife and I's age and our situation that we were moving closer to family, it made sense," Yarian said. "I didn't do anything underhanded. We were trying to get our ducks in a row, that is to get our house ready in Florence to sell and then put it up for sale and then find a place in Charleston. All of that happened before I said was going to semi-retire." 
Yarian said one of his favorite memories is watching groups from other churches come to the Gregg Avenue church and work with the children during vacation Bible schools. 
Yarian said he planned to work part time in Charleston and left open the possibility of returning to the ministry if the situation was right for him.  
He said that one of his sons in Charleston moved there and worked for a time as a tour guide. 
"We would go down there and visit him and we would go with him on the tour," Yarian said. "That seems like a possibility for me for part-time work. I might try that ... However, if some kind of ministry situation opens up that could be less than full time, I would absolutely be interested." 
Get local news delivered to your inbox!
Subscribe to our Daily Headlines newsletter.