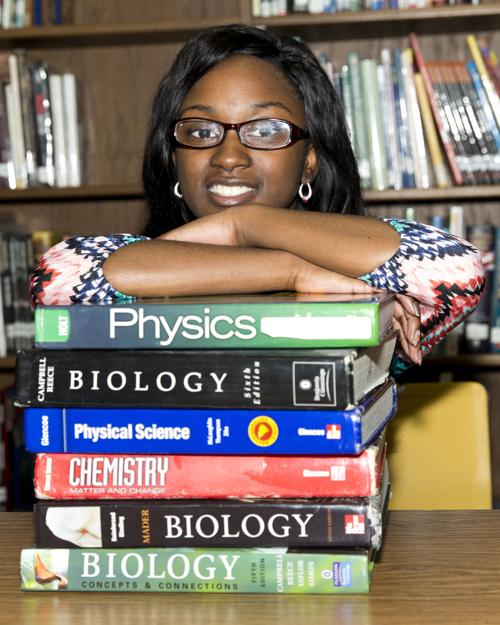 LAKE CITY, S.C. – It's well-known in Lake City that internationally renowned physicist and astronaut Dr. Ronald E. McNair was raised within the city's borders. And just as McNair began his path to the stars in the classrooms of the Florence County School District 3 schools, one current Lake City High student is set to blaze her own path in scientific academia – with a Gates Millennium Scholarship.
Mikayla Hanna, a 4.6 senior and Class of 2015 salutatorian, wants that path to be in biochemistry with a focus in bio-fabrication and hopes to one day be at the forefront of growing replacement organs that will save peoples lives – like the life of her mother who died when Hanna was just 9 years old.
Hanna said she's studied hard to achieve that goal and already has earned about 30 college credits while attending Lake City High School. She knew she wanted to go to college early in her academic career and so joined the school's College Planning Cohort to help guide her path.
While her academics were never an issue for college acceptance, Hanna said she always worried about the costs of attending college and knew she didn't want to incur debt while attaining her education. That is no longer a weight on her shoulders. Hanna was named a Gates Millennium Scholar – a prestigious scholarship award program that will provide for her college expenses from undergraduate to doctorate.
Hanna learned of her award April 20 and called her grandmother, Leatha Hanna, to share the news. Leatha Hanna said at first she thought something was wrong because of her granddaughter's excitement and now is glad they won't have to worry about the costs associated with earning a doctorate.
Hanna received acceptance letters from several schools and has selected the University of Maryland - Baltimore County to be her future alma mater. She was admitted to the Meyerhoff Scholars program at the school and will enter into a joint MD/Ph.D. program. Hanna will leave home in June to participate in a summer program at the university.
The Gates Millennium Scholarship is awarded to 1,000 students nationwide from a pool of more than 50,000 applicants annually. Hanna is the first student in Florence County School District 3 to receive the prestigious award.
Helping her through that process were Mychal and Nina Wynn of the Foundation for Ensuring Access and Equity of Marietta, Georgia, a nonprofit organization that assists students from underserved and underrepresented communities with college and financial aid planning. It partnered with the district as part of efforts to accomplish the Florence 3 mission -- to ensure students are college and/or career ready.
Hanna is one of 19 Lake City High students participating in the June 2014 inaugural college planning cohort and, between them, the students have been admitted to more than 60 colleges and universities and earned nearly $3 million in college scholarships and institutional aid.
The Wynns help guide students participating in the cohort through the application process, finding scholarships and understanding what it takes to get to college.
Hanna's grandmother called the cohort a "blessing" because she didn't have the information herself to help her granddaughter through the process.
"There were a lot of things I didn't know," said Leatha Hanna. "(The college cohort) gave us a lot of good advice and information."
Laura Hickson, assistant superintendent for instruction and superintendent-elect, said she was proud of Hanna's accomplishments.
"This achievement represents the potential of our children in our district and communities. Additionally, this achievement represents the need for continuing the implementation of the (Lake City Graduation Initiative)," said Hickson. "The LCGI coaches, as well as the great teachers who have taught Mikayla, were very instrumental in Mikayla's achievement."
"I want to make the people in Lake City proud," Hanna said. "I want others to know that they can do what I've done or do even better."