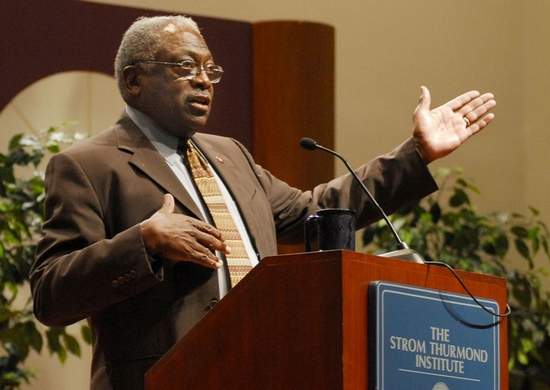 FLORENCE, S.C. — Sen. Lindsey Graham and House Majority Whip Jim Clyburn were among the elected officials to react to news of media reports of Joe Biden's victory in the presidential election.
Major television networks declared Democrat Joe Biden the winner of the 2020 presidential election Saturday morning. Local elected officials began reacting to the news Saturday afternoon.
Graham, a Republican, urged caution.
His campaign said Saturday afternoon that Graham had received an affidavit from a Pennsylvania resident who alleges that postal supervisory officials hatched a plan to backdate ballots mailed after the election.
"It is imperative that all credible allegations of voting irregularities and misconduct be investigated to ensure the integrity of the 2020 elections," Graham said in an emailed statement. "The presidential election remains close in multiple states, and as chairman of the Senate Judiciary Committee, all credible allegations of voting irregularities and misconduct will be taken seriously. I will not allow credible allegations of voting irregularities or misconduct to be swept under the rug."
Graham said he would call on the Department of Justice and the postmaster general to investigate these claims.
"The expanded use of mail-in voting is making the post office the administrator of elections, not the local election officials," Graham continued. "This change in mission requires there to be further scrutiny to ensure the system is beyond reproach. Every American should want our election processes to work accurately, and given the recency of such a large volume of mail-in voting, that will require oversight. Election outcomes are not determined by media outlets but certified, accurate vote counts."
He added that officials should take the claims seriously before certifying the result.
Graham has also indicated a willingness to work with the Biden administration should he be declared the winner after all legal challenges have been completed.
South Carolina Republican Party Chairman Drew McKissick said the election was not over and that legal battles over absentee votes would continue into next week.
House Majority Whip Jim Clyburn, a Democrat, offered his congratulations to Biden on Twitter.
"Congratulations to the 46th President, Joe Biden," Clyburn said. "Your victory marks a new chapter for our country. As we face unprecedented challenges, Americans have chosen you to lead us out of the chaos and to build a stronger community. Today, I am hopeful for a brighter future."
He also later added a congratulations to vice presidential nominee Kamala Harris.
The district Clyburn represents includes portions of a few southern Florence County precincts and all of Williamsburg County.
Clyburn's endorsement is credited with helping Biden to secure the South Carolina Democratic presidential preference primary. That victory is credited with giving Biden the momentum to win the nomination.
State Rep. Cezar McKnight, a Democrat whose district includes Williamsburg County, said the song of the day was "Hit the road, Jack."
The South Carolina Democratic Party also congratulated the Biden/Harris campaign on Twitter.
Get local news delivered to your inbox!
Subscribe to our Daily Headlines newsletter.