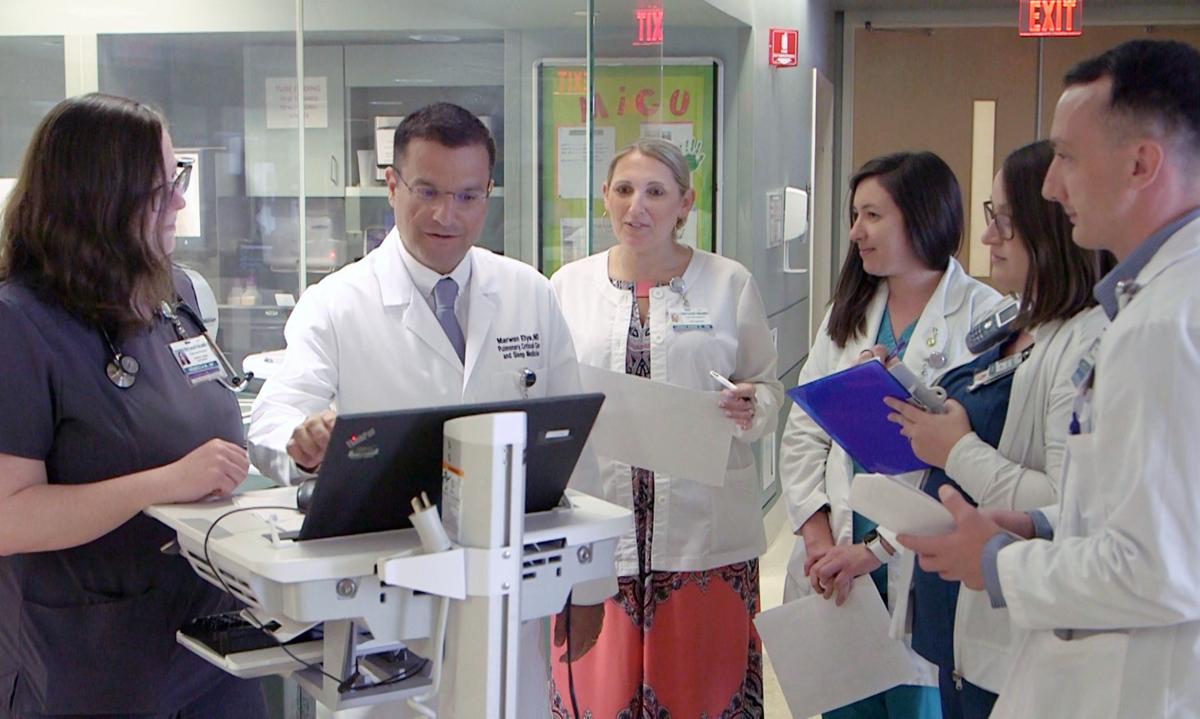 FLORENCE, S.C. — Dr. Marwan Elya, FCCP, is on the front line of the coronavirus pandemic working with COVID-19 patients in critical care at McLeod Regional Medical Center in Florence.
Elya is a pulmonary and critical care specialist and the medical director of McLeod Intensivists.
Elya says he is part of a large group of physicians and nurse practitioners caring for patients in the intensive care units at McLeod. He is closely involved with the management of the critically ill patients with COVID-19 in the intensive care unit along with nurses, respiratory therapists, pharmacists and others.
"It is a very difficult time," Elya said. "There is nothing routine about the coronavirus. The whole hospital is on alert, new information emerging daily, multiple meetings to address the needs of our community and patients, preparing equipment and people, and working as a team has been key.
"We are all adhering to the strict isolation criteria set by our hospital and the Centers for Disease Control and Prevention, including washing hands and wearing the appropriate personal protective equipment."
The coronavirus disease 2019, or COVID-19, is an infection caused by a specific virus called the sarscov2, he said.
"It spreads from person to person similar to the flu," Elya said. "This usually happens when a sick person coughs or sneezes near other people. It is also possible to get sick if you touch a surface that has the virus on it and touch your mouth, nose and eyes.
"Some of the symptoms of COVID-19 are fever, cough, feeling tired, difficulty breathing, muscle aches, sore throat and sometimes problems with the sense of smell. Sometimes diarrhea can occur. For most people, symptoms will get better and will not lead to long-term problems, and in some people they have no symptoms at all. In other people, it can lead to serious problems like pneumonia, not getting enough oxygen, heart problem or even death.
"This is more common in people who are older or who have other health problems like heart disease, diabetes, lung disease or cancer."
Elya said children can get COVID-19, although they seem less likely to have severe symptoms.
"I have been in practice for 12 years. I have taken care of a lot of sick patients and dealt with serious flu seasons, various diagnoses, but this is different because of the number of people it affects and the severity of illness," Elya said.
He urges people to stay at home.
"It is important to stay home and away from other people if you are sick," Elya said. "For more severe illness, you might need to stay in the hospital and possibly in the intensive care unit."
Elya said it is normal to feel anxious and worried during this unusual time in people's lives. He recommends getting regular exercise and eating healthy foods. Find activities that you enjoy and can do in your home and stay in touch with your friends and family members virtually, Elya said.
Most health care professionals working on the front line in hospitals, and other health care facilities have family at home who are affected by their sacrifices on a daily basis, people they love and want to keep safe.
"My family, including my wife and three children, are very supportive and understand the challenge we are all facing," Elya said.
He also said the families of those who are sick are under tremendous stress, being separated from their loved ones and unable to visit them in the hospital.
"Our patients' families are also going through a tough time. Not being able to see your hospitalized family member is very difficult," Elya said. "We are doing our best to update them. It's not an easy task, but we feel the support from everyone."
Elya said it will take a group and team effort, at the health care and community level, "but we are determined to protect our community and patients, and we rely on everyone's trust and support."
"Everyone is putting in long hours. We have people looking at every aspect of the challenge but we won't rest until we know we did everything possible to help and take care of our patients. We have a high tolerance to stress, and we will remain focused. We will not get tired."