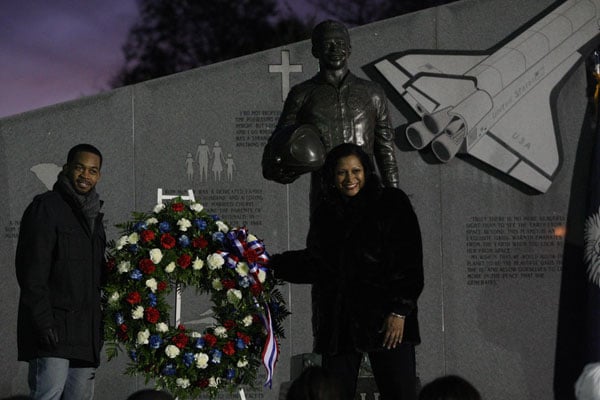 The wife, son and daughter of the late astronaut and physicist Dr. Ronald E. McNair want the Lake City native's legacy to remain strong.
People from surrounding communities came together Friday night for the 25th Annual Candlelight Vigil in remembrance of McNair, who died in the Space Shuttle Challenger Explosion on Jan. 28, 1986.
"I'm excited to see the legacy continue to grow in Lake City," Reginald McNair, Ronald's son, said in an interview before the vigil.
McNair said he views his father's accomplishment as "remarkable."
Throughout his life, Reginald McNair said, he has had the opportunity to learn new information about his father through his father's friends, family and classmates.
"My father went from the tobacco fields of Lake City to being an astronaut," Reginald McNair said.
The Florida A&M University business administration graduate said many bright people come from rural areas and that they should never let anyone discourage them from pursuing their dreams, regardless of their background and where they are from, he said.
"You must succeed and then exceed," he said.
Reginald McNair said he only remembers "glimpses" of his father because he was 3 when the Space Shuttle Challenger disaster occurred. He does, however, remember his father taking him to the karate classes he instructed.
"It's like I have flashbacks," he said of remembering his father.
"I want both children and adults who attend the new museum to be inspired by my father's accomplishments and his determination," he said. "I want them to never let fear, doubt or disabilities takeover and hinder them from their pursuits."
He said if his father was alive today, he would go into space again with him and play the saxophone with him.
His father was known for playing the saxophone in space, McNair said.
"It truly touches my heart to know that the Lake City community thinks so much of my father's life and legacy, and the fact that they continue to keep it alive and honor him 25 years later is simply amazing," Ronald McNair's daughter, Joy McNair, said in an - interview.
"I am a trust and estates attorney, so I am not formally involved in science in my everyday work; however, I am constantly drawn to science related hobbies," she said. "Many of my friends joke that I may have missed my calling as a scientist."
She said she hopes students will be inspired by her father's life and legacy, she said.
"I hope that they will see themselves in him and dare to dream and know that they too can accomplish their greatest dreams, whether its science, space or wherever their heart leads them," she said.
She said she believes that it is important for all students, rural, urban or otherwise, to be exposed to STEM (science, technology, engineering and math) careers.
"STEM fields are the way of the present and the future, as STEM is one of the keys to our nation maintaining a competitive edge," she said.
Ronald McNair's widow, Cheryl McNair, told vigil attendees the ingredients' to Ronald's "success stew": "excellence, determination, perseverance." She led the audience in a chant of those three words.
Ronald McNair's aunt Lela M. Austin said her nephew wrote a high school essay explaining where he wanted to be 10 years after high school graduation. He wrote that he wanted to have earned a Ph.D. and become an astronaut, she said.
"He fulfilled his dream," Austin said in an interview at her home before the vigil. "The spirit of Ronald was to always share his knowledge."
Austin said Ronald McNair's grandfather James L. Montgomery teased him when he graduated from Massachusetts Institute of Technology in 1976 with his Ph.D. in physics.
"I thought you were going to be a medical doctor," Austin recalled her father saying.
Austin said when Ronald McNair was a child, he would "doctor" on the animals in the community when they became ill.
T.R. Cooper, Ronald McNair's teacher and elementary school principal, said during the vigil his student had the ambition to fulfill his dream to become an astronaut.
"We must keep the legacy alive and well," Cooper said.
The audience held lighted candles as they stood in silence for 73 seconds, symbolizing the time that passed before the Space Shuttle Challenger broke apart after liftoff.
Get local news delivered to your inbox!
Subscribe to our Daily Headlines newsletter.