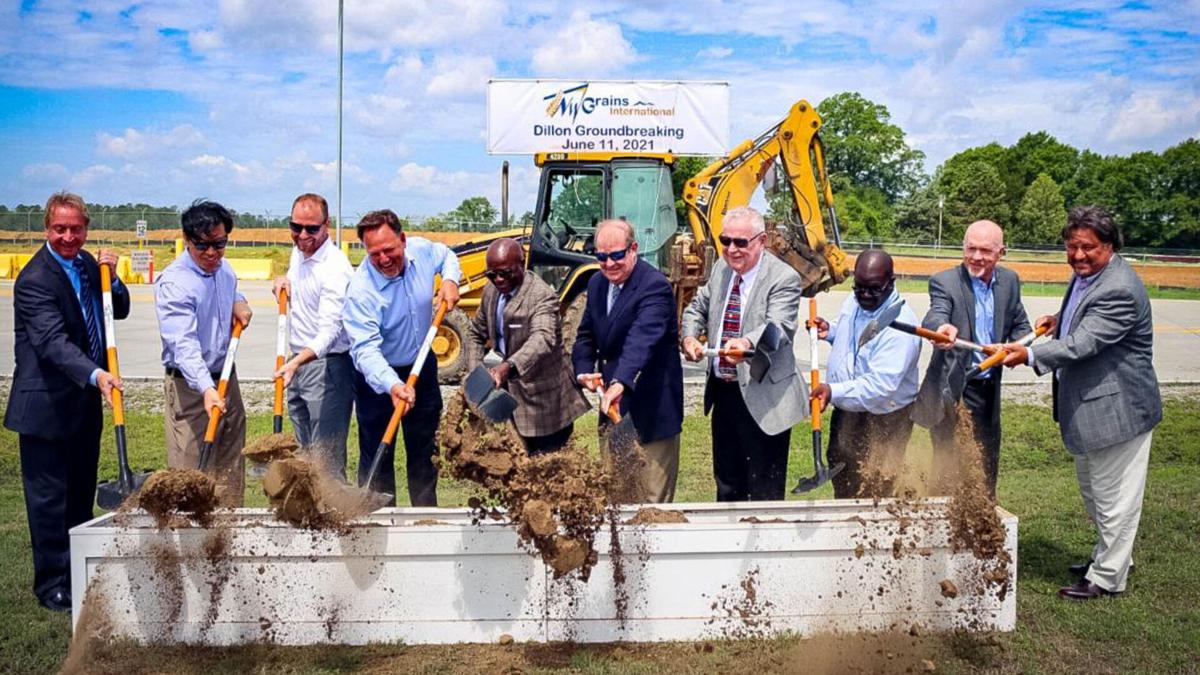 DILLON, S.C. – Another transload facility is coming to the area around Inland Port Dillon.
The South Carolina Ports Authority announced last week that Northwest Grains International LLC has broken ground on an agricultural transload operation in Dillon County to serve agricultural producers. The operation will handle containerized soybeans, lumber, logs, peanuts, cotton, cotton seed and yellow peas for export through the Port of Charleston via Inland Port Dillon.
"We are excited to welcome Northwest Grains International LLC to South Carolina Ports," S.C. Ports President and CEO Jim Newsome said. "The company's decision to invest in Dillon County and use Inland Port Dillon will further support farmers and agricultural business across the Carolinas. We are proud to play a role in supporting agriculture export growth in the Southeast."
The Dillon County Council welcomes Northwest Grains International, LLC to the community, Dillon County Council Chairman Buzzy Finklea said.
"This agricultural transload facility will support agricultural producers in our region and create jobs for our citizens," Finklea said. "Inland Port Dillon played a huge role in attracting the company here, and this partnership will yield economic benefits to the Pee Dee region for many years."
Dillon County offers many great assets to businesses looking to locate in South Carolina, such as the rail-served inland port, which provides a direct connection to the Port of Charleston, Dillon County Administrator and Economic Development Director Clay Young said.
"Northwest Grains International LLC showcases the tremendous opportunities found in Dillon County," Young said. "We look forward to seeing this company launch operations in support of our farmers."
Northwest Grains International LLC was founded by Gary Mao. Northwest Grains has a goal of being the largest exporter of containerized agricultural products in the United States. The company has created a network of dedicated transloaders and direct ocean carrier contracts to facilitate the growth of the business and to serve its customers better. By utilizing an efficient and integrated procurement and logistics process, the company says it is able to deliver competitively priced products to each customer it serves.
"We found a great partner in South Carolina Ports, which shares in our commitment of providing excellent service and reliable shipping," Mao said. "Our investment in Dillon County and partnership with S.C. Ports will enable us to support U.S. farmers by exporting containerized agricultural products. We look forward to our future growth in South Carolina."
The new transload operation sits next to Inland Port Dillon. Northwest Grains will load crops into containers at its site, and the containers will then be loaded onto trains at Inland Port Dillon to be delivered to the Port of Charleston for export to overseas markets. This operation will offer exporters greater access to containers, as well as provide faster turnaround times for ocean carriers' containers. The ports authority anticipates handling 1,000 containers through the facility each year.
"This new facility will support the regional agricultural economy by reducing supply chain costs and swiftly exporting products for farmers," South Carolina Ports Chief Operating Officer Barbara Melvin said. "Our team is proud that our efficient operations will directly benefit farmers throughout the Carolinas."
South Carolina Agricultural Commissioner Hugh Weathers said the new facility was a great example of how the inland port is creating opportunities for farmers.
"Inland Port Dillon's rail capabilities and South Carolina Ports' connection to global markets are helping grow South Carolina agriculture exports and keep our agribusiness industry strong," Weathers said.
Northwest Grains International LLC's investment into an agricultural transload operation in Dillon County will create jobs and support farmers throughout South Carolina and beyond, S.C. Sen. Kent Williams said. "S.C. Ports' well-run Inland Port Dillon continues to bring growth to the Pee Dee region by creating a direct connection to the Port of Charleston for our businesses."
The $2.5 million investment will create five to 10 jobs. Construction on the site began this month. The operation is scheduled to open in late October, in time for soybean season.
"We are excited to welcome Northwest Grains International LLC to Dillon County," S.C. Rep. Jackie "Coach" Hayes said. "This operation will support soybean farmers and other agricultural businesses in our state, thanks in large part to S.C. Ports' rail-served Inland Port Dillon and efficient port operations."