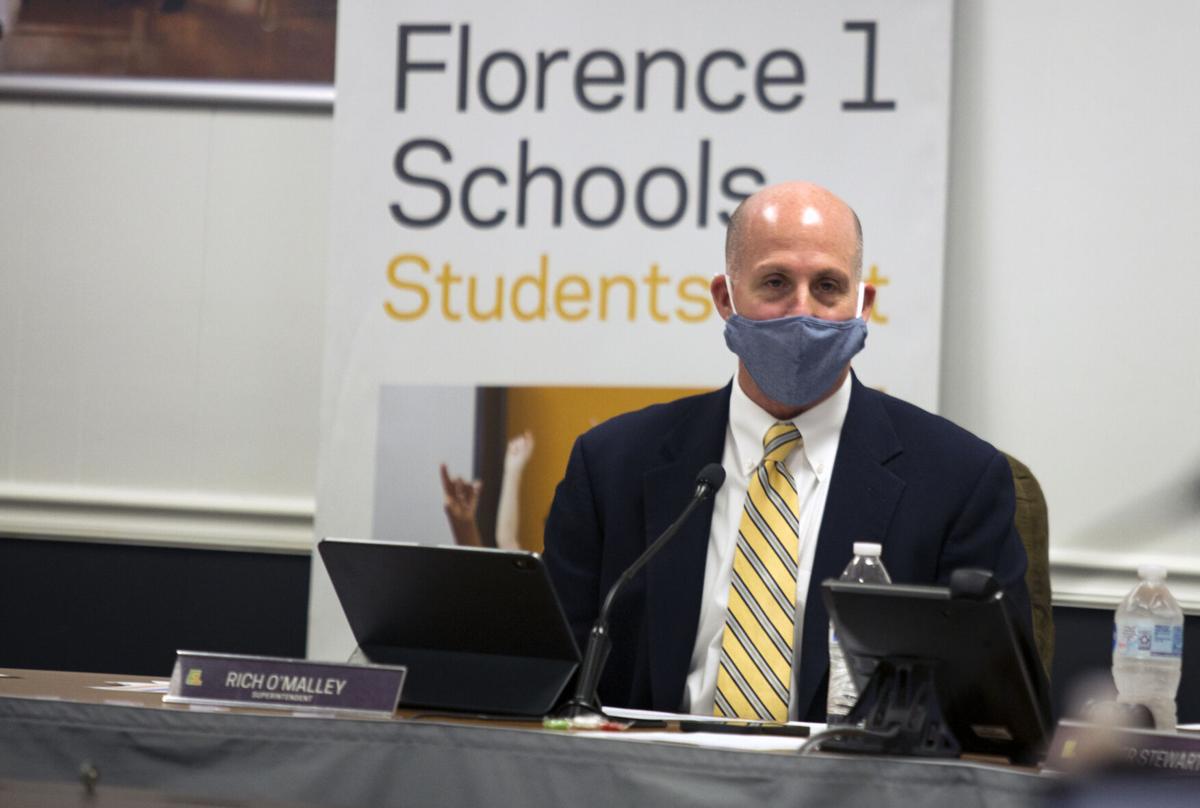 FLORENCE, S.C. – Florence One Schools Superintendent Richard O'Malley issued a statement Wednesday night in response to an executive order that South Carolina Gov. Henry McMaster issued Tuesday regarding masks.
In essence, O'Malley said the district will get with the program as restrictions are relaxed.
"(F1S) will no longer require face coverings in or out of school-operated facilities for staff or students," O'Malley said in the statement.
"The Florence One School District is dedicated to providing a safe and healthy teaching and learning environment throughout all of its schools," the statement began. "We believe over the past year that we have managed the unprecedented global pandemic in a professional and efficient manner focused on healthy and safe learning environments and parental choice in learning modalities.
"Yesterday, Governor McMaster issued Executive Order #2021-23. The order states that he encourages all individuals within the State of South Carolina who are not fully vaccinated against COVID-19 to wear a face covering and further defined herein, in public settings where they are, will be, or reasonably could be located in close proximity to others who are not members of the same household and where it is not feasible to maintain six (6) feet of separation from such individuals or to otherwise practice effective "social distancing" in accordance with CDC and DHEC guidance. …
"The order also prohibits any political subdivision of this state from promulgating guidelines regarding the use of face coverings by its employees or in government offices, buildings, and facilities that are consistent with guidance from DHEC or from implementing appropriate measures or undertaking efforts to "reasonably adhere to public health guidance" for purposes of the South Carolina COVID-19 Liability Immunity ACT (R-39, S147).
"Furthermore, the order directed DHEC, in consultation with the State Superintendent to develop and distribute a standardized form for the parent, guardian, legal custodian, foster care provider, or other representative authorized to provide consent for or on behalf of a student in any public school in the state of South Carolina to opt out a student from a face covering requirement imposed by any public school official or public school district pertaining to school operations and facilities.
"In addition, State Superintendent Molly Spearman announced today, that effective immediately, she rescinded the state face covering policy with the exception of the school bus requirement that is now required by the United States Federal Government.
"Therefore, Florence 1 Schools (F1S) will continue to encourage students and staff to wear face coverings while in school in order to follow the public health guidance previously issued by DHEC and the CDC. However, (F1S) will no longer require face coverings in or out of school-operated facilities for staff or students based upon the Governor's Executive Order and the rescinding of the State face covering policy by Superintendent Spearman.
"The district is requesting that all parents fill out the form below electronically. Thank you for your continued patience and understanding during these unprecedented times.