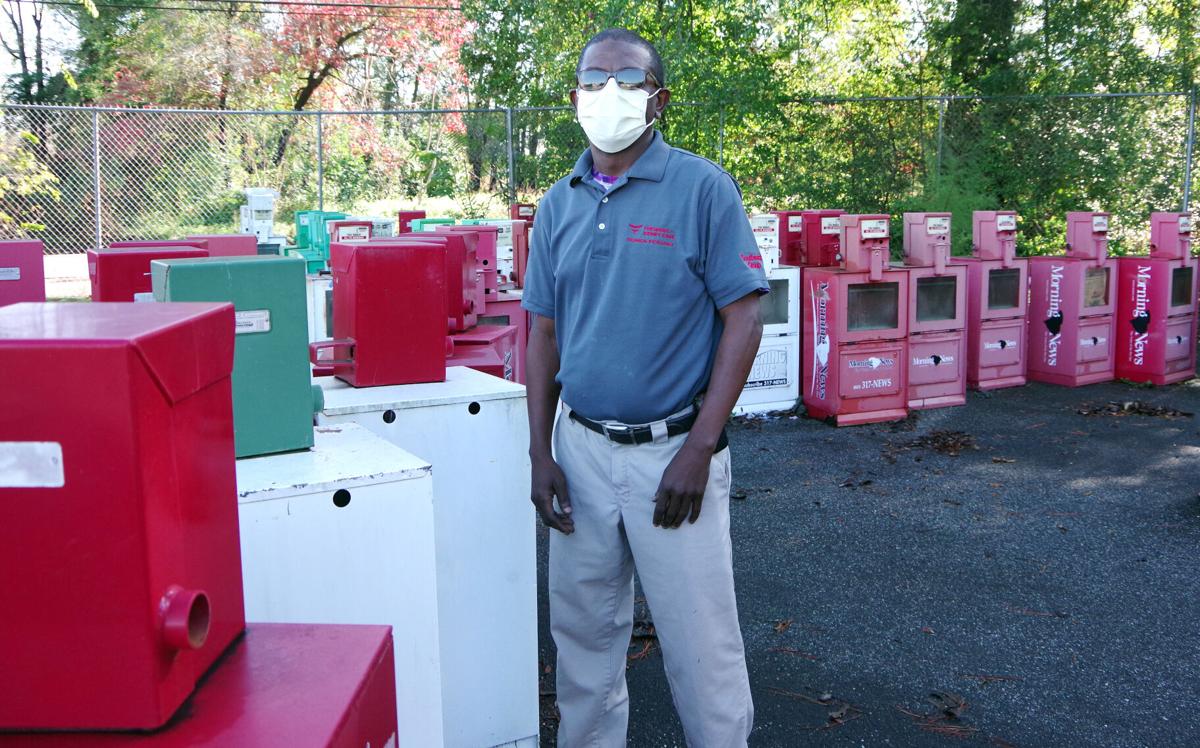 FLORENCE, S.C. — Some old paper boxes that had just been collecting rust in a back parking lot will get a second life and a chance to make a difference for some people in need.
"It's just such a simple idea," said Sam Rogers with Tie One One Florence.
Some of the heavy-duty, weatherproof steel boxes that previously vended the day's edition of the Morning News will soon offer clothing and other items of need for Florence's homeless and do so in a way that is neat and tidy — at least from a streetscape standpoint.
The Tie One On group in Florence has been around for a while and used to hang clothing from trees and such to make it available to the homeless.
"We'd hang a card from them to let people know this item isn't lost and neither are you. If you need this item to help keep warm please take it and please do something nice for somebody else in return," Rogers said.
Eventually they transitioned to putting the clothing in a zip- lock bag to keep it out of the weather.
"We'd hang them on Sundays and by Monday night or Tuesday mornings they'd be gone," Rogers said. "That just showed us exactly how many people were in need of those items."
A "lack of communications" with Florence has had the project on hold, but not stopped, Rogers said.
"Thanks to the Morning News and Bryan Braddock, executive director of the House of Hope, we have come up with a great idea. We're repurposing newspaper boxes," Rogers said. "Everybody has seen newspaper boxes, they're everywhere. We're repurposing newspaper boxes, used ones, in order to house the items that we'll be donating to whoever needs them."
"Since most of our single-issue sales have moved inside stores over the last few years, I am thrilled to be able to repurpose these boxes for the good of the community," said Morning News Publisher Bailey Dabney. "Kudos to Bryan Braddock for having the vision to come up with a good use for them."
The plan is to not only repurpose them but also redecorate them, Roger said.
"We have some artists lined up. They're going to repaint the boxes, pretty them up, make them eye catching so they'll be easily seen by the people who need to see them," Rogers said.
Rogers said organizers have a list of locations for the boxes, which will frequently be paired with Blessings Boxes that are placed around the area.
The boxes will also give people a place where they can place items they want to make available to those in need.
Rogers said the Tie One On group would like for people to keep an eye out on the boxes to make sure they're serving their purpose and are well kept.
He also said while they have artists lined up to redecorate the boxes additional artists would be welcome.
To volunteer to learn more about the organization: Rogers is on Facebook as is Tie One On Florence.