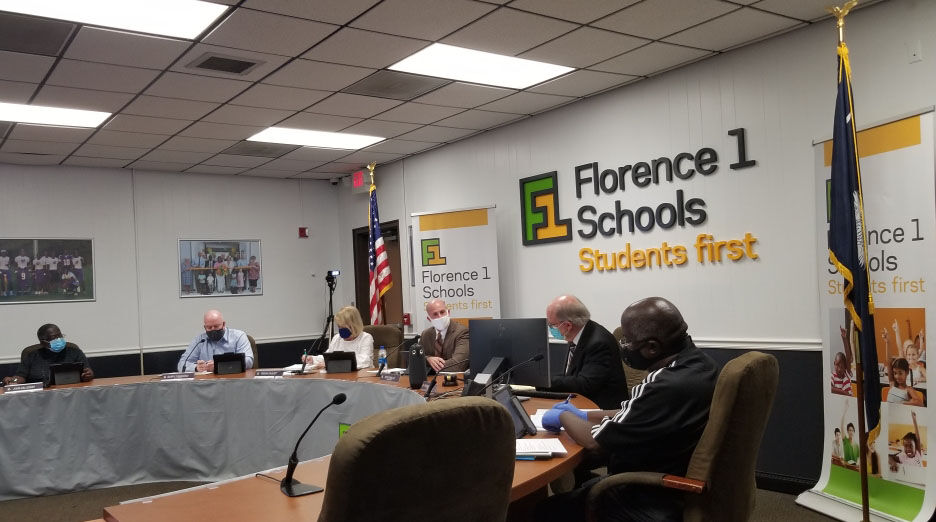 FLORENCE, S.C. — Florence One Schools have a virtual academy set and raring to go with more than 6,000 students signed up.
As for in-person classes, students at each school will be divided in two groups, with those two groups rotating different days between in-person and online learning. As of now, teachers report Aug. 24, and school starts Sept. 8.
But in light of on-campus learning at some Georgia schools being temporally shut down because of positive COVID-19 tests, what is Florence One to do if positive tests create the same urgency to temporarily shut down on-campus learning here?
Superintendent Richard O'Malley said a seamless transition will happen if that urgency presents itself.
"Students in virtual school will remain in that," O'Malley said during Thursday's school board meeting. "And students in (Cohorts A and B) will remain that way. Instead of having to come to school, though, they'll remain with that teacher and go virtual. There will be no change except not coming to school that one day."
Whether it could be one day, or several, who knows? O'Malley added that the school districts themselves have the power to shut on-campus learning down.
After board member Alexis Pipkins Sr. asked if Florence is considered a coronavirus hot spot, O'Malley responded, "Based on the DHEC charts, every county in the state of South Carolina is."
Pipkins then asked what barometers there are to be considered whether to temporarily close on-campus learning.
"I can't answer that question this evening," O'Malley said. "I probably can when school starts. We're going to have a lot to look at. If we use the same metrics, we're three times worse than we were in March. It changes week by week, day by day."
In March, O'Malley said the superintendents agreed with Gov. Henry McMaster to close in-school learning because of the pandemic. Schools remained closed for the rest of last school year.
In Thursday's first publicly attended board meeting since O'Malley and Pipkins got into a heated argument in June, the two were friendly and cooperative throughout Thursday's meeting.
Pipkins talked about his concerns for when school opens.
"Even if that means if we come back before Sept. 8 to look at the numbers, we need to do what's best for our community," he said.
After fellow board member John Galloway asked if positive case numbers could be a barometer, O'Malley said they  would not.
"When we get the (positive-test numbers), we don't know if that was two weeks ago," O'Malley said. "You don't know when those tests were. It's hard to have a barometer based upon those things."
While Galloway agreed that plans are in place just in case positive cases present themselves in the schools, he emphasized proceeding with caution.
"I believe we've got to do it," Galloway said. "But we need to figure out, 'Should we do it? And when we do it?'"
There are no easy answers.
"It's a tremendous obstacle," O'Malley said after the meeting. "You're asking us to create a whole new district of 6,000 kids with the same staff and the same funding — and in a short period of time. We're taking less than 45 days. But we're doing the best we can to assure that we're opening and providing those options to our community."
<<NEW SOUTHSIDE MIDDLE SCHOOL UPDATE: A GMP (guaranteed maximum price) budget of $39,961,759 was passed for the new 175,000-square-foot Southside Middle School, which is planned to have an auditorium (up to 500 people) and lighted soccer/football field). The budget was originally around $46,000,000.
Also, the board voted to spend $86,000 to purchase three properties/easements for storm runoffs and turn lanes for buses.
"It's exciting," O'Malley said. "It's been a long time coming and been a long time for us behind the scenes to whittle down a project down to $39 million. We're still concerned about the land and the water. But it'll be the catalyst for them to finish the project on time."
After the new Southside Middle is completed, a new Williams Middle will be the next to be constructed.
EARLY COLLEGE: Up to 75 total students —25 sophomores from each of the three F1S high schools (South Florence, West Florence, Wilson) — can take early college at Florence-Darlington Tech. They can take two courses this fall (six credit hours).
"That's good, enhancing our early college, which is an opportunity that not many people get to have," O'Malley said.
CMA CUSTODIAL CONTRACT: After this was passed, the district now has seven schools now cleaned by CMA Services, Inc. They are the elementary schools at Wallace Gregg (morning/evening), and evening at McLaurin, Delmae Heights, West Florence High School, the district office bought before the 2019 holidays, Wilson High School, as well as the elementary schools at Dewey Carter and North Vista.
Get local news delivered to your inbox!
Subscribe to our Daily Headlines newsletter.