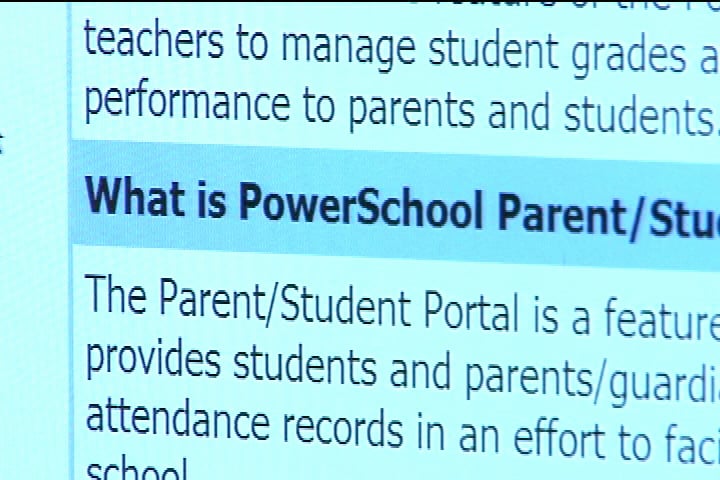 MYRTLE BEACH-Keeping up with your child's progress in class continues to get easier in Horry County.
That's all thanks in part to a live portal system, which both students and parents can use online.
The portal is called PowerSchool created through the county's school system.
Julie Schexnayder is a working mom of three and needless to say she maintains a hectic schedule.
That schedule is now a little easier to balance as with just a click of a mouse, she can see how her kids are doing in school
"I get weekly emails sent to me and every Monday morning there they are from all the teachers, from all of my children's classes and they give me the grade reports and any announcements," said Schexnayder.
The system created last fall allows busy parents like Schexnayder to access their student's assignments, homework and grading information in real-time twenty-four hours a day through a password-protected parent portal.
"In high school you know you're trying to let your kids become more responsible and autonomous and so as a parent it's really hard to let go," she said, '"So this is a great way of being in touch with what the kids are doing with out necessarily requiring a piece of paper, show me this or show me that."
Schexnayder said it's a useful tool that has made communicating with her children  about school work really easy.
"If they are upset about a grade I can look and see if it's a significant grade or not like in the past years you'd hear a letter grade and you might freak out," said Schexnayder.
She said the advanced technology helps her not only stay in tune with her children's classroom performance but it also helps her be able to juggle a job, a home and just be a mom.
"Even if you want to give your child a pat on the back and say your scores were sent to me today and congratulations that was an awesome job I know you worked hard."
 In order to sign up for the portal you have to physically go to your child's school and show an ID for a username and password.