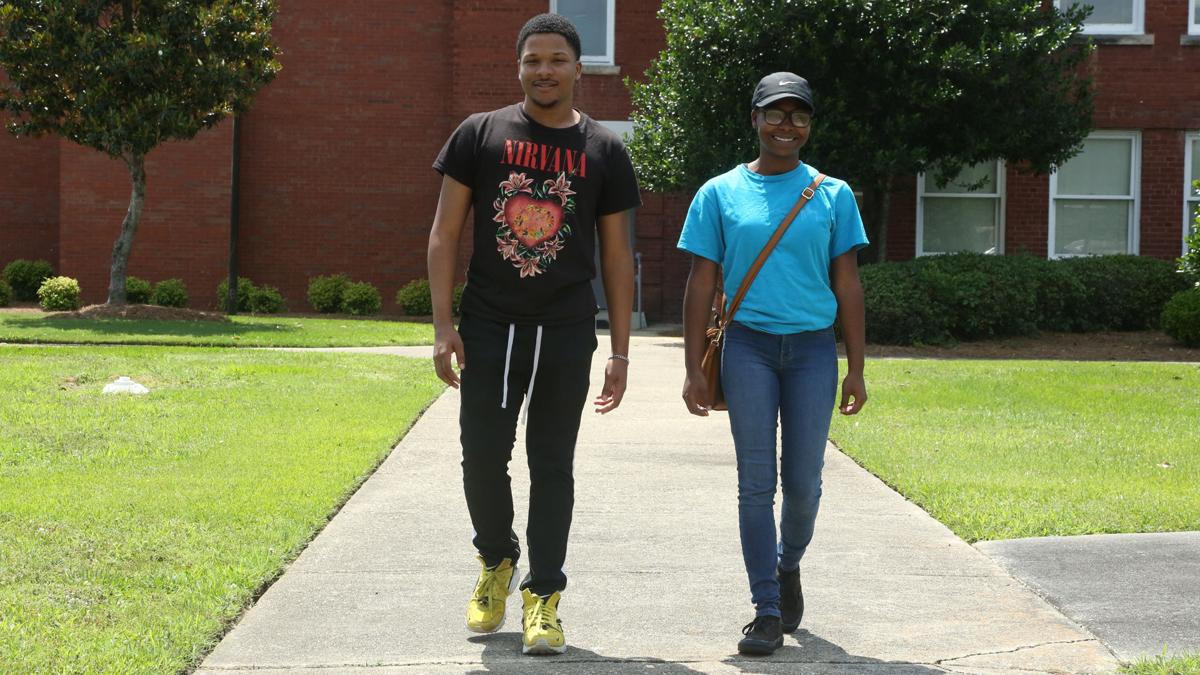 FLORENCE, S.C. — Two Wilson High School classmates from the Class of 2016 are the organizers of a march scheduled to take place in Florence Wednesday afternoon. 
Brittany Peguese and Silas Eason organized the march to protest the death of George Floyd. 
Floyd, an African American male, died following an arrest for allegedly attempting to use a counterfeit $20 bill at a deli in a Minneapolis neighborhood. During the arrest, a Minneapolis police officer kept his knee on Floyd's neck for eight minutes and 45 seconds, including two minutes and 37 seconds after Floyd became unresponsive, according to released videos.
The two began by forming a group chat on Facebook but that group eventually grew so big that they ended up creating their own Facebook page. Once the group got larger, they decided to march this coming Saturday but decided to move that up to Wednesday to get the ball rolling. 
"We see the same thing over and over again, all the time," Eason said. "People always talk about it. They'll be from our city and they'll talk about and talk about it but nobody wants to take action like maybe do a protest or suggest another way of doing things to bring light to that subject. So, we figured that we should do it."
"Not only it just being George Floyd, it's being built up," Peguese added. "Like Siles said, it continues to happen over and over again." 
Eason used the death of Eric Garner as an example. 
Garner died in 2014 in New York City. New York police officers approached him, believing he was selling unstamped cigarettes. Upon contact, Garner denied this and said he was tired of being harassed by the police. Officers then attempted to arrest him but Garner pulled away. The officers wrestled him to the ground and put him in a choke hold, at which point Garner repeated the phrase, "I can't breathe" 11 times before losing consciousness. After he lost consciousness, officers tried to ease his breathing but Garner was pronounced dead an hour later. The officer involved was not indicted by a grand jury and the federal government elected not to bring civil rights charges. The officer was, however, fired five years later. 
Peguese used the death of Tamir Rice as an example. 
Rice, a 12-year-old from Cleveland, was allegedly pointing an Airsoft rifle with the orange cap at the end removed at people when he was shot by police officers. A caller reportedly said  the gun could be fake. A grand jury declined to indict, believing the officers to have believed Rice to be drawing a real pistol when they arrived on scene. 
"That's ridiculous," Peguese said. "That's crazy."
"We started off with like 12 or 13," Eason said. "The group is now 700 people." 
Neither had any idea their proposal for a march to protest Floyd's death was going to grow as it has on social media. 
"We didn't even know it was going to take off like this," Peguese said. "We didn't know it was going to be this big. We just wanted to do something." 
Both expressed a strong desire to hold a peaceful march Wednesday afternoon. 
"We see everyone across America in other states protesting and things," Peguese continued. "It turned violent a lot of times. Unfortunately, things are destroyed in the cities [where the protests have been held] but this time we planned this and we're saying, 'We're not here for that.' If we're going to do this, we're going to do this thing right." 
Both Peguese and Eason live within the city. 
Peguese said she was born and raised in Florence but very briefly moved to Houston, Texas – she said she loved it — at the end of 2019 before returning home. 
Eason said he grew up in Dillon but moved with his family to Florence in 2013. He later added that an uncle of his organized a protest in Dillon after the death of Trayvon Martin. He added that he was inspired by his uncle to attempt his own protest. 
"We have to live here at the end of the day," Peguese said. "This is our city so why would we burn things down and tear up things? When we wake up tomorrow what we will have if we destroy? But if we make our voices heard and we stand up and try at least do something. Sitting behind social media and saying what we would have done isn't doing anything either." 
The Facebook page does include people from Atlanta and lower parts of the state.
"We're grateful for that [people from other places joining the page], but we just keep reiterating that this is a peaceful protest," Peguese said. "We see what happens in other cities. Though there may be outsiders coming in to support us, we just have to keep telling them that this is our city. We live here. We're not here to tear anything up. We're not here to burn anything down. We're just here to get our voices heard." 
They added that they've worked with the Florence Police Department to establish security measures for the march. 
"If anything does go bad, the police will probably push us in the right direction," Eason said. "If we go this certain way on our march and someone goes and breaks something somewhere else, we will know that they're not part of our group. It's organized enough to know where we're going and where something else is going is not part of our group." 
Peguese added that the police department would be shutting down intersections for the group and make sure they're kept safe during the march. 
Peguese added that some members of the Florence Police Department would be marching with the group. 
"It means a lot," Peguese continued. "We're very grateful for that. We can't change the world but we can start right here, that's something. A lot of people don't have the same views that we have but if they can see that in a time like this we can all come together that would be awesome. That would change some things." 
"We see that there's good cops out there," Eason said. "We just have bad cops pop up in certain situations but we know there's good cops." 
Both added that they were not protesting to demean all police officers but to make the point that police officers taking bad actions need to be held accountable for their actions. 
"A lot of people try to counteract police brutality with black on black crime," Peguese said. "The difference is that when a black person kills a black person, they go to prison. When a police officer kills a black person, they get to go home at the end of the day. I think that's where most of our frustration rises at. That's what makes us so angry." 
"Not only do they get to go home, they continue to be protected," Peguese continued. "Over and over again, evidence is tampered with or not brought to light. Basically, it gets swept up under the table."  
Eason added that the policies of police departments were not the issue, but that the officers not following policy was. 
"If they [police officers] do a crime, they [should] have to serve their time, too as if it were anybody else," he added. 
The march will go from the Florence County Judicial Center on North Irby Street, then turn onto West Darlington Street, then make a right onto the Dr. Martin Luther King Jr. Bridge, cross the bridge, then turn right onto East Cheves Street, then right onto South Dargan Street, then left on to West Evans Street and then right on North Irby Street back to the Florence County Judicial Center. 
Peguese and Eason added that they plan to have speakers at different points along the march. 
The speeches are not scripted but some members of the group are preparing potential speeches to make. 
Get local news delivered to your inbox!
Subscribe to our Daily Headlines newsletter.