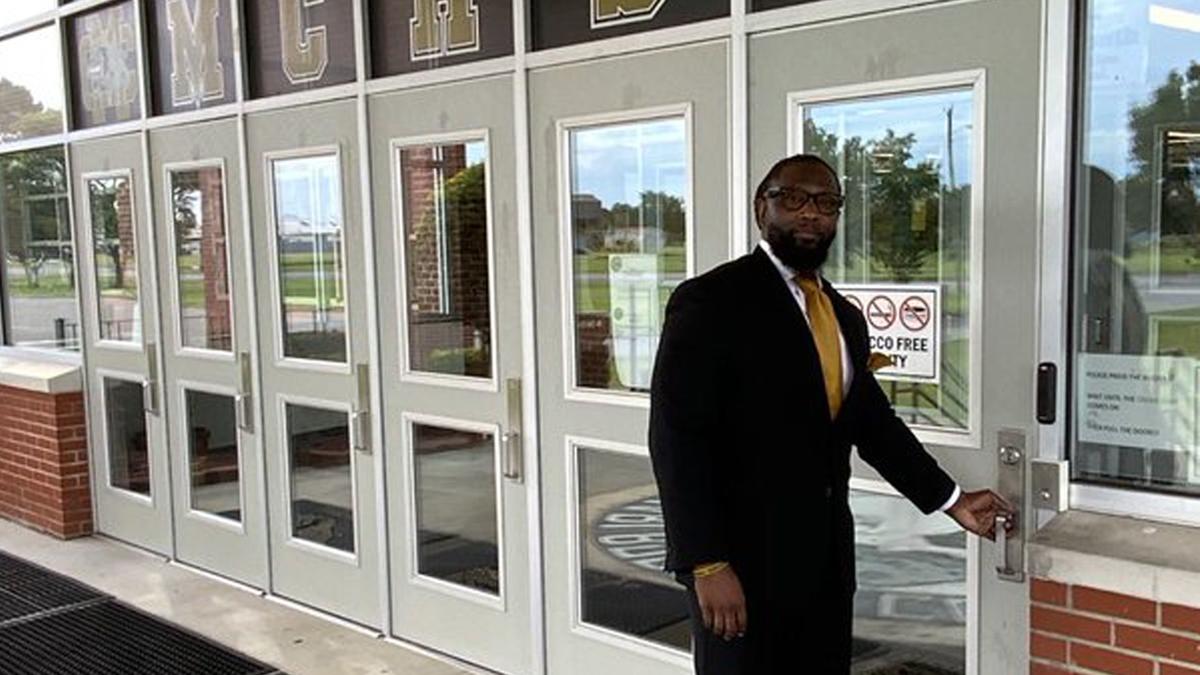 BENNETTSVILLE, S.C. — Students at Marlboro County High School won't have to look far to find an example of someone who walked in their shoes and found success.
The Marlboro County Board of Trustees announced recently that Dr. Jamane Watson, a 1996 graduate of the school, would be taking over as principal for the coming school year.
"It means a lot because students who attend the school can see someone who walked the same halls they do, had some of the same teachers they do, came from similar backgrounds that they have, that they can make it," Watson said. "I have a doctorate degree. That's the highest level of education that you can possibly obtain ... I live by example. I always tell people I am not a role model. I'm a real model."
"Finding someone to lead the high school who knows this community was important to me and our staff," Superintendent Gregory A. McCord said. "Having grown up here, Dr. Watson is committed to ensuring that students receive the best education possible."
In 1996, Watson said, becoming a principal was the furthest thing from his mind. He headed to South Carolina State University with one goal: becoming a professional basketball player.
South Carolina State, a historically black university in Orangeburg, has had four players make the NBA according to basketball reference: Julius Keye who played 418 games from 1969 to 1975, Tom Boswell who played 366 games from 1975 to 1984, Frank Card who played 306 games from 1968 to 1973, and Travis Williams who played 47 games between the 1997-1998 and 1998-1999 seasons.
However, Watson quickly found that his size — he said he was 6-feet-1, 165 pounds — helped him to learn that a future in basketball wasn't in the cards.
"People built like that are a dime a dozen," Watson said. "I didn't have an outstanding jump shot. I played decent defense but that dream was just a dream. It wasn't reality."
Watson added that he changed his major five times during his freshman year at South Carolina State before he eventually settled on physical education. According to a biography released by Marlboro County Schools, Watson was also a member of the Marching 101, South Carolina State's marching band, for two years.
"It's very unusual [for a physical education teacher to become a principal]," Watson said. "Typically, you major in physical education, you're a coach. Coaches, they move around because their primary focus is coaching. Typically, the education part becomes secondary. It's highly unusual. Most principals usually have a background in some of the core subjects: language arts, math, history, social social studies."
Watson graduated from South Carolina State in 2001.
After graduation, Watson said, he wanted to return to the Pee Dee region but found that no district in the area needed a physical education teacher. So, he took a job teaching fourth grade in the Savannah-Chatham County Schools in Georgia.
"I ended up taking a job teaching fourth grade," Watson said. "I was an elementary school teacher ... I taught everything except what I was majoring in. I was there a year. Eventually, I found that even though I was passionate about teaching I wasn't completely trained to be a fourth-grade teacher. That pedagogy was a little different."
Pedagogy is defined as the method and practice of teaching.
He then headed north to Robeson County, N.C.
Robeson County is northeast of Marlboro County.
Watson's first job was teaching physical education at Red Springs High School. He taught there for six and a half years. Then he became a teacher at K-8 Parkton for eight and half years.
Watson was named teacher of the year at Parkton Elementary School in 2011-12 and 2014-15. He also obtained a master's degree in school administration from Grand Canyon University in 2014.
He most recently served as an assistant principal for the last three and a half years.
Watson received an educational specialist degree and a doctorate of educational leadership in 2017 from Wingate University.
Wingate is a private university in a town of the same name in North Carolina. Famous alumni include Sen. Jesse Helms, former Florida State baseball coach Mike Martin, and Family Dollar founder Leon Levine.
Get local news delivered to your inbox!
Subscribe to our Daily Headlines newsletter.