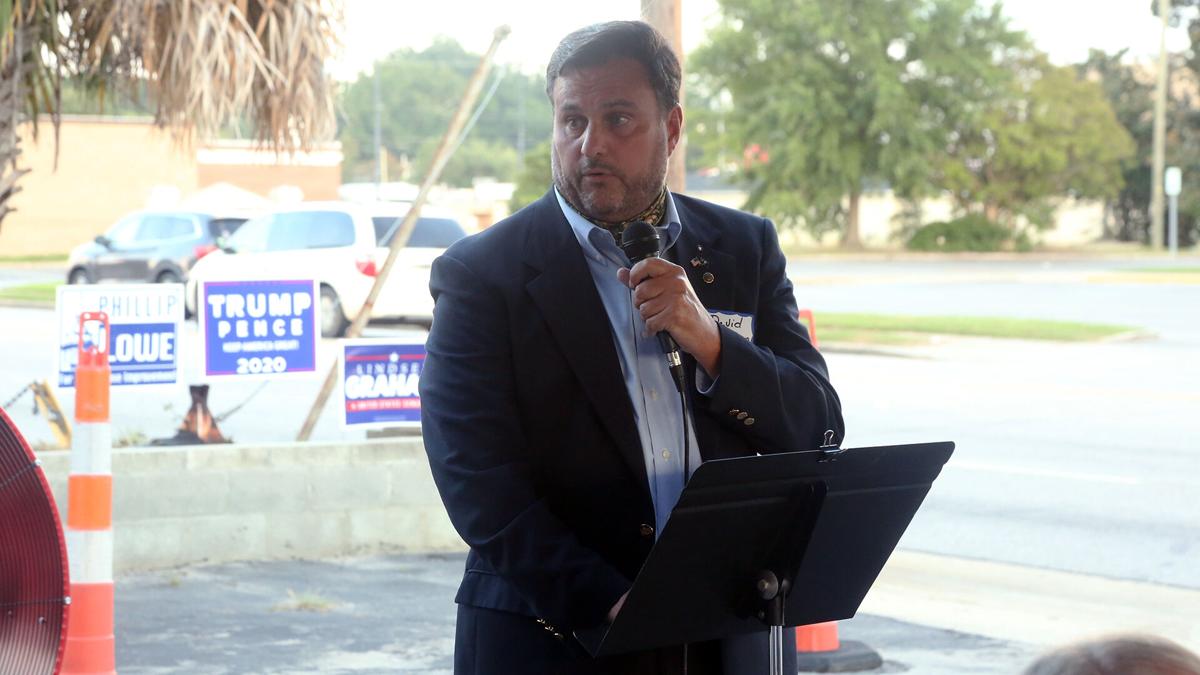 FLORENCE, S.C. — A candidate running to represent a portion of southern Florence County says Republicans are the party of science. 
David Ellison, a Republican candidate for Senate District 32, spoke at the monthly meeting of the Florence County Republican Party. 
Senate District 32 includes a portion of southern Florence, all of Williamsburg, western Georgetown and northern Berkeley County. 
Ellison described himself after the meeting as a retired member of the military, a tree farmer and investor. 
"I'm an Air Force veteran," Ellison said to introduce himself during his speech. "I joined the Army National Guard in 1988 under Ronald Reagan. I've served under five presidents, and believe me, it matters who the commander in chief is." 
He said during his speech that he believed in four things: faith, family, God and country. 
"I don't believe in mobs, I do believe in jobs," Ellison said. "I believe in liberty. I don't believe in lockdowns." 
Ellison started to speak about science and COVID-19 by telling a story of being confronted by a Black Lives Matter activist during an attempted interview by another South Carolina newspaper. During a break in the interview, Ellison said, he had a civil discussion with the activist. 
The activist's first question was why weren't Republicans taking the threat posed by COVID-19 seriously. 
Ellison responded by asking the activist if he knew how many people had died from the virus in Georgetown County as of July 1. 
The activist guessed 3,000, then 300. 
"That's not even close; try three," Ellison told the activist. "Why am I talking about COVID? Because Republicans are the party of science. We are the party of truth. I'll make another point. If you ask the average American how many people have died of from COVID, what are they going to say? Rush Limbaugh talked about this the other day: 9% ... Americans think that 9% or 10% have died of COVID. Let's run the numbers: 10% of 330 million is what? That's 30 million people. Americans believe that 30 million people have died of COVID." 
As of Tuesday evening, 167,636 people in the United States have died. Assuming a population of 330 million, this would represent 0.05% of the population. As of Tuesday, 19 people who have tested positive for COVID-19 have died in Georgetown County since March. Of those deaths, 85% of the people had pre-existing health conditions. 
"People, COVID is a total scam in terms of people living in fear [inaudible words]," Ellison continued. "Republicans need to do what we do. I support wearing masks, but the people that COVID is killing are elderly and compromised people." 
Republicans, he said, need to be the party of science. 
"There are a lot worse things in South Carolina and America than the coronavirus," Ellison said. "Let me tell you, seriously, cowardice is worse than the coronavirus. Rioting in the streets is worse than the coronavirus." 
Ellison also went on to criticize the "fake news media." He asked how much of the destruction following Black Lives Matter protests in Charleston went unreported. 
"You had 161 acts of looting, violence and destruction, and it's totally unreported," he continued. 
He also criticized the Democratic Party for allegedly supporting terrorist groups, Antifa and Marxists.  
He also asked how many African American Trump supporters had been killed by Antifia and Black Lives Matter. 
Then, Ellison turned back toward COVID-19. 
"Republicans are not the ones rejecting science," Ellison said. "How many kids have died of COVID? How many kids have passed COVID on to other kids or adults? Remember, we're the party of science. If we're going to shut down schools, we better have a good reason to shut them down. I would submit that there's not been one case of a kid passing on COVID to another kid or to an adult." 
A report from ABC News indicates that 1% of COVID deaths have been in children. A July 10 article in Science Daily about a commentary in the journal Pediatrics that uses the results of five studies indicates that children are not considered to be drivers of new infections. One of the authors of the Pediatrics article blamed congregations of adults not following safety protocols. 
Ellison also criticized presumptive Democratic nominee Joe Biden for a comment saying people aren't black if they don't vote for him. 
"My district is 55% African American," Ellison said. 'I'll be doggone if I'm going to run away from Donald Trump. Donald Trump has been the best president for African Americans in this century, and I'm not going to run away from my president. If I lose because they say I'm not going to vote for you because you like Trump, then I lose." 
Ellison praised Trump for funding historically black colleges and universities, letting people who didn't belong in jail out of jail, and historically low unemployment rates for minorities pre-COVID 19 shutdowns. 
"Republicans are not the ones whose cities are shrinking," Ellison said. "Lake City is shrinking. Kingstree is shrinking." 
Lake City's governing council is elected on a nonpartisan basis. However, Ellison's opponent for the Senate seat, incumbent Ronnie Sabb, is a Democrat, along with Congressman Jim Clyburn, state Rep. Roger Kirby and Florence County Councilman Jason M. Springs. 
Also speaking at the meeting were state Reps. Phillip Lowe and Jay Jordan, state Senate candidate Leon Winn, Florence County Council Chairman Willard Dorriety Jr., Florence County Council District 4 candidate Jerry W. Yarborough Jr. and Florence County Council District 8 special election candidates Frank J. "Buddy Brand II, Randy Propps and William Schofield.