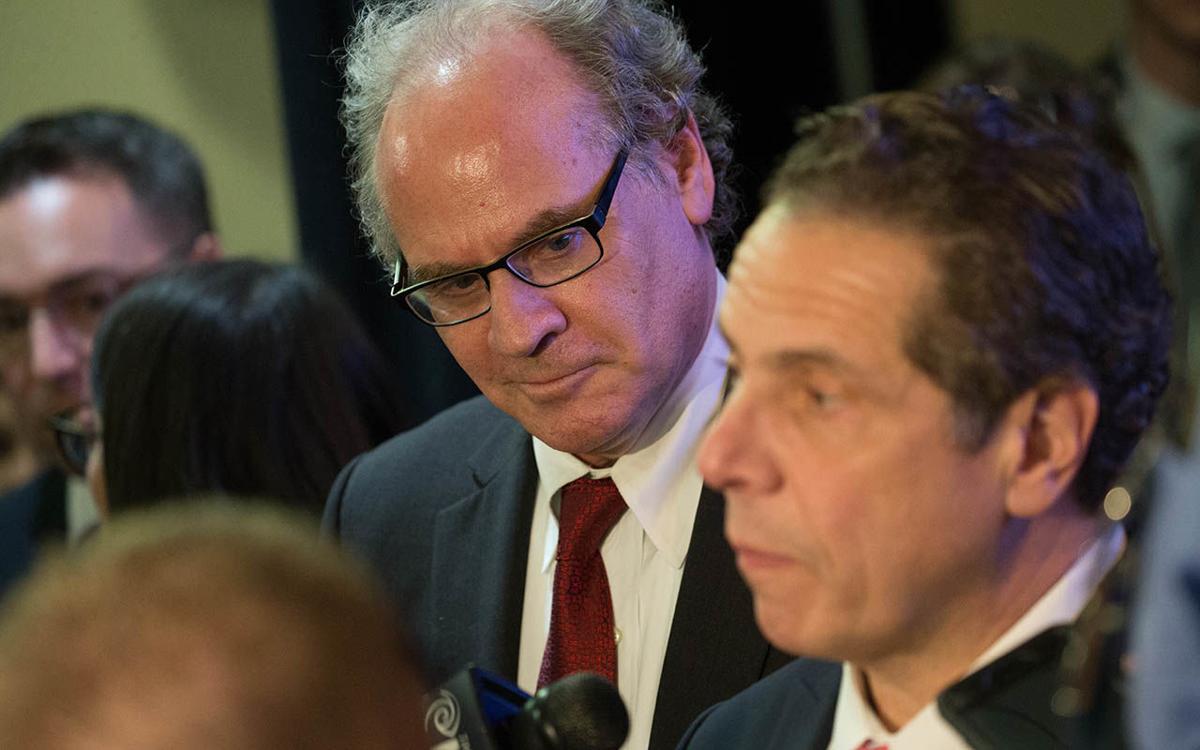 Zemsky, the development agency's former chairman and chief executive, heard the governor say that aide Lindsey Boylan was more beautiful than certain Hollywood actresses of the past, and Zemsky later told Boylan that Cuomo has a crush on her and asked if there was anything he could do on her behalf, the report says.
"In light of the governor's comments, which Mr. Zemsky thought were 'uncomfortable' and 'inappropriate,' Mr. Zemsky asked whether Ms. Boylan wanted him to 'get involved or try to make a change in the governor's behavior,' " according to the report Attorney General Letitia James made public Tuesday. Boylan, the report says, told Zemsky she was OK and would "handle it."
Cuomo has denied much of Boylan's descriptions of his behavior and in remarks that followed the release of the attorney general's report Tuesday he said, "I never touched anyone inappropriately."
Zemsky had been one of the governor's go-to people on economic matters in Western New York and in 2015 Cuomo named him to head Empire State Development and serve as its chairman. The developer eventually departed from both roles and now holds the title of "chairman emeritus" at the agency.
The attorney general's report indicates Zemsky gave a lengthy deposition to investigators that largely backed up Boylan's description of Cuomo's treatment of her.
She joined Empire State Development in 2015 as vice president for business development and later became Zemsky's chief of staff. At an event at Madison Square Garden in January 2016, the governor spent more time with Boylan, who is married, than she would have expected, she told investigators, and in greeting her clasped her hand in both of his hands, making her feel "weird" and "creepy." On other occasions he touched her in an inappropriate manner and kissed her, the report said.
On a return flight from Western New York in 2017, Cuomo asked Boylan if she wanted to play strip poker, she told the investigators, explaining that she then made light of the comment.
But when Boylan went public with the remark in February, Zemsky was drawn into the Cuomo team's attempt to discredit Boylan over the strip poker comment. He and other aides who had been on the flight put out a statement saying they never heard the remark. But Zemsky told the state investigators he had not recalled the episode correctly and reversed himself.
Zemsky testified that, in his mind, he was denying the governor had asked the small group to play strip poker – which Cuomo had not done – not that Cuomo made the comment in jest. After the statement was released, Boylan sent him a derogatory message, he reported, and he read her online story about working for Cuomo at Empire State Development and later as a special adviser. That's when Zemsky realized the strip poker comment "struck a note of familiarity," he testified.
"During our investigation," the report said, "one of the individuals who joined the statement, Mr. Zemsky, testified that he in fact did recall the governor making a comment about 'strip poker' on a plane." 
Zemsky testified that "the governor said something like, 'Hey, want to play strip poker?' " and that the statement was "directed at Ms. Boylan," the report said.