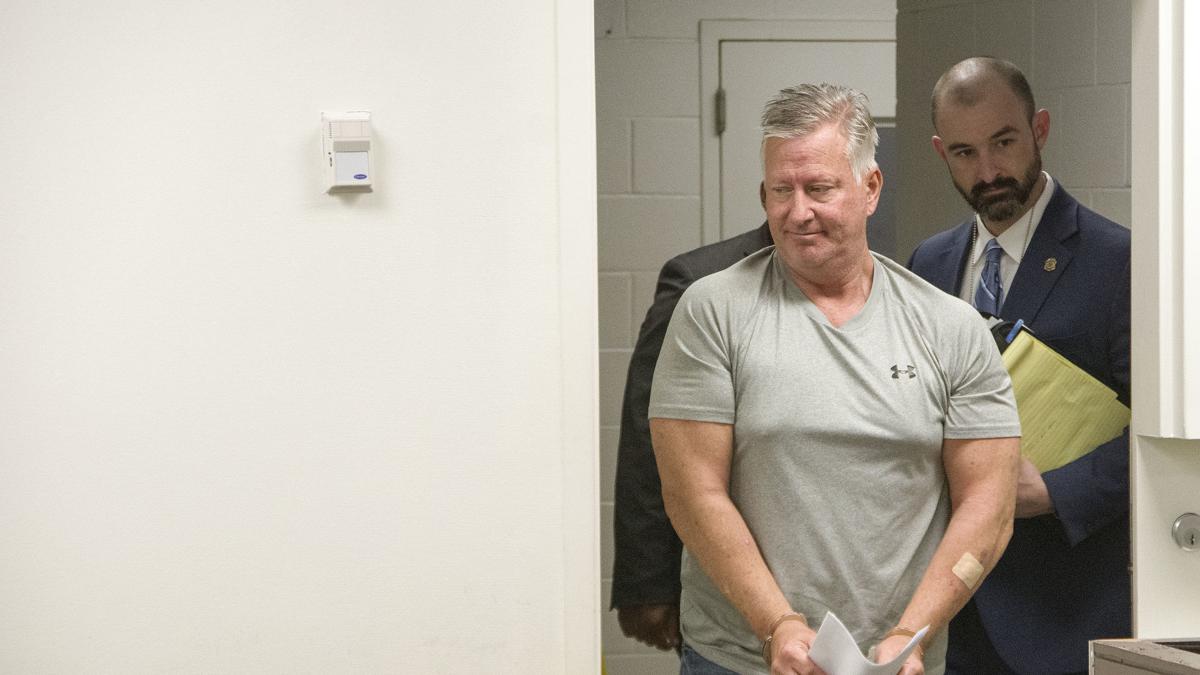 DARLINGTON, S.C. — Despite posting a $10,000 bond for charges of second-degree domestic violence and ill treatment of animals in general, torture, former Florence County Sheriff Kenney Boone remains in the W. Glenn Campbell Detention Center in Darlington. He now is charged with violating his probation.
According to the detention center's website, Boone is being held in lieu of $25,000 bond on the charge.
"Our warrant was based on the new arrest and the circumstances of his new arrest, the fact he had a weapon — the baseball bat," said Pete O'Boyle, public information officer for the South Carolina Department of Probation, Parole and Pardon services.
O'Boyle said that as a result of the warrant, Boone will now appear before a circuit court judge who will decide whether Boone violated his parole and, if so, what consequences he should face.
According to court records, Boone appeared before Darlington County Magistrate Deatrice Curtis on Wednesday morning on the charge.
According to court records, as a condition of posting bond on the probation charge, he is precluded from having contact with the victims' family on the initial charges and will be under house arrest with GPS monitoring after the residence is confirmed, and it cannot be a hotel or motel room.
On Tuesday, Boone was before Florence County Magistrate Belinda Timmons on his initial charges, which were connected to a Monday night incident at his Vintage Place subdivision residence.
Boone, shackled at his waist, appeared shortly before noon in the custody of two SLED agents. His wife, Anna Boone, was in attendance with a SLED victim's advocate by her side.
According to warrants issued by SLED, Boone is alleged to have, in the presence of his wife, hit a cat with a baseball bat, inflicting unnecessary pain or suffering on the animal.
On the same date, according to a second warrant, "while brandishing a baseball bat, he offered to cause physical harm or injury to his wife in the presence of or while being perceived by minor child, thereby creating reasonable fear of imminent danger."
Second-degree criminal domestic violence is a misdemeanor that carries a sentence of up to three years in prison while ill treatment of animals in general, torture, is a felony that carries a sentence of up to five years in prison, Timmons said.
Timmons said that the unemployed former sheriff qualified for a state public defender.
In granting Boone bond, Timmons directed that he have no direct contact, no indirect contact and no social media contact with the victim or the victim's family. Though initially requested to make GPS monitoring a condition of his bond, the magistrate did not, at the request of the family, because of the financial burden it would have been.
In making her ruling, though, Timmons indicated that condition could be handled through a probation violation charge.
After his hearing before Timmons, Boone posted $10,000 bond — $5,000 on each count — through Black Cat Bail Bonds, according to court records.
Boone's arrest came less than four weeks after he pleaded guilty to embezzlement and misconduct charges and was sentenced to five years on probation.
On Jan. 8, Boone pleaded guilty to charges of embezzlement of less than $17,000 and misconduct in office before Judge William A. McKinnon in Sumter.
The sentence was suspended by McKinnon to five years' probation with the possibility of removal of probation after 18 months if Boone pays back the money he owes.
Get local news delivered to your inbox!
Subscribe to our Daily Headlines newsletter.