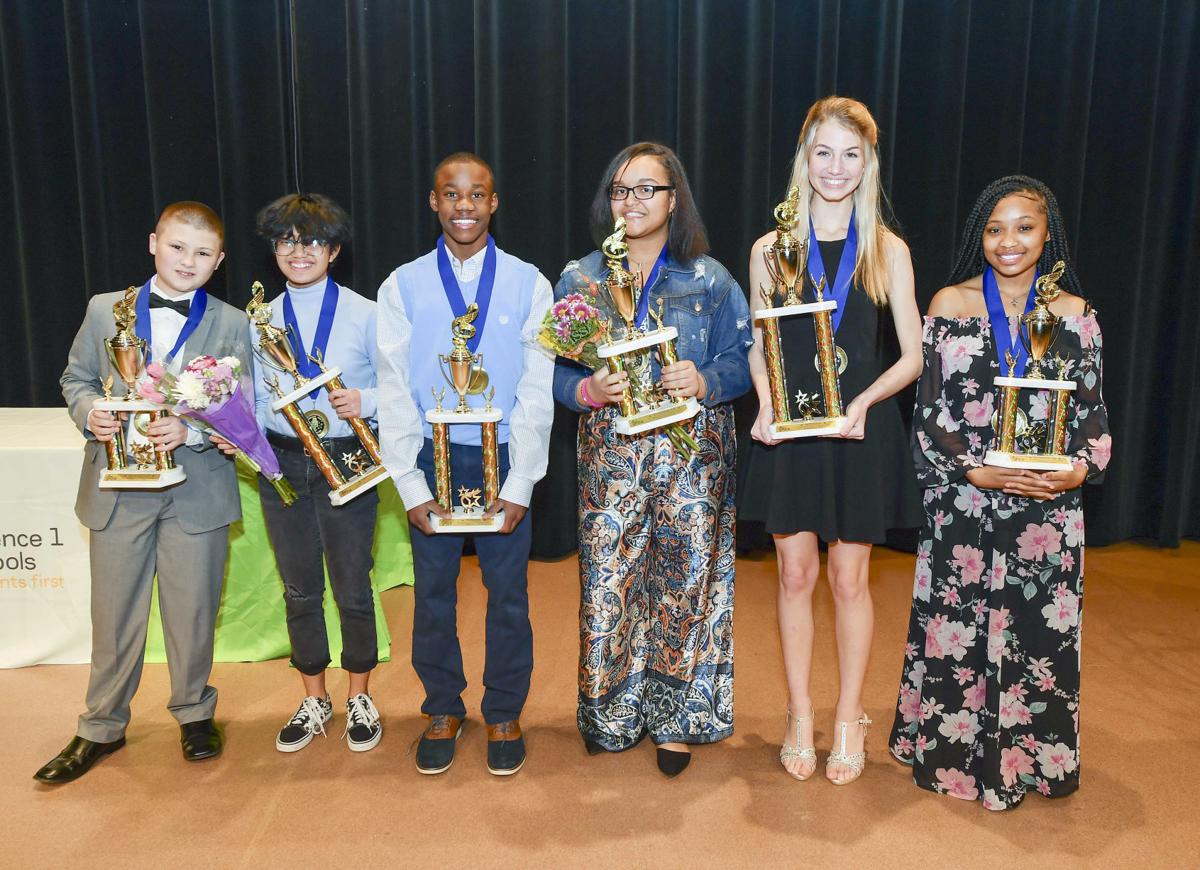 FLORENCE, S.C. -- Simon Cowell was not on the panel for Florence One Schools' Annual Vocal Star competition Thursday evening, but he would have been proud.
In fact, nerves and "pitchy" runs were nowhere to be found as 26 students from across the district took to the stage at the Southeastern Institute of Manufacturing and Technology Center to show off their musical talent and vocal prowess.
The competition was broken down into three age divisions: elementary, middle and high school. A winner was chosen from each age group by a panel of judges. McKenzie Shelley took top honors in the high school division, Andre Dolford Jr. snagged the middle school crown and Julliene Fernandez won the elementary school competition.
Their styles and performances couldn't have been more different.
Shelley made a grand entrance into the auditorium from the back door, belting out the first verse of Barbara Streisand's "Rain on my Parade" as she worked her way through the audience to the stage like an old Broadway professional.
But despite the flawless execution, Shelley said, she was nervous.
"Oh, gosh yes, I was totally nervous," the South Florence student said after the awards presentation. "Everybody did so good tonight, and I thought I had done good, but you never really know."
Shelley said she was inspired to sing Streisand by her best friend Saviah Miller, who has won several pageants and vocal competitions throughout the state and region.
"Saviah is my best friend, and she's helped me so much," Shelley said. "Saviah loves Streisand, and she's such an inspiration to me, so I wanted to sing this song."
Inspiration and admiration also inspired elementary winner Julliene Fernandez's choice of song. In fact, Julliene, a Royall Elementary School student, was slated to sing "Perfect" by Ed Sheeran as listed in the program. But a recent tragedy prompted her to change her plan at the last minute.
The result — a subtle, stripped-down acoustic performance of a classic penned half a century before she was even born: Elvis Presley's "Can't Help Falling In Love," just Julliene and her guitar.
"It was for my dad. He just passed away. My dad loved Elvis, so I wanted to sing that for him," Julliene said, grinning while simultaneously trying not to tear up in the bittersweet moment. "I think he would have liked it."
The theme of inspiration continued with Dolford, the middle school division winner. The Sneed Middle School student showed off his vocal chops with his own spin on Nina Simone's "Feeling Good." He said he chose the song with a little help from his parents and a whole lot of divine intervention.
"I prayed about it, because I'm a strong believer in God," Andre said. "And I did talk to my parents about it, too, because they are huge influences for me. So we got on the piano and worked it out, and I knew it was the right choice for me. I was still nervous, but I felt good about it. I still couldn't believe it when they called my name, though. I wasn't expecting it at all so I'm super excited. I still don't know what to say, really."
Jaden Pratt, a South Florence Bruin, was named the runner-up in the high school division after a rousing rendition of Louisa Stead's "Tis So Sweet." The middle school runner-up was Jada Davis, who sang Rhianna's "Stay," and John W. Moore Intermediate student Rufus Brown placed second in the elementary division with his rendition of Owl City's "Fireflies."
All of those who performed at Thursday's event were finalists in a districtwide competition that began with 107 competitors vying to make it to the final round, said Jeffery Gaines, Florence One director of arts and innovative programs.
"I have been blown away by the talent that lies within our schools," he said.
Gaines wasn't the only one.
Local vocalist and musician Mark Humphries, who served as a judge for the competition, said he was impressed by all of the performances, and narrowing down winners was not an easy task.
"These kids are great," Humphries said. "And I don't just say that. I take it serious when I participate in something like this, because it's serious for them. They've worked hard on their performances and then gotten up the nerve to get up on that stage in front of an audience. It's not easy. These are some really, really talented young people and some of the talent I saw here tonight, I think these kids are gonna go a long way."