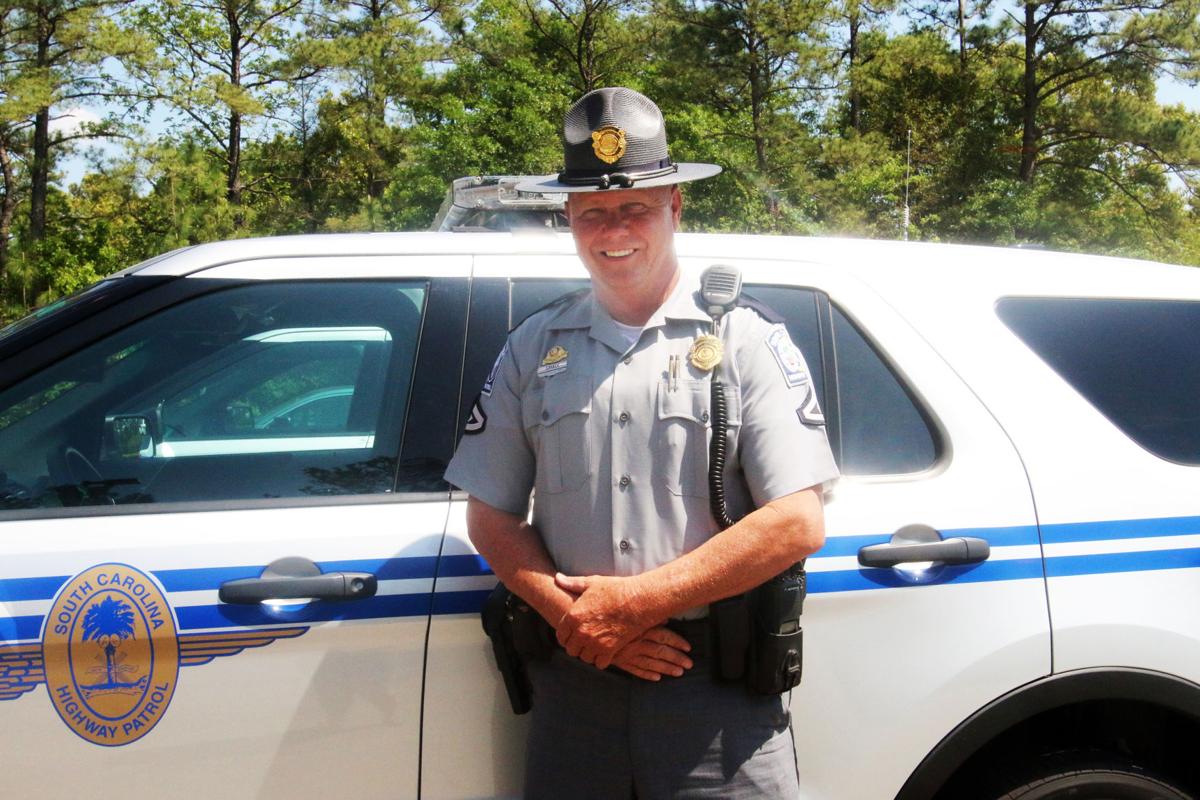 FLORENCE, S.C. – In November, Lance Cpl. Kenneth Small of the South Carolina Highway Patrol performed cardiopulmonary resuscitation on a 5-year-old girl to save her life.
It was 6 p.m. on Nov. 10. Small was at a work zone in the northbound lane on U.S. 501 near Regal Swamp Fox Theater. Small said there was construction going on in the area; the number two lane was closed and lane one was open.
"I stopped a car coming through the work zone," Small said.
Small said he explained to the people in the car why he had stopped them and as he headed back to his car that dark evening, someone wanted his attention.
"As I walked to my patrol car, a car came up to me blaring their horn," Small said. "A woman came to me saying her child was in the car unresponsive and did not have a heartbeat or breathing."
The woman said she had tried calling to get an ambulance, but the lines were tied up.
Small said he immediately called the patrol station to see if it could get an ambulance to their location.
Small said the woman's 15-year-old daughter was holding the little girl in the rear. The woman said they were coming back from Myrtle Beach and her 5-year-old daughter had been asleep. She said her daughter had woken up, but a few minutes later she was slumped over in the car seat.
Small used what he learned from CPR training to help the 5-year-old.
"I laid the girl down on the back seat of the vehicle, and called the station again for EMS," Small said. "I noticed the girl did not have a heartbeat; she was blue, gray and clammy. I started CPR."
He said he only did CPR for a few minutes but it seemed like forever. He still was not getting a response from the child.
Meanwhile, the mother was still on the phone trying to get an ambulance. He said as he continued to give chest compressions and mouth to mouth, he kept praying to the Lord. He said her chest started to rise and fall, but she was still not coming back.
He said all of a sudden she had a faint cough. Small continued to give CPR.
"All I could think is she's 5-years-old, and she does not need to leave this world like this," Small said. "Then the girl gave a stronger cough."
He said instantly she came back after that stronger cough.
"It looked like she flipped back, just like a light switch," Small said. "The color was coming to her face, she was catching her breath."
She was catching her breath, but according to Small, not long after, she had a seizure that lasted for two minutes. He said she started crying.
"I knew if she was crying, she was OK," Small said.
The ambulance came to take her to the hospital.
Small learned later that the girl has a history of seizures. It is believed that she had a seizure that night.
He still stays in contact with the family, at least once a month.
"The mother tells me that her daughter now says when she gets married, she wants to marry a cop," Small said. He laughed.
Small said the CPR training he has taken over the years allowed him to save the girl, with the grace of the Lord.
"Absorb all the training you can receive as a public officer because you never know when you have to use it," Small said.
He said he knows that people think they will never have to use what they learn in training, but if they do, they are prepared.
"It was a great feeling knowing that I helped," Small said. "You feel like you won the lottery, especially when you see the child responding and coming back. No one can take that away from you. That was the Lord."
Earlier this month, Small was honored as South Carolina's Trooper of the Year for 2016.
The award was presented in recognition of his quick thinking in helping the child. He also received a Director's Medal for Valor "for his persistence and calm that — no doubt — saved this child's life."
Small is from Dillon and graduated from Dillon High School.
He joined the Marine Corps in 1978 with the rank of sergeant, and he was honorably discharged in 1983.
"I was interested in the Marine Corps because my brother was in Vietnam with the Marine Corps, and I thought it was the finest," Small said. "I knew training through the Marine Corps will help me become law enforcement."
He joined the S.C. Highway Patrol in 1984. He retired from the patrol in 2009, but that was also the year that the patrol began having retirees coming back to work. He returned in 2009, and this year makes 34 years he has been with S.C. Highway Patrol.
"I enjoy the freedom of patrolling large areas because it keeps me out of the office and it allows me to help people," Small said.
Small lives in Florence. He has three grandchildren, and for fun he attends car shows, goes hunting and goes fishing.
"Working for S.C. Highway Patrol motivates me and the uniform excites me and I still feel excited when I put on my uniform, just like I did when I first started in 1984," Small said.