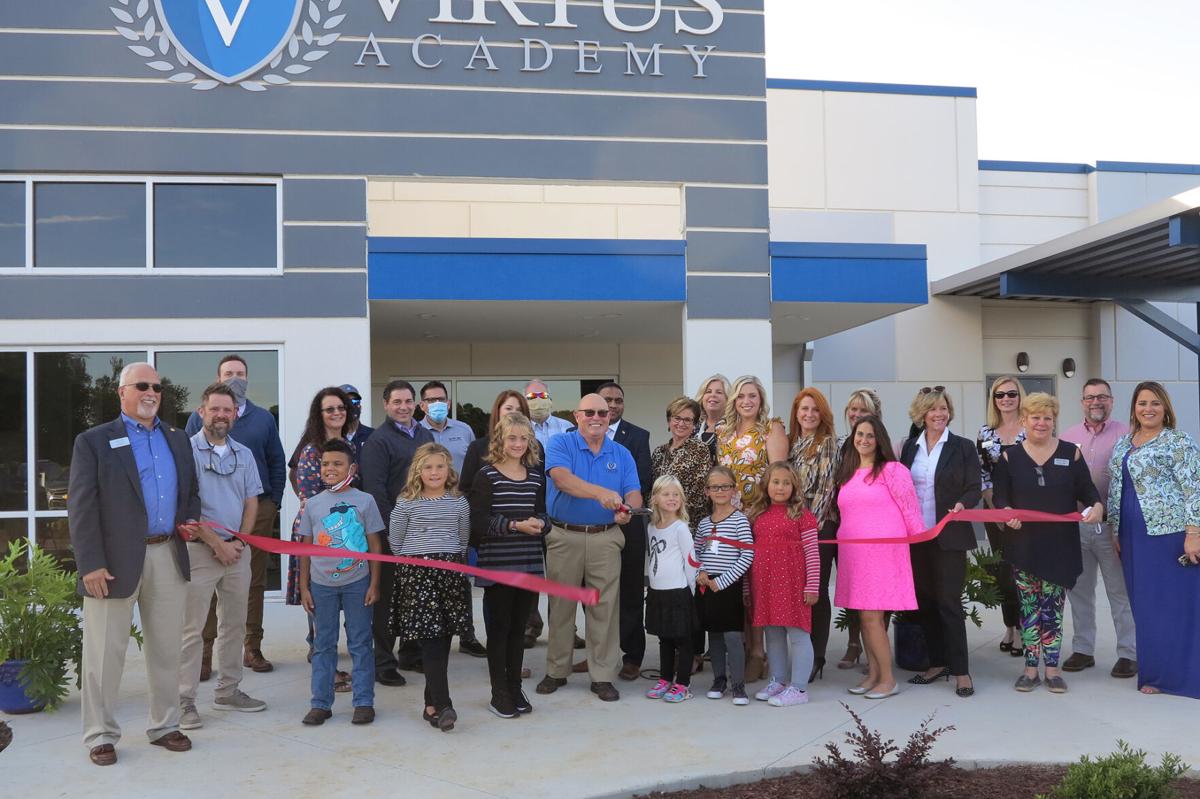 FLORENCE, S.C. — Virtus Academy of South Carolina held a ribbon-cutting ceremony Tuesday in front of its new facility. The Greater Florence Chamber of Commerce participated in the event. 
The charter school moved into its new, permanent facility at 2407 Pisgah Road in August. For its first two years, the school was housed in temporary quarters.
The opening came just in time for the students' return to the classroom for the start of the 2020-21 school year. Students will return to school on Monday.
On Sept. 13, the Virtus Board of Directors voted unanimously to allow students to return to the school for traditional learning five days a week, according to a media advisory. The school will continue to offer families a virtual option as well.
Precautions have been put in place to safeguard students, staff and visitors.
"When students and visitors arrive, they go through a health-screening to evaluate and determine safe entry," said Brittany Hamilton, interim principal. "Everyone will wear masks, and we have Plexiglas for student desks.
"We have also hired extra custodial staff to make sure that the surfaces are cleaned thoroughly throughout the building and teaching assistants to help teachers monitor proper mask-wearing and hand-washing. We have purchased foggers that will be sprayed each afternoon to assist with deep cleaning. We will stick to social distancing guidelines and teach the children proper hand-washing protocols."
The school now has kindergarten through seventh grade. The seventh grade is new this year. Plans are to add a grade each year until the school is grades K-12, Hamilton said.
The school also will be opening its Vista After Care.
Virtus Academy is a PBL school, Hamilton said. "PBL is project-based learning, so we value real-world, hands-on experiences and student creation," she said.  
"Charter schools have the autonomy for self-governance with guidance from our authorizer, The Charter Institute of Erskine," Hamilton said.  
Charter schools support parent choice for education for their children, and Virtus Academy is no exception, she said.
"Opening the doors of our new facility has filled us with excitement and joy.  We have faced many challenges to get to today," Hamilton said. "We have doubled our enrollment, doubled our faculty and staff, built and moved into a new facility, all while dealing with COVID and making decisions for the safety of our students.
"We constantly remind ourselves that everything we do is for our students, and there is no better reason in the world to work hard every day to build the best educational experience we can.
"Recently, we have had the opportunity to offer free breakfast and lunch to all students through the end of December. This means virtual students will be able to pick up breakfast and lunch each week and our traditional students will be able to eat both meals free while at school.
"We are thankful for all of the different, amazing opportunities we have to offer our local community."
The charter school serves 484 students. At the ribbon cutting, the chairman of the board, Bill Pickle, said there are still some openings at the school.
The school has 65 faculty members.
"We are a free, public charter school," Hamilton said.  
The goal of Virtus Academy is to advance student achievement by preparing students for civic and career success through rigorous academics, leadership development and project-based learning.
Anyone is welcome to attend.  
"We have an application and lottery system for enrollment," Hamilton said. "We are currently accepting applications."
Hamilton said they were happy to be a part of the Greater Florence Chamber of Commerce.
"We realize that it is very important to be members of both Darlington and Florence chambers" she said. "We know the importance of community to school relationships, and we value this impactful alliance." 
Get local news delivered to your inbox!
Subscribe to our Daily Headlines newsletter.