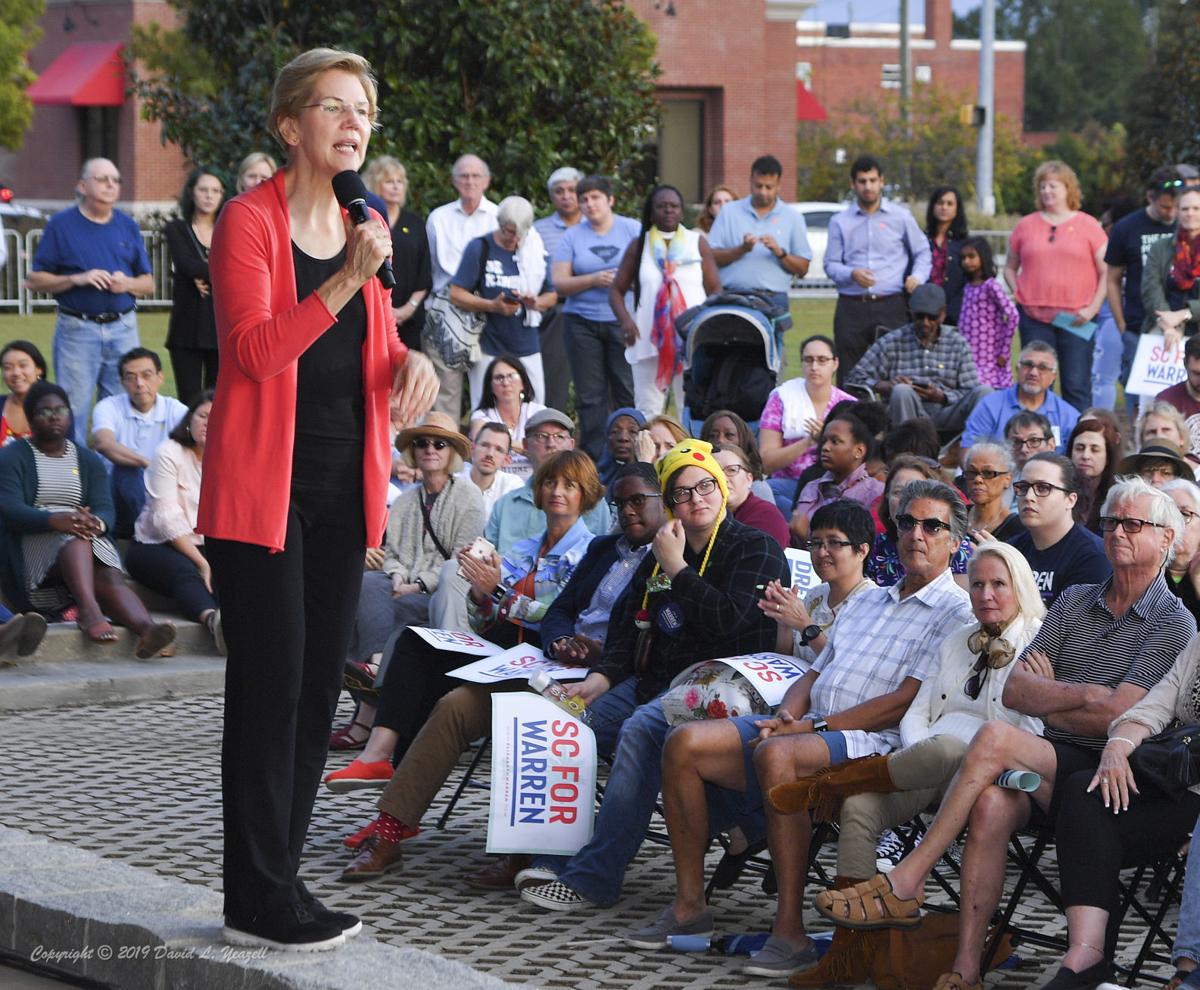 FLORENCE, S.C. — Sen. Elizabeth Warren shared her story of twists and turns with Florence at a town hall Saturday evening.
Warren started her story with her birth.
She was born on June 22, 1949, in Oklahoma City and raised in nearby Norman, Okla.
'I am what used to be called a 'late in life' baby," Warren said. "My mother always just called me 'the surprise.'"
She said she has three much older brothers who served in the military. Warren spent the next few minutes detailing their lives.
"When we were growing up, our daddy had a lot of different jobs," Warren said. "He sold paint. He sold fencing. He sold carpets. He sold housewares."
By the time Warren reached middle school, her brothers had graduated, leaving her and her parents in the house.
"My daddy had a massive heart attack," Warren said. "For a long time, we thought we were going to lose him, but he pulled through. Only he couldn't go back to work for a long, long time."
To this day, Warren said, she remembers the family losing their station wagon. She said she also remembered her mother tucking her in at night by giving her a kiss on the forehead, tapping the blankets and smiling. Then, Warren would watch as her mother would walk away, close the door, and start to cry.
"She never wanted to cry in front of me," Warren said.
A young Warren soon learned words like "mortgage" and "foreclosure."
One day, she walked into her parents' bedroom to find "the dress" on the bed.
"Some of you in this audience will know 'the dress,'" Warren said. "It's the one that only comes out for weddings, funerals, and graduations."
Warren said her mother was in the bedroom pacing. She said her mother was saying the family was not going to lose their home.
Her mother, 50 years old and having never worked outside the home, went to get a job answering phones at Sears for minimum wage.
"That minimum-wage job saved our house and it saved our family," Warren said.
Back then, Warren said, that job could support her family. Something a minimum-wage job no longer does. Hence, her campaign to raise it.
Warren said she had a goal starting in the second grade: to become a teacher. She said she used to teach her dolls with a "tough but fair reputation.'"
She received a scholarship to George Washington University — she was a high school debater — but got married to Jim Warren and dropped out after her sophomore year.
Warren also got a minimum-wage job.
She called it a good life but not her dream.
The Warrens were in Houston, Texas, then.
Warren soon found a "commuter college," the University of Houston. She said she paid $50 in tuition.
She graduated from Houston in 1970 and became a special education teacher.
Then after one year, she became pregnant and lost her job.
After having the baby, she made the decision to attend law school at Rutgers. Warren noted the tuition was $450.
Warren said she practiced law for all of 15 minutes before deciding to become a professor.
She also discussed her husbands, saying it was never a good thing to have to number husbands.
Warren and Jim divorced in 1978.
She married her second husband, Bruce Mann, in 1980. Warren said he was the love of her life and she had spent the last 39 years with him.
Warren spoke for 39 minutes at the town hall to around 300 people, according to the campaign's estimates.
She took three questions from people selected by random draw from those attending.
One of those questions was related to her plan to provide Medicare for all and how to fund it.
Warren said she was still working on that part of the plan and would get back to the man.
She was introduced at the town hall by state Rep. Kambrell Garvin from Richland County. State Rep. Wendy Brawley, whose district includes portions of Richland and Sumter Counties, moderated the town hall.
Chesterfield City Councilwoman Deb Adams and Tim Streit also spoke at the town hall.
Florence County Democratic Party Chairwoman Mattie Thomas — she also attended the Biden event earlier in Florence — spoke and emphasized the need for Democrats to win the presidency and other elections.
Get local news delivered to your inbox!
Subscribe to our Daily Headlines newsletter.