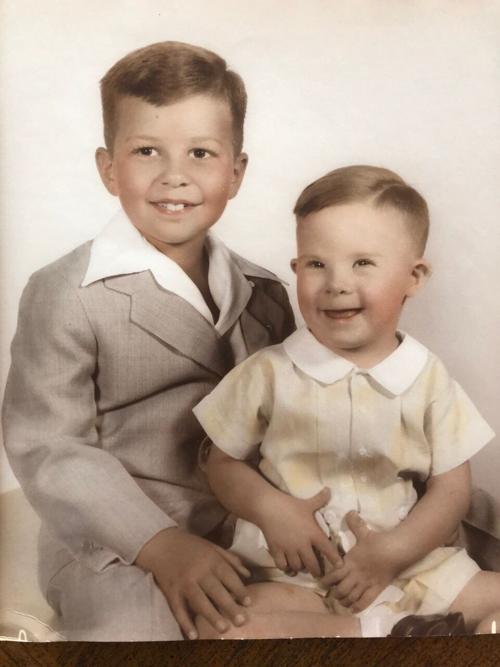 I was 5 years old when Bobby arrived home in northern Kentucky from a hospital across the river in Cincinnati. My mom had been there for several days, and something was wrong with my new brother, but I was too young to understand.
I eventually came to know that Bobby had Down syndrome, something mysterious to parents, pediatricians and psychologists at the time. Realize that this was the early 1950s, when Down syndrome children were called "mongoloids," and textbooks classified them as "morons, imbeciles or idiots."
Backing up a bit
Mom and Dad's first baby died in childbirth in 1944, making her the sister I never knew. Then they had me in 1946, a "blessing" of dubious distinction. Lastly in 1951, along came Bobby with Down syndrome. A bit of a rough start for a mother and father!
Bobby was a cute baby, a little delayed walking and talking, but he ultimately did both, his speech limited to short phrases like, "Bang the house down," whenever he would hear a loud noise.
He would easily amuse himself with repetitive behavior like twirling a sock around in the air or by watching cartoons on TV, interrupted only by regularly walking out to the kitchen to give mom a kiss on the cheek, and then retreating just as deliberately back to his previous occupation.
He would go to church with his prayer book in hand, and he attended a special-education day program for a while, before entering a residential program at age 8.
Residential setting
From the beginning, the primary concern for my parents was to eventually get Bobby into a permanent residential setting, where he could be taken care of for life, even after they were gone. Mom's fervent prayer was that Bobby would die before her, so she could be there with him and be sure he was not neglected after she was gone. That prayer went unanswered, even though she lived to 98.
The residential setting they ultimately identified was St. Coletta School in Jefferson, Wisconsin, where he could stay for life. St. Coletta was the "Harvard" of special schools. It was where President John F. Kennedy's sister, Rosemary, went to live her life beginning in the 1940s.
When we took Bobby to Wisconsin and left him alone there for the first time, it was a somber ride home to Kentucky. Once home and unpacking the car, I went up to the second floor and heard my mom crying. Not knowing what to do, I went down to tell my dad and found him bawling in the basement. So, there I was on the first floor, sandwiched between the two of them each crying alone, not knowing which way to turn.
Bobby stayed at St. Coletta for five years, coming home for vacations like a college student would, and receiving visits from the family in between. Then one day when Bobby was 13, we received news that he would have to find another place to live. So much for a lifetime residence at St. Coletta!
What happened was that the terms for the "mentally retarded" had changed to "educable, trainable and custodial," and St. Coletta, being the "Harvard" that it was, wanted only educable individuals enrolled. Bobby was considered trainable.
Finding another place
Much to my parents' dismay, the search began anew for an appropriate place where Bobby could live for life. Their search led to a religious order of Brothers who had a group home in Columbus, Ohio. This new residence resulted in a wonderful three years for both parents and Bobby.
But then, guess what? The Brothers closed that home, and Bobby had to move to the Brothers' larger facility in south-central Ohio, which eventually became a campus of modern group homes with eight residents each.
This is where Bobby lived in a pleasant rural setting for 53 years, until he died last month at the age of 69, one of the oldest Down syndrome males on record. As a tribute to his longevity, he had been in hospice once before, only to "graduate" and live another five years beyond that initial brush with mortality.
At last, however, my mom's prayers were answered. That is, at least, Bobby died before I did, allowing a close family member to see him through to the end. I had the blessing of being his final guardian, following the indispensable help of my uncle and cousin in Ohio, who both served as guardians before me, because of an Ohio requirement that guardians be in-state residents.
Bobby's funeral
When it came to laying Bobby to rest in northern Kentucky, I wanted to take that on alone due to the risks inherent in a pandemic funeral, and also because it seemed appropriate for just the two of us to be there. Bobby had lived a simple life, and a simple exit was consistent with that.
As it turned out, though, my longtime friend, Mark, insisted on being there, and I was actually very glad to see him across the aisle at the Catholic funeral "Mass of the Angels" celebrated for Bobby. Mark and I are both seriously Catholic, both knew Bobby from the beginning and both shared the experience of having a special-needs sibling that each of us cared for reciprocally.
The cemetery surprise
Mom had planned Bobby's funeral and burial years ago. All along I had thought Bobby was to be buried in the same grave with the small casket of Brian, my wife's and my young son who had died at 2½ years old 44 years earlier.
But when we got to the cemetery, I found that Brian had his own individual grave, and Bobby was to be buried in his own individual grave between mom and Brian.
Then came another surprise: Brian's grave also contained the small casket of my mom's lost infant, the sister I never knew, and whose name I now learned was Mary Amelia Dorsel. The only way I found this out was because it was listed on a faded, 76-year-old index card that the cemetery caretaker showed me. Quite a shock to find out that just as I was losing a brother, I was finding a sister, and she was united in the same grave with my own lost son.
Today, Bobby's life might have been very different, but with the knowledge of the time, his mom and dad did the best they could and what they thought best for him over a lifetime. The one other thoughtful consideration all along was their concern that I, and my eventual family, would not be burdened with caring for Bobby. I never was, my family never was, and I am just happy that Bobby and I could reconnect in his final years, and that I could make a last, quiet pilgrimage with him to his final resting place, where he and his parents (and sister) can now rest in peace.
Dr. Tom Dorsel is a professor emeritus at FMU, now living and working as a clinical/sport psychologist on Hilton Head Island. Visit him on Facebook and at Dorsel.com.
Catch the latest in Opinion
Get opinion pieces, letters and editorials sent directly to your inbox weekly!