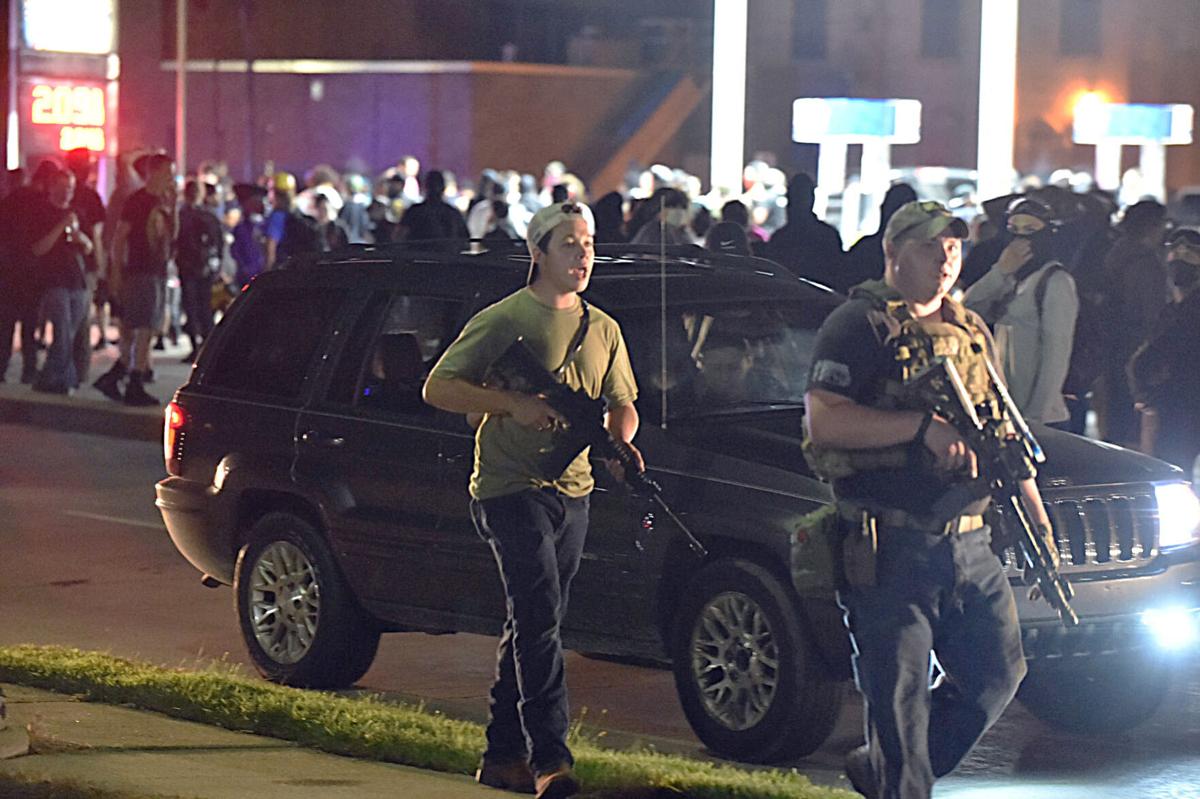 KENOSHA — A 17-year-old teen from Illinois, who was with a self-described "local militia" throughout Tuesday's protests, has been accused of killing two men and seriously injuring a third Tuesday night in Kenosha.
Kenosha Police Chief Daniel Miskinis said that the people who were killed are a 26-year-old Silver Lake man and a 36-year-old Kenosha man, and that the injured man is from West Allis.
Kyle Rittenhouse, 17, of Antioch, Illinois, is expected to face a charge of first-degree intentional homicide for at least one of the killings. As of 2 p.m. Wednesday, Rittenhouse was in custody in Lake County, Illinois. An extradition hearing is scheduled for Friday.
Miskinis said Wednesday that he did "not know what led to the violence" in reference to the killings.
Throughout the evening and into the night Tuesday, armed individuals had scuffled at a couple points with Black Lives Matter demonstrators, but no known destructive violence between the various groups occurred until around 11:30 p.m. when the fatal shots were fired near the intersection of 63rd Street and Sheridan Road.
Video taken at the scene shows Rittenhouse running toward law enforcement after shooting the first man, at which point he is chased down by a group of demonstrators. Appearing to defend himself from those running him down after the first killing, Rittenhouse reportedly shot two others — one in the arm and another in the torso.
The shootings remain under investigation.
Despite some members of quasi-paramilitary militias saying they were in Kenosha to support law enforcement, Kenosha leaders are asking them to stay away.
Kenosha County Sheriff David Beth said "Hell no" when asked if he would be deputizing armed civilians to protect property in Kenosha, in part because of the liability it could bring on the county if a deputy hurt or killed someone.
"They create confrontation," Beth said of the groups brandishing long-guns around Kenosha Tuesday. "That doesn't help us."
Kenosha Mayor John Antaramian added that law enforcement in Kenosha "doesn't need more guns on the street" as protests are expected to continue.
Suspect interacted with law enforcement
Not long before Rittenhouse allegedly killed two people and injured a third with gunfire, video shows law enforcement giving Rittenhouse water and telling members of his group "We appreciate you guys, we really do."
Simultaneously in that video, other officers on loudspeakers can be heard telling Black Lives Matter demonstrators to clear the streets. (That video can be seen at bit.ly/2YwBLyD; it was recorded by Milwaukee-based independent radio program "The Rundown Live.")
When asked Wednesday about that interaction, Beth said "Our deputies would toss a water to anybody," including Black Lives Matter demonstrators. However, Beth would not comment on the statement made by a deputy saying the militia's presence was appreciated.
Another video reportedly shows a person with the group — who had also been seen with Rittenhouse that night — saying that police had told them "We're going to push them by you so you can deal with them." (That video can be seen at bit.ly/2Yywk1V)
That specific interaction between armed civilians and law enforcement does not appear to have been recorded, but it is exactly what ended up happening — with law enforcement not moving south of the intersection of 60th Street and Sheridan Road; the armed groups had been set up south of that intersection, with the fatal shootings happening between the 6200 and 6300 blocks of Sheridan.
Not arrested immediately
On Wednesday, Beth and Miskinis would not address why Rittenhouse got away Tuesday evening, since video shows Rittenhouse running toward law enforcement with his hands up while onlookers told police that he had just shot someone. However, Beth did say that in shooting scenarios, "tunnel vision" often kicks in, a phenomenon in which a person involved in a shooting (law enforcement or otherwise) does not notice things outside of their direct focus.
Beth noted that, moments after shots were fired, there was likely a lot of radio chatter and there were many people shouting and running in Kenosha's streets, which Beth said may have allowed Rittenhouse to go unnoticed by law enforcement officers with limited visibility still sitting inside armored Bearcat vehicles.
Militias
A group calling itself the Kenosha Guard put out an online call Tuesday to "any patriots willing to take up arms and defend our city tonight from evil thugs."
In an online message to Miskinis that has since been removed, the self-described "commander" of the Kenosha Guard and said "we will be mobilizing tonight and have about 3,000 RSVPs … I ask that you do NOT have your officers tell us to go home under threat of arrest as you have done in the past."
According to the technology news website The Verge, Facebook took down the Kenosha Guard page under its Dangerous Individuals and Groups police after the two men were killed.
Miskinis said he did not know whether the teen was in Kenosha answering social media calls like the one from the Kenosha Guard, which called for armed militia to come to the city after protests in Kenosha over the police shooting of Sunday turned violent on Sunday and Monday.
17-year-olds like Rittenhouse are not allowed to open carry, Miskinis added.