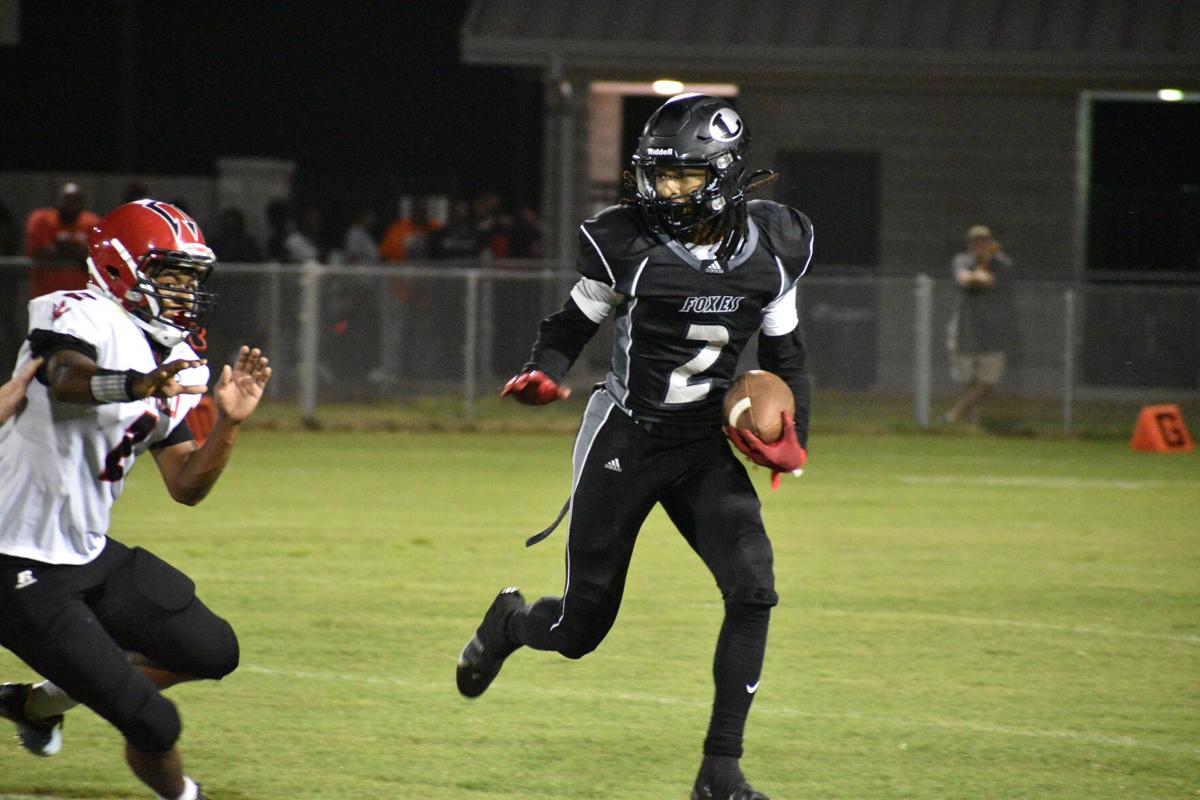 LAMAR, S.C. – With the emergence of quarterback Tyler McManus, Lamar transitioned into more of a pass-first offense last year.
Through three games this season, however, the Silver Foxes are mostly back to their old ground-and-pound ways – and it's not hard to see why after Friday's 56-16 thumping of Great Falls.
Led by Patrick Anderson's 225 yards rushing and four touchdowns, Lamar (2-1, 1-0) knocked off the previously unbeaten Red Devils (4-1, 0-1) in the Region 2-A opener for both teams – a game that probably will go a long way toward deciding who the region champ will be at season's end.
"We did what we were supposed to do," Silver Foxes coach Chad Wilkes said. "We kind of knew that if we played the way we were supposed to play that we would kind of handle business tonight."
The marquee matchup turned into a rout before the first quarter was even over. Lamar scored 28 consecutive points to start the game – taking advantage of two Great Falls turnovers in the process – and led 35-8 after the first 12 minutes
By that point, the Silver Foxes had already gained 190 yards on the ground and scored four times. They finished with 474 total yards rushing and all but one TD came via the ground attack.
Quan Toney added 130 yards and another rushing TD while McManus nearly gave Lamar a trio of 100-yard rushers as he finished with 96 yards and two TDs.
The first Lamar score of the night came through the air as McManus found Toney for a 22-yard strike. But that was one of only two throws on the night as Lamar relied almost exclusively on its backfield.
"I'm from Cheraw, so I know all about the wishbone," Wilkes said. "If you've got a big offensive line and you've got backs that will hit the hole, you can miss an assignment here or there and it's hard to keep someone from getting five yards if you've got good backs. ...
"We're running the ball better than we ever have since I've been here."
It wasn't all good news, though, as some of the same issues that kept Lamar from winning the previous week's game at Timberland crept back up again. The Silver Foxes were penalized 13 times for 140 yards and also committed two turnovers of their own.
"We held Timberland to 190 yards of offense and gave up four touchdowns," Wilkes said. "That's not supposed to happen. But it happened because of the same kind of things – turnovers, short fields, and penalties. We've got to do a better job."
Despite the number of flags, the Lamar defense only allowed Great Falls to score one offensive touchdown, which came on a short run in the third quarter. The Red Devils' other score was the result of a 90-yard kickoff return by Fox Moore.
Otherwise, there wasn't much in the way of offense for GFHS, who had 182 yards total. A trio of turnovers also hurt its cause, including an interception on the very first play from scrimmage.
L – Quan Toney 22 pass from Tyler McManus (Luke Windham kick failed), 10:08.
L – Patrick Anderson 7 run (Toney run), 7:21.
run (Windham kick), 5:22.
L – McManus 40 run (Windham kick), 3:08.
GF – Fox Moore 90 kickoff return (Xavier Brown run), 2:49.
L – Anderson 13 run (Windham kick), :24.
L – Anderson 83 run (Windham kick), 9:57.
GF – Brown 5 run (Jordan Holmes pass from Brown), 7:51.
L – Anderson 4 run (Windham kick), 1:14.