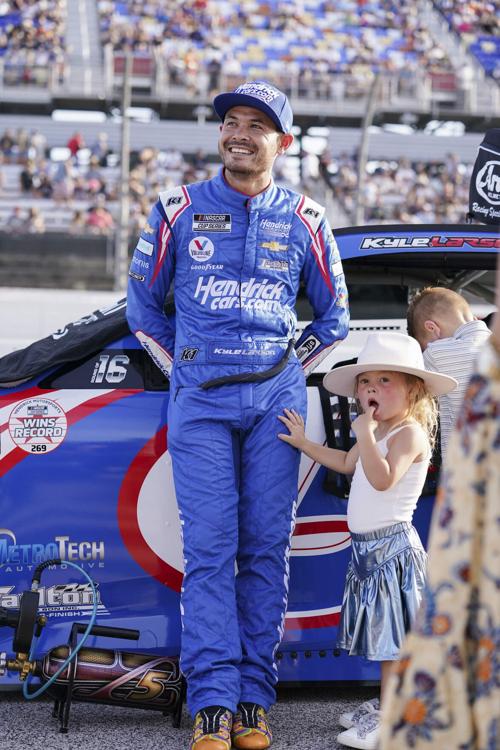 DARLINGTON, S.C. – For Kyle Larson, the Labor Day weekend finale Sunday night at Darlington Raceway was likely a case of déjà vu.
For the second time this year, Larson – the overall Cup Series points leader – found himself trying to pull off a risky maneuver in order to take the checkered flag at the track "Too Tough to Tame."
In May, the No. 5 Hendrick Motorsports driver threaded the needle between Ryan Newman and Tyler Reddick as they went three wide with eight laps to go in the Goodyear 400. That led to a second-place finish as Martin Truex Jr. dominated the day.
On Sunday, Larson had a much better showing overall at the Cook Out Southern 500, but he still wound up with the same result. He led the most laps with 156 and was the Stage 2 winner, but he could not chase down Denny Hamlin over the final stretch despite a desperate last-lap attempt to take over first.
Larson rolled up on Hamlin's bumper on the final turn, with smoke pouring out of his car all the while, but Hamlin held firm.
"I was kind of stuck at the gap behind him for the last 15 laps or so," Larson said. "… I decided I would try to wall-ride and see what would happen. He started running a little bit safer line the last few laps and getting back to diamonding, so I thought if I rode the wall I could squeeze to his outside. ...
"I actually got to his bumper a little bit too early and he kind of protected the wall. So it was wild, and I hope the fans enjoyed the desperation."
Despite the runner-up finish, Larson maintained his top sport in the points standings. It was his 16th top-5 finish this season and fourth in the past five races.
Knowing how much of a cushion he had in terms of the making the cutoff for the next round of the playoffs allowed him to take more of a risk, Larson said.
"I knew I could kind of go for broke there the last handful of laps," he said. "I was kind of hitting the wall every lap on (turns) three and four, but I felt like if I got a flat and finished 25th, I would still be good on points.
"I would say I was a little bit more brave because of that."
Larson had to fend off a charge of his own from third-place finisher Ross Chastain. With 13 laps to go, Chastain dove low in Turn 3 but could not complete the pass. The move seemed to drain Chastain's No. 42 Chevrolet, however, as he never made it close to Larson again.
"I think I more so killed his momentum," Larson said when asked if the move slowed his momentum chasing down Hamlin. "I don't think I really changed anything I was doing at that point. I'm not sure what happened. ... Maybe he got his tires hot and faded after that."