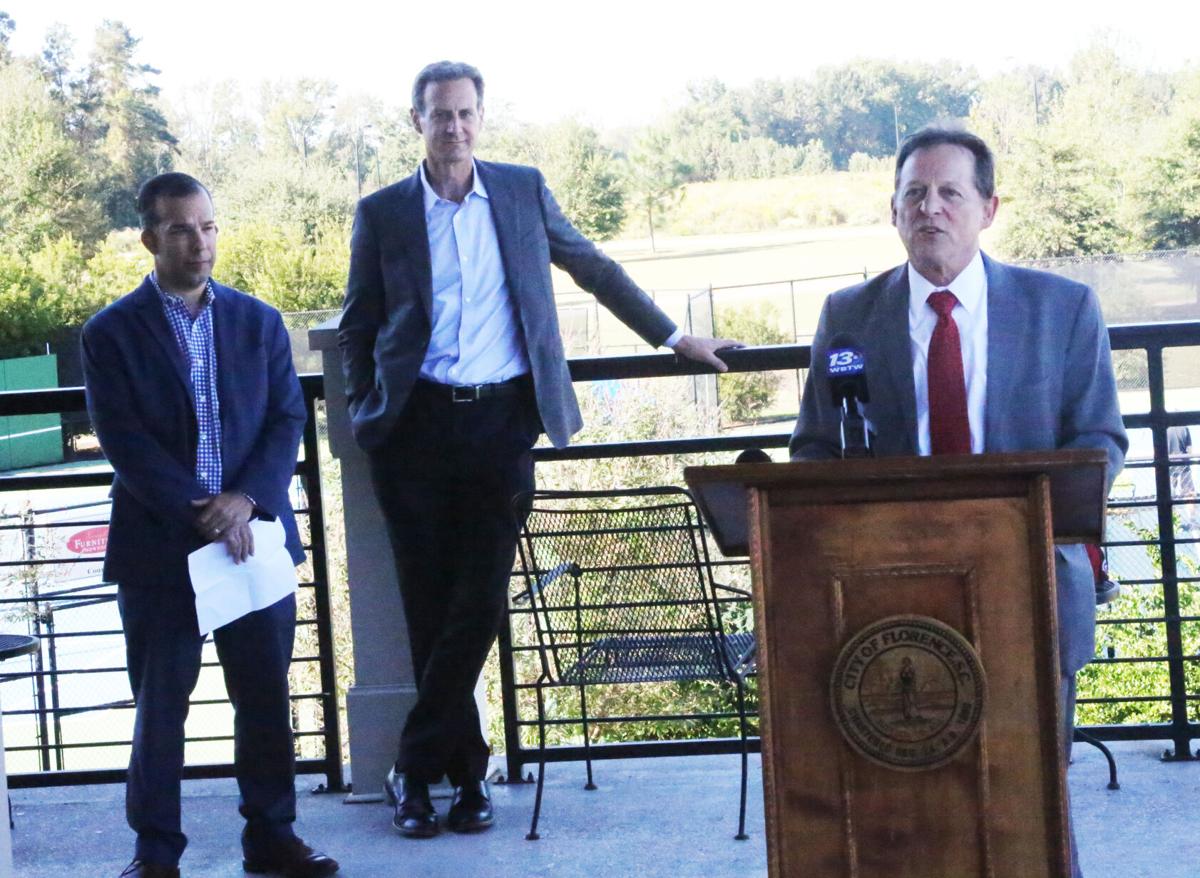 FLORENCE, S.C. — After 20 years, Kevin Barth said he and his wife are ready to let somebody else do the "heavy lifting" for the Florence RedWolves.
But by no means are they stepping completely away, either.
"We're not giving up our baby," Barth said.
But the new $5 million baseball stadium announced for the 2022 season is going to require much more oversight and management than Barth felt he could give, he said.
But he did know the perfect group that could.
On Wednesday at the Dr. Eddie Floyd Florence Tennis Center, Barth and the RedWolves announced a new partnership with SRO Partners — led by Steve DeLay and Brandon Raphael.
"We want to make sure the RedWolves continue to be an integral part of the community and grow with the new stadium," Barth said. "Having Steve and Brandon on board to lead that charge is a tremendous plus to make sure the organization reaches new heights."
It also allows Barth, now a minority owner, the ability to enjoy his time a little more at RedWolves games.
"It's an opportunity to sit down and eat a hot dog rather than worry if we need to put more on the grill or something like that," Barth said laughing.
DeLay and Raphael each bring a wealth of experience in the sports world to Florence. DeLay has been a sports executive for 28 years and has worked with the NBA, NHL, MLB and minor league baseball. He was also a former minority partner with the Savannah Bananas of the Coastal Plain League, and currently owns the Macon Bacon.
It was the game day atmosphere in Macon that actually first brought DeLay and Raphael to Barth's attention, he said.
"Kevin and Donna have both done such a good job of keeping the RedWolves in the community," DeLay said. "…With the new stadium coming and the community growing and being so vibrant, we looked at the combination of what Kevin and Donna had built plus the stadium and said this is an opportunity that we can take and bring to Florence what we had done in Macon and a lot of other places.
"We're looking forward to it."
The core of any sports team is family entertainment, DeLay went on to say, and that stretches beyond just the game on the field.
Rapheal echoed DeLay's sentiments about providing quality, family entertainment throughout not only the RedWolves' season, but year-round in the new facility.
"We always talk about in Macon that we're building memories," he said. "We think about memories we had as kids and a lot of them involved sports games and being with our parents and family and that's what it's all about. We can talk about his 20 years from now, 50 years from now about what the Florence RedWolves mean to the region.
"That's more important that anything."
Raphael, who is in his third year as team president of Macon, was named CPL Executive of the Year in 2019 when the Bacon ranked 11th in the country in attendance in all of collegiate summer baseball with an average of nearly 2,500 fans per game.
Little League tournaments, concerts, festivals and other opportunities are some of the other things that DeLay and Raphael will look to bring to the new facility as well as they seek to provide an entertainment experience year round.
With that in mind, the RedWolves announced that Cameron Kovach will take over as the team president. Kovach, who most recently served as director of ticket sales and experience with the Dallas Renegades of the XFL, will wear many hats for the RedWolves including that of general manager moving forward.
"When Steve and Brandon reached out, it was too great of an opportunity to pass up," he said. "Florence is such a growing area with a great community and then you couple that with the new stadium in 2022 and the great facility we have at Francis Marion (University)…I just couldn't pass it up."
Aside from corporate sponsorships and ticket sales, Kovach will likely be the face most RedWolves fans see the most as one of the top priorities will be community engagement with the fans.
In fact, Kovach and the RedWolves already announced their first big promotion for the upcoming season with a five-game, all-you-can-eat ticket plan. It includes unlimited hot dogs, burgers, cheeseburgers, chips, cookies, soda and water for $15 per game ($75 total).
The five games included also happen to be five of the biggest Saturday night contests of the year − Opening Day (May 29), First Responders Night (June 19), Spirit of Florence night (July 3), Faith and Fellowship night (July 17) and Fan Appreciation night (July 31).
Three of those nights will also feature fireworks shows following the game.
"It's shown to have proven success across the country with other teams," Kovach said of the promotion. "It's so much value for five Saturday nights, three fireworks show and all-you-can eat.
"…I think that's going to be huge for us in driving attendance and there will be more to come."
Those tickets are available for purchase now at www.florenceredwolves.com, Kovach said, and fans who purchase those this year will have priority over the general public to select seats when the new stadium opens.
Be the first to know
Get local news delivered to your inbox!