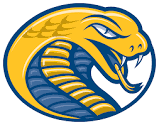 INDIANAPOLIS, Ind. - Coker University wrestler Ramon Correa competed on day two of the 41st annual Midwest Classic on Sunday, finishing in eighth place at 285 pounds.
No. 9/9/7 Correa opened the day defeating No. 11 Jordan Magnuson of Minnesota State Moorhead by decision 6-1, before withdrawing against Mary's Dominic Tudor. Correa's final match of the day came against A.J. Cooper of Fort Hayes State, who took seventh after Correa withdrew.
The Cobras finished in a tie for 30th with Davenport and Lander with 10.5 points each.
The Cobras will return to action on Jan. 10 for their first South Atlantic Conference dual of the year when they travel to take on Mount Olive for a 7 p.m. matchup.