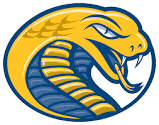 HARTSVILLE, S.C. - The Coker University men's basketball team opened up the 2020-21 season with a 67-53 victory over Carson-Newman on Saturday (Nov. 21), beating the Eagles for the first time since Jan. 17, 2015.
Both teams started off slow offensively, with the score just 2-2 through the first media timeout. The Cobras would go on a 5-1 run punctuated by a Christopher Fordham slam to go ahead 8-3, before the teams would start to find their grove as the Cobras led 12-6 at the midway point of the first half. Coker's lead would fluctuate between single and double-digits for the next few minutes, before Fordham set up Chandler Lindsey for a breakaway layup off a steal to put the Cobras ahead 23-12 and force an Eagles timeout with five minutes to play in the half. The Cobras were able to double up the Eagles at the three-minute mark of the first half, before taking a 35-19 lead to the break. Coker held Carson-Newman to its lowest-scoring first half since March 3, 2003 when the Eagles scored just 20 in the first half of a 63-52 loss to Wingate.
Both teams came out scoring in the second half, as the Cobras led 44-26 at the first media timeout of the second half. Coker would not relinquish its double-digit lead for the remainder of the game, keeping the Eagles at a distance of at least 12 points and putting a huge stamp on the season opening victory.
The Cobras shot 44.2 percent (23-52) from the floor, 80 percent (16-20) from the foul line and also added five three-pointers in the game. Three Cobras scored in double figures, led by a game-high 17 points from Dakota Jennings. Lindsey contributed 12 points off the bench, while Malcolm Kennedy also added 10. Five other Cobras scored in the victory. Jennings and Anderson Keller each pulled down a team-high seven rebounds, while five other Cobras were active on the glass. Keller led the Cobras in the assist column with five, while five other Cobras dished out helpers in the contest. Coker recorded 14 steals as a team, marking the team's first double-digit steal effort since Feb. 1, 2020 at Mars Hill.
The Cobras (1-0) are back in action on Tuesday (Nov. 24) to face No. 2/3 Lincoln Memorial in South Atlantic Conference play. Tip-off is set for 8:00 p.m. from the DeLoach Center, with video and live stats available at www.cokercobras.com.
Coker University will not be allowing outside fans to basketball games at this time.
Coker University will continue to assess the NCAA, federal, state and local developments and provide updated revisions as additional information is available.