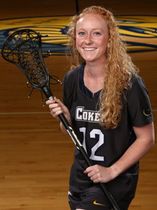 INDIANAPOLIS - Coker University women's lacrosse graduate Hannah Baird has been named a 2020 NCAA Woman of the Year nominee, announced by the NCAA today (Tuesday, July 14).
Baird was one of 605 nominees across all three NCAA Divisions, which is the most in the history of the award. She was also one of 126 from Division II, one of 26 from the sport of women's lacrosse and one of 10 from the South Atlantic Conference.
"I'm blown away by this honor!," said Baird. "I would not be where I am today without the guidance and leadership from various faculty and coaches at Coker. I am forever grateful for them believing in me!"
Baird had her senior season shortened due to COVID-19, but played and started in all five games prior. On the field, she totaled two assists, six ground balls and five turnovers. Baird also served as team captain during her senior season.
"Hannah is an example of the type of student-athlete that Coker recruits," said Vice President of Athletics and Athletic Facilities Dr. Lynn Griffin. "She has not only excelled on the field, she is a phenomenal student and has represented Coker in the community and across the world with her service projects."
In the classroom this past year, she was named to the CoSIDA Academic All-District At-Large Team and the 2019-20 South Atlantic Conference Commissioner's Honor Roll. Baird also won the South Atlantic Conference's Elite 20 Award for posting the highest grade point average in SAC women's lacrosse with a 4.0. Baird was also named a CoSIDA Second Team Academic All-America® selection. During the 2018-19 year, she was named to the SAC Commissioner's Honor Roll and the Intercollegiate Women's Lacrosse Coaches Association (IWLCA) Division II Academic Honor Roll while also receiving the D2 ADA Academic Achievement Award. She was an All-Conference Honorable Mention selection that year as a defender.
"Hannah works so hard in the classroom, but also on the field," said interim head women's lacrosse coach Marabeth "Marty" Durden. "I am extremely proud of her for all of her accomplishments and for representing the Coker student-athlete in the best way!"
Baird has been active in the Hartsville community since her arrival at Coker back in 2016. Most recently, she volunteered at a local soup kitchen to prepare and serve meals. As a junior in 2019, She volunteered at a local church and also with the City of Hartsville and Centre Theatre. In 2018, She volunteered at Lazor and Benlock Physical Therapy, Carolinas Kids and Trinity Byrnes Collegiate School. She also worked with the Campus Activities Board to organize an Easter Egg hunt on campus. She served as a peer tutor from 2018-20 in the subjects of Anatomy and Physiology, Kinesiology and Exercise Physiology, while also serving as the treasurer for Coker Pause for Paws in 2017-18. She was a Sophomore Scholar that same year, while also being a World Scholar all four years. She was also involved in Coker's Enactus program for three years, participating on the Presentation Team for three years and also serving as the Project Leader for Recycled Roads in 2017-18. During Baird's time on the Enactus team, she totaled 790 hours of service toward various projects all around the world. During the 2017-18 year, the Enactus team finished third at the national competition in Kansas City. For her service on campus, she was named the 2019-20 Algernon Sydney Sullivan Award Winer for Coker University campus service.
The Fort Mill, S.C. native is the daughter of Robert and Kelley Baird, and graduated from Coker with a degree in physical education with a concentration in exercise science.
Be the first to know
Get local news delivered to your inbox!