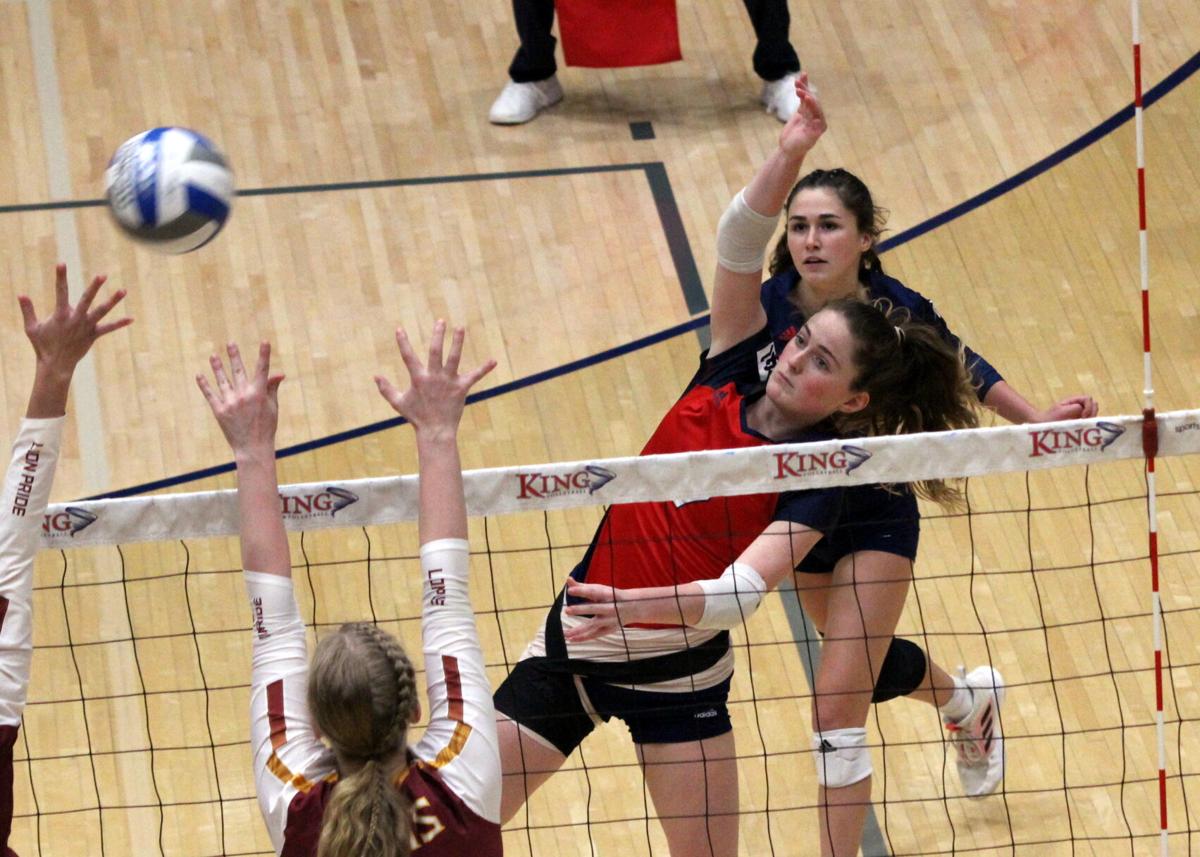 BRISTOL, Tenn. − Buoyed by the return of coach Lauren Baufield-Edwards and a 17-kill, 22-dig double-double by sophomore Lexi Albright, Francis Marion University outlasted Emmanuel College (Ga.) in five sets (25-14, 21-25, 25-27, 25-20, 15-11) Friday in the semifinals of the 2021 Conference Carolinas Women's Volleyball Tournament.
Baufield-Edwards returned to the Patriot sidelines after giving birth to her second child on Tuesday morning. She was named the league's Coach of the Year on Thursday.
Francis Marion improves to 20-10 and advances to the tournament title match on Saturday at 3 p.m. against the North Greenville University/UNC Pembroke winner. The East Division's top seed reaches the 20-win plateau for the first time in eight seasons.
Albright's dig total was a career high and her kill total was only two shy of her career best. Senior Iyanla Thigpen registered 13 kills and a .393 hitting percentage, while posting a team-high seven blocks. Junior Gracie Davis also pounded down 13 kills.
Sophomore setter Kaylee Gillespie directed the Patriot offense with 45 assists and recorded her 16th double-double by digging up 10 balls. The first-team All-Conference performer also served three aces. Freshman libero Zoie Larkins added 17 digs, while freshman Peyton Holley chipped in 10 digs and graduate student Naina Ivanova had three service aces and nine digs.
Alaina Emminger led Emmanuel (18-14) with 18 kills and six blocks. The Lions were the second seed from the West Division.
In the fifth set, FMU assumed a 4-2 lead following an Albright kill. Emmanuel then ran off five straight points behind the serving of Kaitlyn Henderson, who led Conference Carolinas in service aces during the regular season.
Now trailing 7-4, the Patriots responded with an 8-1 spurt to grab a 12-8 advantage. Thigpen contributed two kills and a block during the run. After the Lions crept to within 13-11, a serving error by Emmanuel followed by an ace from Gillespie gave FMU the points needed to clinch the victory and advance.
Top open the match, Francis Marion came out with a sizzling start as FMU hit .393 as a team and never trailed in winning the first set. The Patriots raced to a quick 6-1 lead and eventually led 18-8.
Similarly in the second set, FMU took an early 6-2 advantage. The margin would grow to 17-10 after a kill by Arthur. Later, a ball handling error by the Lions put the Patriots up 20-15. However, Emmanuel closed the set with a 10-1 run to even the match at one set apiece.
The third set featured 14 ties and five lead changes. A trio of kills by Davis pushed Francis Marion to a 23-19 lead, but again the Lions would rally to claim a 27-25 win.
Needing a win in set four to keep the match going, junior Madeline Winning snapped an 11-11 deadlock with a kill from a Gillespie set. Later, a 4-0 spurt pushed the FMU lead to 17-12 en route to the 25-20 win.