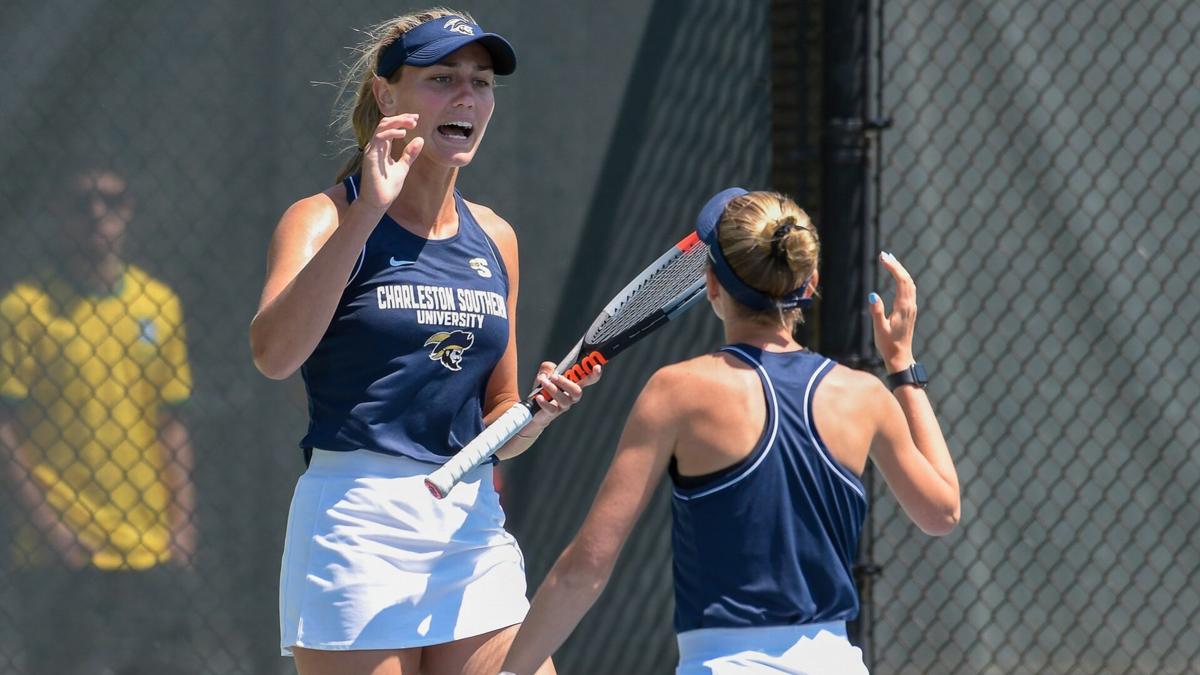 FLORENCE, S.C. – Zoe Cauthen's adjustment to college tennis has gone nicely. During her freshman season, all the former Florence Christian star did was help lead Charleston Southern to Big South Conference regular-season and tournament championships.
Last season, the conference named Cauthen its women's tennis player of the week, and she tied for the team lead in singles wins (nine). With her doubles partner, Tiffany Pyritz, Cauthen even earned the Buccaneers' first match win in NCAA tournament play, over a ninth-seeded Central Florida team (a one-set match win of 6-4 at No. 2 doubles).
A multi-time SCISA girls' open singles champion while playing for Florence Christian, Cauthen will return home for this week's McLeod for Health Florence Open at the Dr. Eddie Floyd Florence Tennis Center (Monday through Sunday). Cauthen won't play singles, but she'll compete with Pyritz in doubles this week, and they'll lodge at the Cauthen household.
After this event was canceled last year because of the pandemic, Cauthen is as excited as ever to play here again.
"It's always nice to come to my hometown and have people there to support me like my family and friends who can come out and watch," Cauthen said. "I'm very grateful to have the opportunity to play in doubles; I really enjoy playing with Tiffany. We had a really good season last year and have a chance at maybe winning a round or two in this tournament – or even go further. We'll see."
The owner of a conference championship ring, Cauthen said she doesn't wear it that often.
"I have it in a case. I wear it occasionally, like to formal events," Cauthen said. "But it's very exciting to finally get one."
Cauthen's original freshman season was 2019-2020, when the pandemic kept the season from concluding. But now that the NCAA has granted her, and all the others, an extra season, she can still play two more after this year if she wants. A junior, academically, Cauthen is a pre-med student with dreams of becoming a doctor.
For now, she's enjoying the grind of being a college athlete.
"I love being on a team," Cauthen said. "That's what I looked forward to the most when transitioning from junior tennis to college tennis. I knew I would enjoy being on a team and having immediate friends when I got to college. Competing for a team and not just for myself, I really enjoy that. But it's busy. Life is hard going from class to practice to treatment. It's like I don't even get a breath in at all. But I really enjoy it; staying busy is the life I like."
And although Cauthen has had her share of success in singles, she enjoys doubles even more.
"I love the dynamic of playing doubles," she said. "I like how you run plays and be aggressive at the net, which is my favorite. You don't always get the chance to attack the net in doubles. And having a teammate on your side of the court is also nice."
Florence's only professional tennis tournament is made possible by the partnership between McLeod Health and the city of Florence. It helps raise awareness of breast cancer and physical activity through the tournament, which benefits Susan G. Komen South Carolina.
Not only does the professional tennis tournament raise funds for local benefit, it draws nearly 60 of the world's best women players to town. The USTA Pro Circuit features competitive matches between tennis's rising athletes. The 2018 McLeod for Health Florence Open winner Bianca Andreescu went on to win the 2019 U.S. Open, defeating Serena Williams in the final.
"Florence residents have a great opportunity to come out and see several of the sport's future stars. These ladies are playing at a very high level. Nothing illustrates that more than Andreescu winning the U.S. Open," adds Rob Hill, the tournament director.
Players will be competing for ranking points and a $25,000 purse. As one of the smallest cities on the USTA Pro Circuit, Florence was selected to host the event because of its world-class courts, strong volunteer base and the generosity of its sponsors.
The Florence Open tournament formed an alliance in 2014 with McLeod Health and Susan G. Komen South Carolina to help support the fight against breast cancer in the region. McLeod Health, the tournament's presenting sponsor, is deeply committed to the early identification and treatment of breast cancer, and Susan G. Komen South Carolina has provided significant funding to regional programs, including grants totaling more than $400,000 to support breast cancer programs and patients at McLeod Health. Among other things, these grants have been used for mammograms, follow-up diagnostic procedures, patient navigation services and survivor support services, including transportation.
In 2020, representatives with the McLeod for Health Florence Open presented its 2019 profits − a total of $9,000 − to Susan G. Komen South Carolina to help fight breast cancer in the northeastern region of South Carolina. During the past seven years, the McLeod for Health Florence Open has raised more than $60,000 for Susan G. Komen South Carolina.