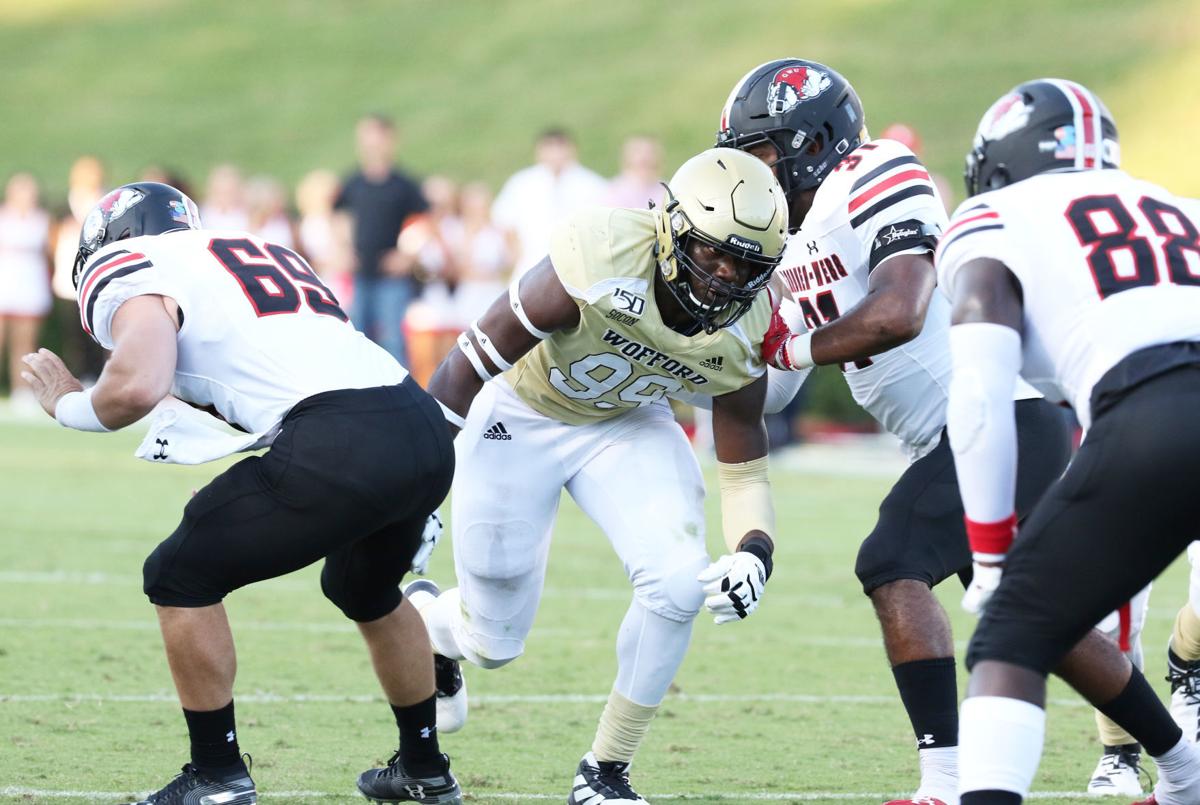 FLORENCE, S.C. — In 2019, Micheal Mason was a quarterback's nightmare at Wofford, tying for the Southern Conference lead in sacks and leading his team with 10.5 tackles for loss.
What to do for an encore?
Finally, the former South Florence star will get to find out at defensive end.
After the conference's football season was postponed until the spring because of the pandemic, Mason sighed in relief.
They were worried, at first, that there might not be a football season at all, but at least Mason and his teammates will get to play and have a chance to defend their conference title.
"I just want to make sure and enjoy while I have it because we don't know what this year is going to bring," Mason said. "I'm going to go hard on every play, like it's my last play."
While helping his team to the conference championship in 2019, Mason was named to the conference's all-freshman team. He was also first-team all-conference, per the media.
The coaches' all-conference made him second team, and HERO Sports named Mason a freshman All-American.
In all, Mason made 40 tackles (23 solo) in 2019, and forced a fumble. He played in all of his team's games that season, starting two.
"It just gave me some stats and goals for me to want to get even better at," said Mason, whose father, Micheal Mason Sr., was a football star at Mullins. "There is still some stuff for me to get better at. So I just want to be better than the numbers I put up last year.
"After the season, our defensive line coach said I needed to work more on my footwork and getting off blocks, and stuff like that," he added. "He said I could be even more successful if I did more of the little things."
Putting up big numbers is nothing new for Mason, going to his days at South Florence. The Touchstone Energy Cooperatives Bowl pick totaled 23 sacks and 241 tackles during his final two years with the Bruins. His senior year, he also set a school record on offense with a 99-yard touchdown run.
Last spring, however, Mason got to do something not many other teams did: Conduct a full spring practice, and even have a spring game.
Mason said roughly a week after that, on-campus at Wofford was shut down, and he returned to Florence to continue his studies in a virtual manner.
Once back here, Mason did his weight training and conditioning on campus at South Florence.
And, of course, there were Zoom meetings with his defensive teammates and coaches.
Not only are the Terriers depending on Mason to be a big-play defender again, they're already expecting leadership out of the sophomore.
"When we were sent home, we had accountability groups on defense. It was like seven teammates and two leaders to each group, and I was designated as one of the leaders," Mason said.
Looking ahead, 2021 will be a very football year for Mason, as he and the Terriers expect to also play another season this fall.
Mason is just excited to play.
"I didn't know what was going to happen at first, last fall," Mason said. "I had been home, training hard for the season, and it was like a month before our first game. It seemed like we were going to have a fall season. And then, we didn't. So I felt down because of that."
Mason is preparing to return to Wofford this week and get ready for January practice (the team had 15 days of practice last fall, as permitted by the NCAA).
The season opener is Feb. 15 at home against Mercer.
"I want us to be ready. I hope everybody has been doing their workouts," Mason said. "We plan on taking off from where we left at last fall. I don't plan on us starting over from ground zero again to get everybody caught up.
"If we've all been doing our workouts, we should be back to where we were when we left," he added. "So we're just going to hit the ground running."